Thursday "Gravy Day" at Mama Reta's Kitchen.
I know it's been said before that we have incredible hospitality in the South. And, while that is true, there are some people who take Southern Hospitality to a different level. It's the "treating you like family" kind of hospitality that really makes you have a genuine smile with crinkles around your eyes and a warm glow in your heart. Well, that's what eating at Mama Reta's Kitchen is like.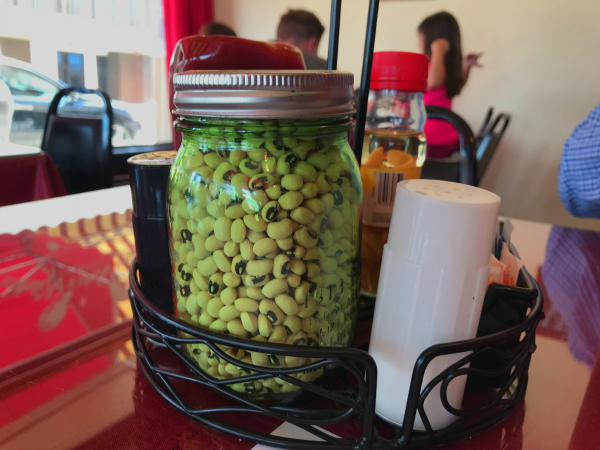 Whenever my buddy and I were seated, I asked if we'd be able to meet Mama Reta. Our waitress said that Mama Reta comes out and touches every table! I was intrigued by the thought of that – and by the decorations of blackeye peas in a tinted, green mason jar on the tables – not to mention the rope lights in the background. That's eclectic & electric!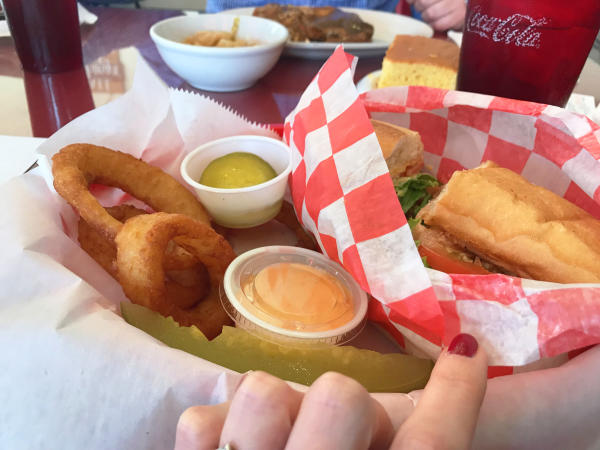 Looking over the menu, I spied that the fried shrimp po-boy came with "Mama Reta's sauce." Now, you know that when a place has a sauce that is coined with a name of the restaurant, you gotta try it. Curiosity made me order it. Since I ditched my diet upon entering the restaurant, (#diet #meh) I also loaded up on a Southern favorite staple – sweet tea. If you have ever had a po-boy you know that the bread can "make or break it." The bread on my po-boy was perfectly flaky and firm – so the sauce didn't drip everywhere but absorbed into it just enough to make it taste like – well –  shrimp heaven!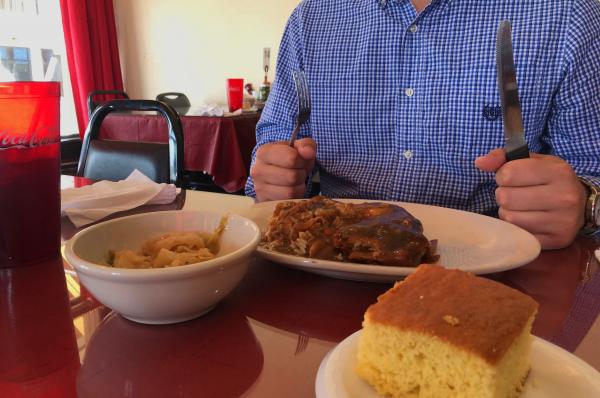 My friend ordered the Thursday special which comes with the world's most amazing piece of thick cornbread. (It was the thickness of a stepping stone!) On Thursday, the stars align so that you can get smothered or fried chicken with rice & gravy, and of course, the aforementioned epic cornbread. You can literally eat away your worries while you swim in the gravy goodness. Is it Thursday? Or, Gravy day? My vote? Gravy day!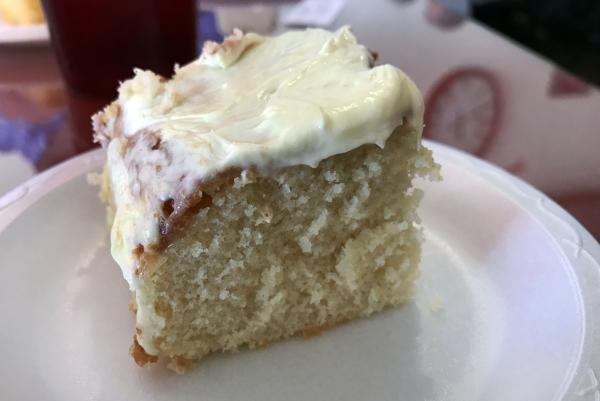 The only thing that might be more Southern than sweet tea is – cake, yum, right? Every meal comes with a complimentary slice of cake for dessert. It felt like I was getting a little slice of love on my plate. Expecting an ordinary slice of vanilla cake – I was pleasantly surprised that it was zesty lemon cake – tasted like it was picked fresh off a "pastry lemon tree," if those existed. They change the flavors of the cake too, so it's a surprise. And, just when I thought Mama might not come by and touch our table, she appeared as if by magic, and she touched our table, asking my friend –  "You doin' okay, honey?" He said, "Yes, mam!" (I probably would have said, "Yes, Mama!")
The place was hopping, and the tables were full, and incidentally, so were all the bellies in there! But, you know what? All the staff was floating around the restaurant, delivering food or taking orders with such grace and charm that it almost seemed like a dance. When we left, everyone was wishing us a good day and inviting us back again, and the odds are 100% that I will be back to visit Mama Reta's Kitchen.