Let's be honest, our pets are family. Wherever we go, they go. This is especially true for my pup. And just like me, I imagine she enjoys a "vacation" from the day-to-day routines. I try to treat her once in a while. One of our favorite things about Lake Charles is the walkability of the historic districts, downtown area and the local parks to explore - including 3 dog parks. Sam Houston Jones State Park is an outdoor dream for dogs that can handle a trail. For the more pampered pooches, several dining spots allow dogs to join their humans for a lunch/dinner date.
When I came across Luke Eddleman's photo of his Siberian Husky, Ghost, chilling downtown at Luna Live, I couldn't help but see a pup having a good time! And look how photogenic she is.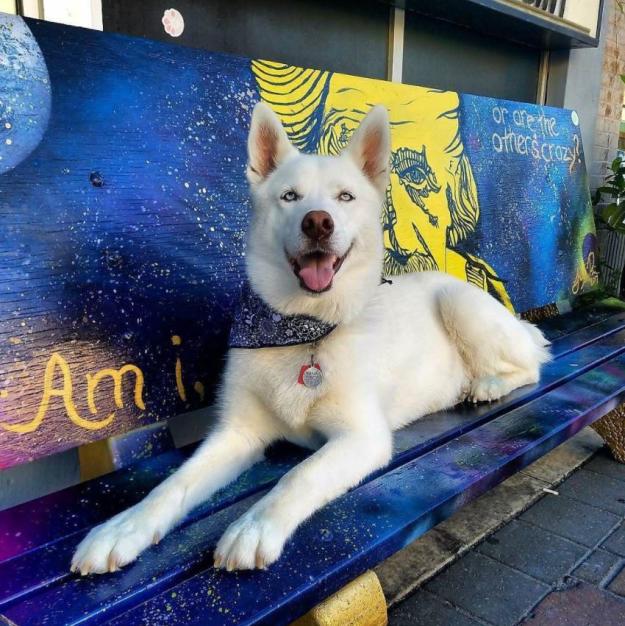 "I hang out at Luna Live regularly and Ghost goes with me most of the time. This specific day I was feeling shutter happy and she was feeling... well she was being tolerable of me and the search for a perfect spot. After a few different locations we walked back to Luna Live for some hydration, and I thought, 'Hmm maybe she will lay here with Albert Einstein and rest beautifully while I snap away.' And that she did! I love photography a lot and being downtown around local art, and I love taking pictures of Ghost even more."
You can follow Ghost's adventures in Dogs of Louisiana - The Jambalaya News column. 
We've got a whole page of pet-friendly locations in Lake Charles, not to mention our own Dog with a Blog "writer" Cooper the Goldendoodle. Read his blogs, here.
For your chance to be shared on our Instagram, Facebook, or Twitter pages, featured on our blog, or even claim the title "Photo of the Month," tag your photos with #VisitLakeCharles.
All Photo of the Month winners receive a FREE mini canvas with the official #VisitLakeCharles hashtag stamp!