Get Ready to Build a Mardi Gras Shoebox Float with #VisitLakeCharles!

Turn this year's "Mardi Blah" back into Mardi Gras! I know it's disappointing that the parades are not rolling this year, but don't let that stop you from celebrating. Break out those arts & craft skills and have fun with the kids, teach them about traditions & make a Mardi Gras Shoebox Float or two! You are only limited by your imagination – and maybe your tolerance for glitter! And, while you're building the floats, you can listen to Mardi Gras music and nosh on King Cake.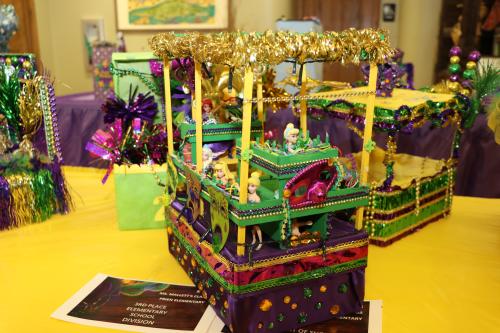 So, if it's been a while, or you are not a regular crafter, below are some ideas that can get you on track for making your own parade of shoebox floats.
Basic Supplies:
Shoebox of any size (make sure you have the lid)
Glue / Scissors / Hot Glue Gun / Tape
Remember to use Mardi Gras Colors:
When gathering decorations, keep traditional purple, green and gold colors in mind so that your shoebox float screams Mardi Gras Mambo! Purple = Justice / Green = Faith / Gold = Power
Decorations Ideas:
Construction Paper (Or Wrapping paper) to cover the box
Tissue Paper 
Beads
Glittery Pipe Cleaners
Feathers
Acrylic Paint / Markers
Figurines and/or a focal point object (some sort of WOW factor!)
4 wooden rods or pencils (if you want your float to have a roof)
Glitter, Glitter and more Glitter!
See below for inspiration!
And, check out the #VisitLakeCharles Mardi Gras Shoebox Float Contest. All you have to do is upload a photo of your float for a chance to win. Voting takes place on the Visit Lake Charles Facebook page!
The deadline to enter is noon on Feb. 3. The winner will be announced on Mardi Gras Day!