Why You Should Bring the Whole Family
"Mom, it's Tuesday!" announces my son Connor as he bounces into my backseat in the after school pickup line. My little boys are in Kindergarten and fourth grade. They look forward to our Tuesday afternoons at the Cash & Carry Farmer's Market at the corner of Broad St. and Enterprise Blvd in the Nellie Lutcher Cultural District near Downtown Lake Charles.. Having previously lived in Los Angeles and Orlando, where we frequented farmers markets, my husband and I moved our boys to my hometown of Lake Charles four years ago to raise them near my family. We were thrilled to discover several year-round farmers markets in the Lake Charles area. We get groceries, gifts, snacks, and dinner. We love to see our children learning about their local community. We also love that it is air-conditioned!
4 to 6 PM on Tuesdays
Let me set the scene. It's 4:00 pm on a Tuesday and a balmy 85 degrees outside in Lake Charles. But inside this historic building, the air is crisp and cool. There are warm friendly faces and aromas of coffee, freshly baked bread, and comfort food. The ceiling fans seem to be smiling as they dance to a soothing piano melody. Sunlight streams in from skylights, falling onto giant wooden beams, exposed brick, and today's 26 vendors. Something magical happens during these two hours at the corner of Broad St. and Enterprise Blvd.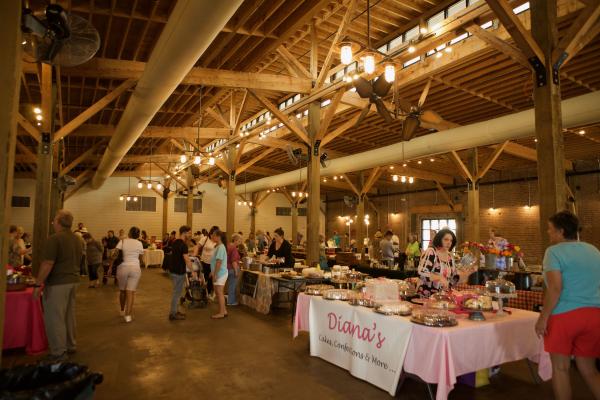 What to Buy
This is the place to get a warm home-cooked meal or the ingredients to make one at home. You can explore regional flavors or take a trip around the world. It is also the place to buy weekly groceries for meals and snacks that are locally grown and produced. Vendors sell fruits, vegetables, milk, eggs (chicken, quail, goose), butter, cheese, yogurt, artisan bread and baked goods, grass-fed beef, juice, kombucha, natural body products, local honey, organic fair-trade coffee, and jarred preserves from fruit jams to pickled products. Cooking With Cash and Carry is a segment the market manager, Giva Foy, organizes once a month to give the community an example of what you can do at home with the items you purchase from the market.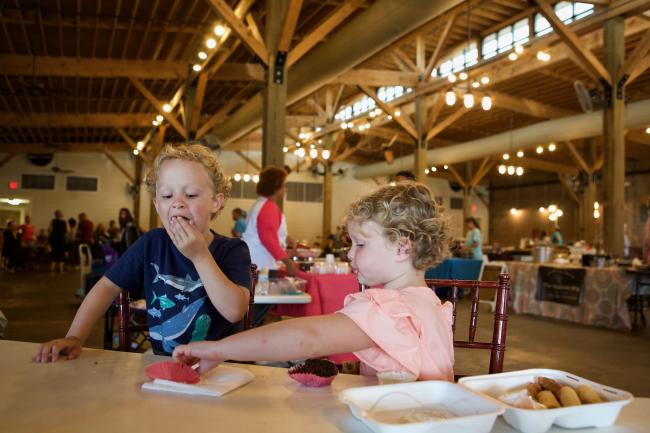 Aside from seasonal produce, our top 3 consistent purchases have been honey from Santa Rita Honey Bee Farms, chicken salad (regular and vegan) from Heather Hamilton (both amazing), and natural stick deodorant from ME Healthy Foods (love this stuff!) We just started buying coffee from Acadian Coffee Roasters and it's fantastic. Each Tuesday's vendor lineup is posted on the Cash and Carry Farmers Market Facebook page on Monday.
Farmer's Market Vendors and Experiences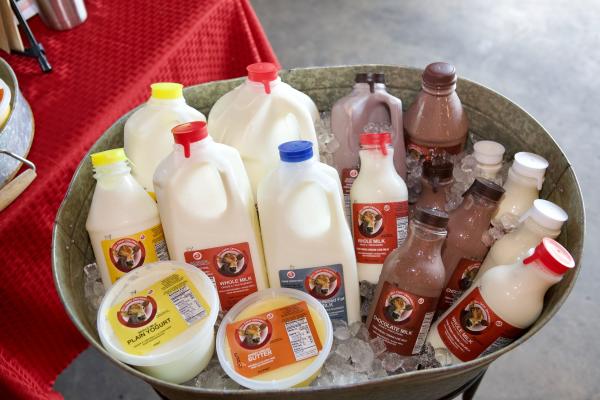 Today my boys are ready for some of their usual favorites. My 10-year old Connor wants pineapple-ginger kombucha tea from ME Healthy Foods and a red velvet macaroon from Diana's Cakes, Confections and More. My five-year-old Owen wants a sugar cookie from Evelyn's Decorated Sweets and chocolate milk from Hillcrest Creamery. He also wants a bottle of cold-pressed apple/beet/zucchini juice (Immunity #31) from Main Squeeze. Matt, the owner of Main Squeeze, lets Owen try the Cacao Mylk and Almond Mylk but Owen goes for his usual #31.
ME Healthy Foods
Then Owen strolls over to the ME Healthy Foods booth to say hello to the owner Ella and her daughter Maia. Ella and her daughter live near Lafayette and have been vendors at the Cash and Carry Tuesday market since the summer of 2011 selling salves, soaps, oils, deodorant, honey, kombucha, and water kefir. Ella's husband MuRay is a beekeeper. I asked Maia how long they have been doing this. "Mom and I started this business in 2010 after Mom recovered from some serious health issues," Maia explains. "We radically changed our lifestyle, cut out everything toxic, and started making natural products."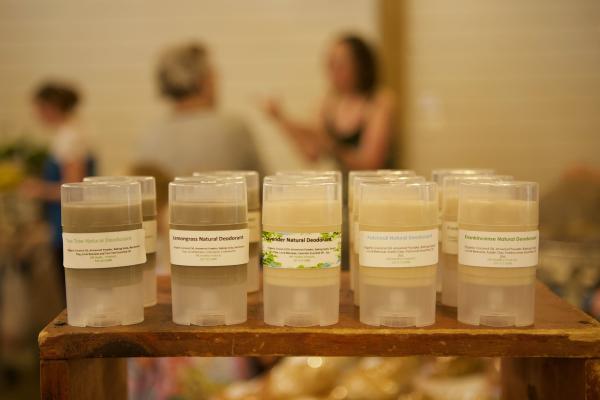 Their product variety is impressive. The family has acquired some devoted customers over the years, such as one local gentleman who is there to buy deodorant. "I've been using it for three years," he says. "This one right here. I like the Spearmint Eucalyptus best because it's a manly scent."
Kombucha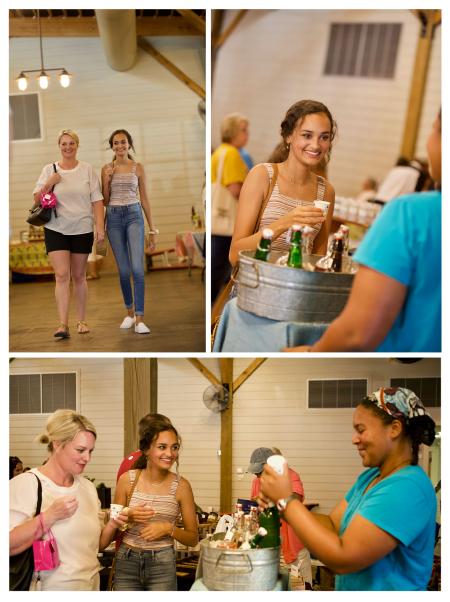 My friend Danielle Wyble and her 14-year-old daughter Mia are meeting me at the market today. I convince them to try some kombucha for the first time. Kombucha is a fermented tea that is rich in beneficial probiotics and has been consumed for thousands of years. My son Owen tries seven flavors to see which one he is in the mood for this week. He settles on blueberry. Owen will be well hydrated today and that's a good thing.
Giva (like Gina with a v)
Owen's face lights up when he sees the market manager, Giva Foy, and she gives him a high-five as she passes. The market was founded in 2010 by Rick Richard and Brett Marino. Giva joined the team in 2017. She has the first booth on the right but you can usually find her dashing around tending to things and helping the vendors. She loves children and often brings her own grandchildren with her.
I asked my boys what they want people to know about Giva. Owen said she is a "very sweet lady with long brown hair." Connor said she is "very nice and could do Pantene commercials."
I asked Giva what she wants people to know about the market. She said,
"It's important to me that the market is community-minded, whatever that means for the community at that time. My biggest goal is unity and love."
This brunette beauty is the high-energy multitasking force behind the market and her heart is in it.
Diana's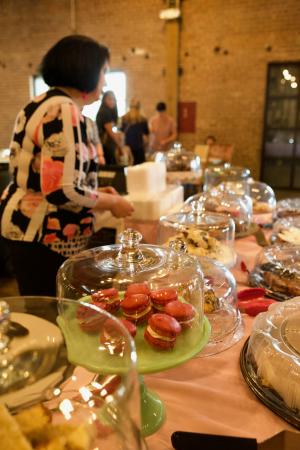 My buddy Chris is arriving with his four-year-old twins Christopher and Leslie. Owen skips over to greet them as they head to their usual first stop, Diana's Cakes, Confections and More. Their favorites are the cupcakes and the big chocolate chip cookies. Diana has over a dozen varieties of treats including pecan pie bars, berry cheesecake bars, and almond joy cookies. Chris and his twins rarely miss a Tuesday market. Leslie is on her daddy's shoulders while little Christopher is barreling toward the cupcakes. Chris and I went to grade school together and now that we are grown, we find the farmers market is a great place to chat. Life gets busy but we have watched each other's kids grow up at the market each week.
Live Music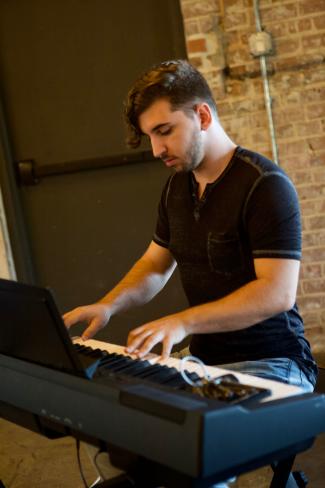 The live music at the market is light "background" music to enhance the market experience. This is an important detail for me. Bringing young children to loud events can be challenging because they have to shout and you're constantly bending down to hear them. My children learn so much by talking with the vendors and often their children or grandchildren. I like my children to meet two or three generations. It instills a strong sense of family and community.
Today the keyboard soloist and vocalist is the very talented Bryce Louvierre. Bryce's eyes are closed as he plays Can't Help Falling in Love. After the last note he opens his eyes and his serious face turns to a smile when he sees five children gathered around him. They are mesmerized and so am I. He starts playing This is Me from The Greatest Showman and the children jump to their feet and dance. I love this song too!
Plantes De Leau
Temple Louvierre is the mother of Bryce the musician and the creator of Plantes De Leau. I walk over to her booth and ask her if she has sunflower sprouts. She sold them all to a restaurant this week but offers me five other kinds to sample. I love the cabbage sprouts and buy a five-dollar tray which she tucks neatly at the bottom of a paper gift bag.
A Sense of Community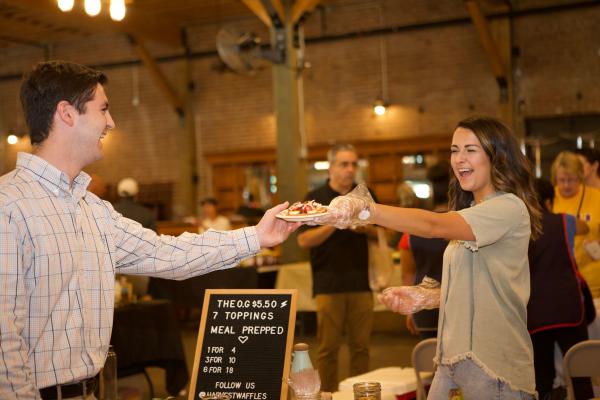 As we walk out, we see Giva at her booth doing some paperwork. A glass drink dispenser of ice water and mint leaves sits on her table next to a stack of cups. Two little girls walk up and ask her how much the water is. "Oh, baby, this is free," Gina says with a smile. "This mint is from my garden."
Based on my experience I believe that farmers market managers and vendors have an innate desire to share an experience with their family and their community. Farmers markets are the beating heart of a community.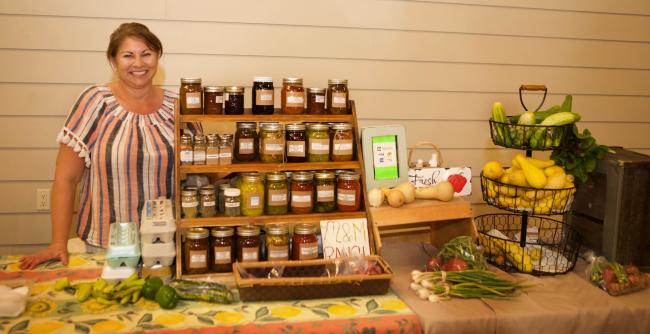 Sometimes, while navigating the details and often-monotonous daily routines of life and raising children, I need a reminder to stay curious and keep expanding my world and theirs. For me, farmers markets are THE ultimate place to discover new things to feed my family. I can list 20 amazing foods and drinks off the top of my head that I've experienced for the FIRST time at weekly markets in Los Angeles, Orlando, and Lake Charles.
Feeling a sense of community is important to me. What does that mean for me? Sometimes it means calling a babysitter to take over so I can attend an event or meet friends for happy hour.
On Tuesdays, it means putting my kids in the car and heading to the farmers market for an adventure.