I know I'm not alone with occasionally getting into a rut. (And by occasionally I mean more often than I'd like to admit!) It's so easy to do the same thing every day or week. Getting comfortable with the usual. There's hope! Every spring I cannot fight the urge to start up something new. Gardening. Yoga. Organizing my house. Exploring a new part of my hometown. To just MOVE!  I suddenly leap into a "new me." And it feels good!
This month's photo of the month seems to portray the same feeling. These ducks migrate to the same areas in Southwest Louisiana every year. But there comes a time where they feel the instinct to go back north. To make a move.  SWLA Tours, Inc. owner and operator Will Daigle took this photo at the Pintail Wildlife Drive on the Cameron Prairie National Wildlife Refuge.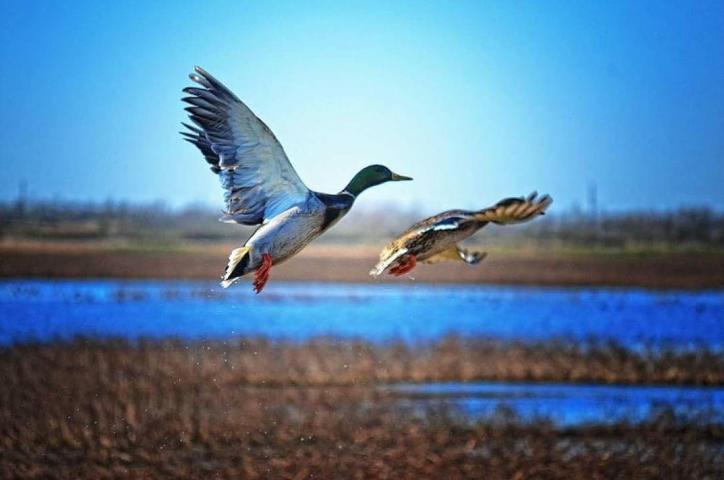 "The shot was taken at the end of the duck hunting season.  I wanted to see if any ducks were still hanging around or had they all migrated north. As we made the loop we spotted the two ducks swimming in the canal. As I got my camera ready to take the picture of them swimming, they jumped up and took flight.  I was lucky enough to get this close to capture them taking off. If you look close you can see the water dripping off them."
Thanks for the inspiration, Will! Let me know in the comments below, what is something new you'd like to start?
For your chance to be shared on our Instagram, Facebook, or Twitter pages, featured on our blog, or even claim the title "Photo of the Month," tag your photos with #VisitLakeCharles.
All Photo of the Month winners receive a FREE mini canvas with the official #VisitLakeCharles hashtag stamp!