By Elizabeth Eustis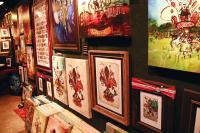 Southwest Louisiana has planned so many parades, concerts, fireworks, and food events for Christmas this year, it is definitely the place to be to celebrate the most wonderful time of the year. With this abundance of holiday cheer, choosing an event is going to be hard! Attending as many holiday happenings as I can, might become my newest Christmas tradition!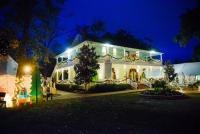 Photo by Lindsey Janies Photography
My mother in law and I kick off our holidays with the Junior League of Lake Charles' annual Mistletoe and Moss Holiday Market (Nov. 20-22). Those ladies know how to throw a shopping party. I am thinking this year for another shopping treat, we'll visit Sulphur's Holiday House (Dec. 5-6), too. Nothing puts me in the Christmas spirit like finding the perfect gifts for my family and friends. And, maybe we'll even see that "snow" that magically falls at Christmas Under the Oaks (Dec. 5-6).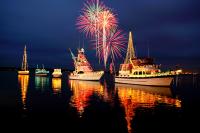 Photo by MonsoursPhotography.net
Once the presents are wrapped and nestled under the tree; it's time for a parade! Living in downtown Lake Charles, my family has gone to the
Light up the Lake Christmas Celebration (Dec. 6)
for years. In fact, we used to decorate and string up dozens of multi-colored Christmas lights around our sailboat and participate in the lighted boat parade. It is such a special and unique parade-if you haven't been-you need to go! But there are a total of eight parades this year, so I might have to head over to
DeQuincy's "Deck the Halls" (Dec. 5)
or
Vinton's "Cajun Christmas" (Dec. 12)
to see how they welcome Santa to town.
Speaking of Santa, one of my favorite memories growing up is sitting on Santa's lap and listing all of the toys and sometimes animals (you know you asked for a pony too!) that I wanted for Christmas. I'll be making my way over to Westlake for Breakfast with Santa (Dec. 13) to see if Santa can bring me that Kate Spade bag I saw the other day at Stiletto. I hope he can! If not then at least I got some hot pancakes.
There are just so many wonderful activities going on this season, including some beautiful performances like
The Nutcracker (Dec. 11-14)
and
The Little Drummer Boy (Dec. 13)
; so there is no reason to sit at home. Also, stop by the Convention & Visitors Bureau, 1205 N. Lakeshore Drive, to view the entries for the annual
Gingerbread House contest (Dec. 6-30)
. Be sure to vote for your favorite creation!
Plan your Christmas fun by visiting
www.visitlakecharles.org/cajunchristmas
for a complete listing of holiday events throughout Southwest Louisiana.