As an individual who grow up in the cornfields of Northern Indiana, nothing could prepare me for the excitement that is Mardi Gras! Sure, we had our county festival that was plenty exciting with rides, entertainment, food and, my personal favorite, the pig races, but the fair never lasted long enough and the parade was generic and lacking.
This brings me to my first Mardi Gras experience that hopefully you can learn from. I was 21 and lured down to Lake Charles by my future wife. I decided that Mardi Gras season would be the perfect time to leave the mundane behind, and I was right!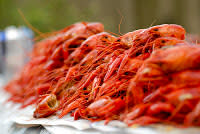 During my trip I was treated to the legendary southern hospitality, to the point that people I had just met invited me to my very first crawfish boil! I had never eaten crawfish before and my first impression of everyone going crazy about these little mud bugs was that they were nuts. After my first heaping tray full of the little critters, I could see why everyone was crazy… They were delicious!
As the trip progressed I was able to explore the Mardi Gras Museum which is home to the largest collection of Mardi Gras costumes in the world. It was amazing to see all of these very unique and over-the-top costumes that the Mardi Gras Kings and Queens wear at their balls and parades.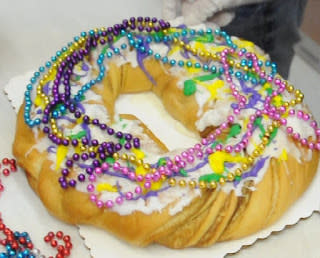 After a while I was introduced to my very first King Cake. For those of us not raised in the Mardi Gras culture, it is a delicious cake that comes in a variety of flavors (my favorite is cream cheese and strawberry) traditional served around the Mardi Gras season. My first bite in the cake offered quite a surprise, a tiny plastic baby! Apparently, there is a plastic baby hidden in the King Cake's that when found offer the finder certain privileges and obligations, such as buying the next King Cake! What a way to welcome a visitor, shove a toy in his food, don't tell him about it, and then have him buy the next cake! It was a great bonding experience, but be warned, Baby in Cake!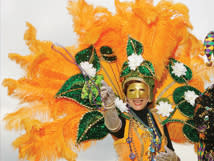 After the cake fiasco, I was finally lead to my very first Mardi Gras parade, the Krewe of Krewes Parade. This happened to be one of the largest parades in Southwest Louisiana. Starting right before dark the excitement was alive with people who had been camping out all day. I quickly learned this was not your typical parade with marching bands, the crazy little guys who fly around on go carts, and beauty queens. Instead, I witnessed these crazy, raised floats pumping out music and a shower of beads, cups, and plastic coins raining down upon my head! People were excited, waving their hands in the air and yelling "Throw me something mister!" It took a little bit for me bust out of my shell, but I quickly found myself having the time of my life.
So, if you're looking for something different and exciting that you will remember for a lifetime, try visiting Mardi Gras in Lake Charles/Southwest Louisiana!

For more info go to http://www.visitlakecharles.org/mardigras/