The beauty of Southwest Louisiana comes in all forms, but it's most prominent in all of the extraordinary nature that surrounds us. From the lakes and marshes to the piney forests and wildlife, we are so lucky to be smack dab in the middle of it all.
In a world of constant distraction and busy schedules, you might not realize that nature is calling to you! Sometimes, you just need to escape the digital world and immerse yourself in the great outdoors!
This is something our Photo of the Month winner, Michael Kasey, knows very well. Kasey, a West Monroe resident and co-founder of Ghost-Tactical t-shirts; is no stranger to being busy. But, he knows when to listen too.
"On the morning the photo was taken, I woke up and went straight to prayer as usual and heard the Lord say to me, 'Let's go for a drive.' Immediately, I missed Hawaii and wanted nostrils full of salt. So I got in my car and drove straight south till I hit water on Holly Beach. I had never been (...) I walked on the beach for a couple hours, praying and drawing in the sand with a giant stick I found."
He also found this little guy.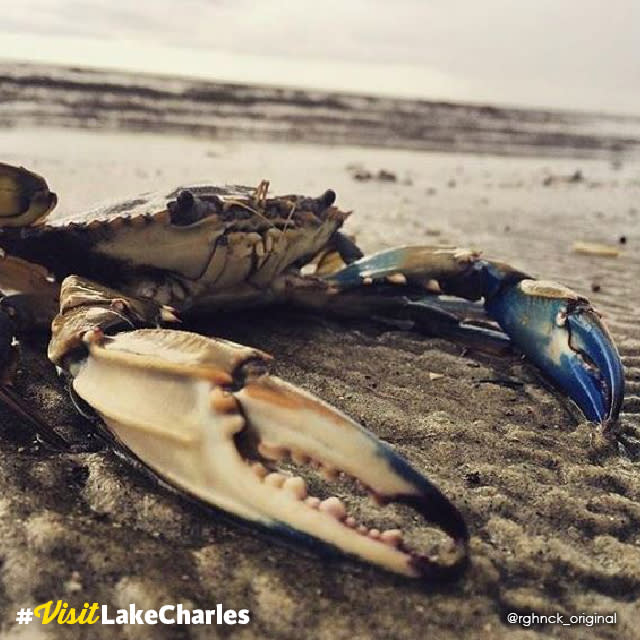 Summer is over, school is back in session and that busy schedule might have just gotten EVEN BUSIER! But don't forget to take time to enjoy your family, friends and the beauty that surrounds you. Next time you hear nature calling, answer.
For your chance to be shared on our Instagram, Facebook, or Twitter pages, featured on our blog, or even claim the title "Photo of the Month," tag your photos with #VisitLakeCharles.
All Photo of the Month winners receive a FREE mini canvas with the official #VisitLakeCharles hashtag stamp!