There is a certain element of electricity and excitement in Downtown Lake Charles these days, and I'm about to introduce you to one place in particular that certainly has a heavy hand in fueling that feeling! It was my pleasure to meet with the owner, Jay Ecker, who gave me a complete tour of the Panorama Music House and shared not only the history and journey of Panorama, but his passion for creating a place with an atmosphere for everyone to enjoy.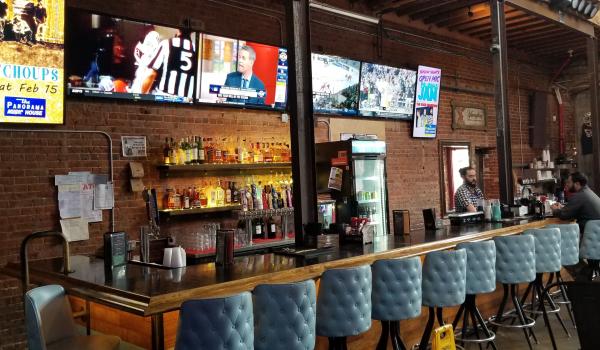 History in the Making
The building that houses Panorama is over 100 years old and has been a labor of love for owner, Jay, who has personally had a hand in all of the renovations. Jay is also the owner and operator of the very popular Rikenjaks Brewing Company, and shared with me that Rikenjaks original home was 331 Broad, where Panorama is thriving now. Rikenjaks relocated to 3716 Ryan Street and continues to be a Lake Charles favorite. Jay shared with me that, among other ventures, the Panorama building once housed The American Press offices and printing and even served as a trade school back in the 1940's. There is rich history in the building and he is proud to be a part of preserving it.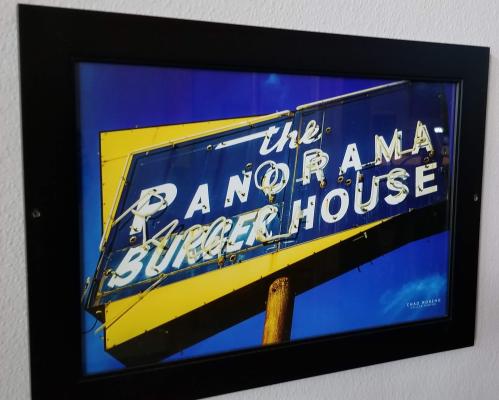 He saw a SIGN!
If you have visited, or even if you have only just driven past it, you have probably noticed the nostalgic looking Panorama Music House sign. The story of the sign is as fun and unique as the atmosphere you'll find inside the Panorama! Jay was looking for a concept that would honor Lake Charles history, and he set his sites on a sign that was located about two blocks away from its current location. The sign was for the "Panorama Burger House". Jay was interested in purchasing the sign and reached out to the owners. Once purchased, he set out to restore and renovate it. He commissioned a company by the name of Acme Signs to assist with this process. When the "Burger" part of the sign was removed, beneath it was the word "Steak"...and so Jay discovered that he wasn't the first to love this sign and desire to repurpose it. Originally, the sign was mounted on a tall post. Due to its design, it had to be taken apart and rebuilt. Then, a structure was created to add to the sign so that it could be mounted to the wall, where it sits now.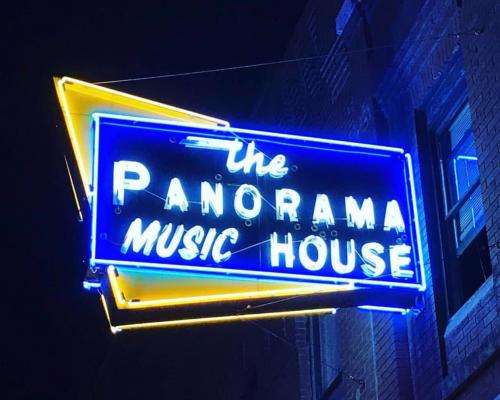 Jay Ecker was recently recognized with the CALCA Commendation Award by the Calcasieu Historical Preservation Society for the "Commendable Adaptive Reuse of a Historic Sign. Pictured below, with the award, is Mr. Ecker with his General Manager, Stephen Casanave.

Full Circle Moment - the Acme Sign employee that helped in rebuilding the sign, which is estimated to have been built in the 1940's, discovered that her great grandfather was one of the creators of the original!
Take a Look Around
In designing and rebuilding Panorama, Jay pointed out that it has been equipped with a top of the line PA system as well as acoustic panels that coupled together make for impeccable sound and enjoyment. He has put his own blood, sweat, and tears into this very personal renovation and it is obvious throughout that he poured his pride of workmanship and love of Lake Charles into every square inch.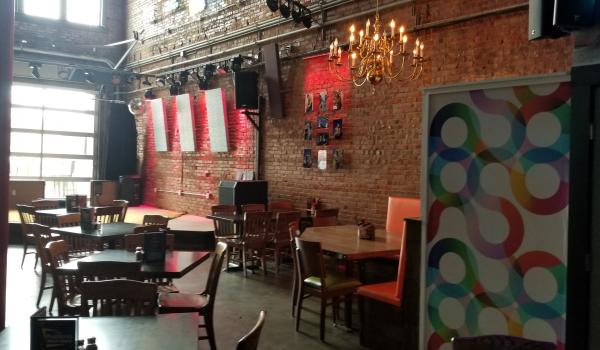 The main room at Panorama has comfortable seating to enjoy the restaurant and bar and the stage is situated such that there is a great view from anywhere in the room. Panorama opens for lunch weekdays at 11 AM. Getting hungry? Take a peek at the menu below. (Be sure and follow Panorama on Facebook and Instagram as they are always listing new specials and menu items!)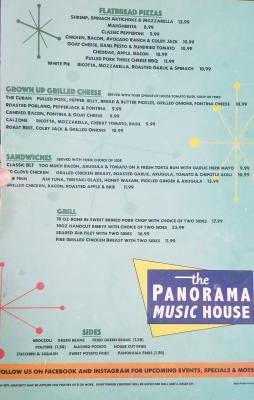 Pictured below is yet another dining room to enjoy. I love the "Lava Lamp Installation"!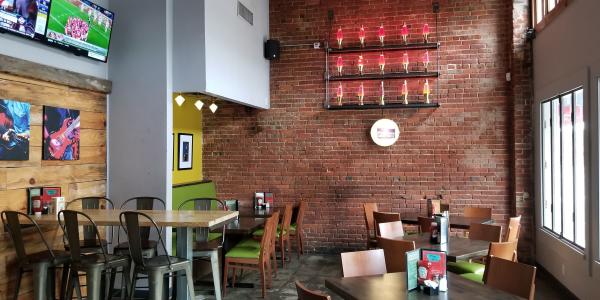 There is also a huge rec room to hang out and enjoy some fun with friends and family that includes pool tables, ski ball, arcade games,a foosball table, and you can even shoot some hoops!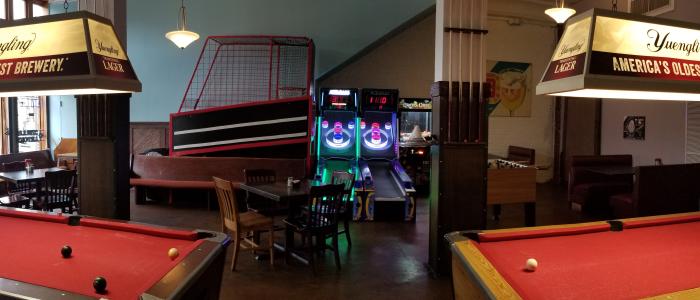 One of my personal favorite spots at Panorama is the outdoor seating area that I like to call the "grown-up playground". There are outdoor tables to enjoy your meal and drinks, swings, oversized Jenga, and all while being entertained by the live music that can still be enjoyed from the main stage. The design was so well done and Jay has truly thought of every way possible to create a fun environment that you won't want to leave. The great news is you can bring the whole family to enjoy Panorama as it is all ages until 9 PM!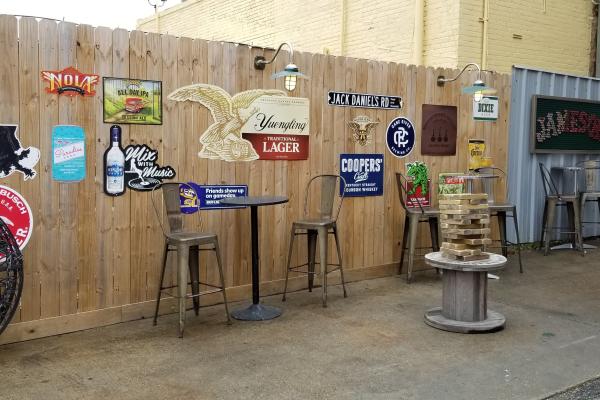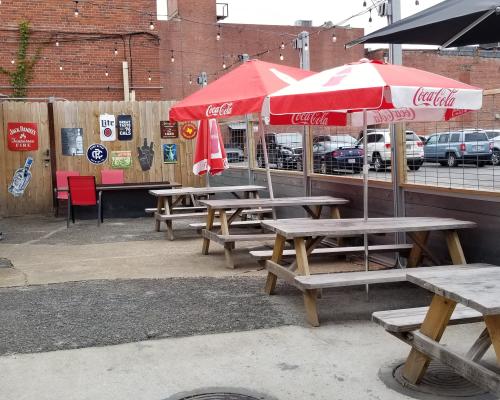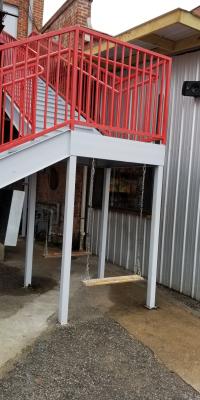 A Little Privacy
If you are looking for a venue to host a private party or event, there is a perfect spot on the second floor of Panorama. For a cocktail party, you can entertain up to 60 guests and for a sit-down dinner or event, the space can accommodate approximately 45. For more information and to make reservations, contact Panorama at (337)602-6343.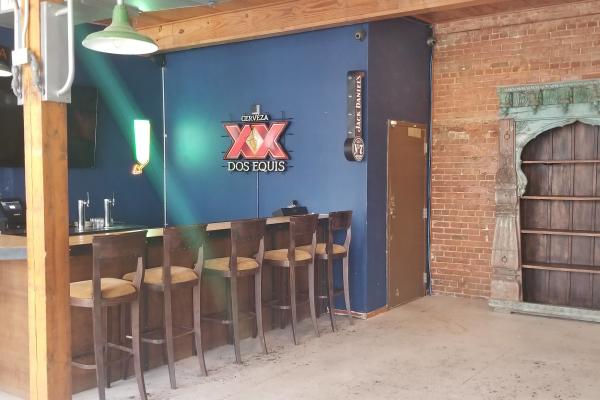 The Space Overlooks the Main Room and Stage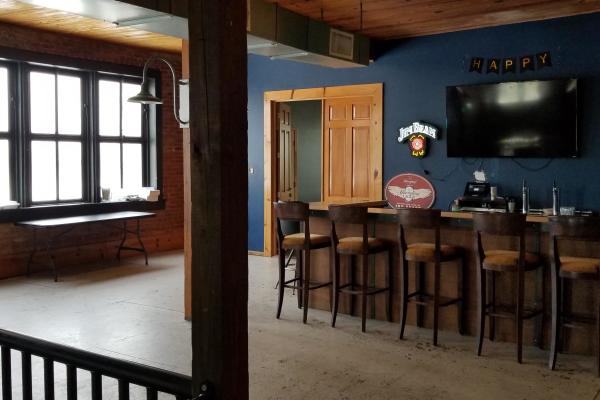 A Project in the works - Did you know that Dolly Parton recorded her very first album right here in Lake Charles at Goldband Records? Soon, you will be able to view memorabilia and iconic pieces of music history at Panorama, where Goldband Studio will be creating a Music Museum in a room on the second floor of the Music House. The project is in the works so check in often for updates on completion!
The Weekly Lineup
Panorama Music House is creating quite a buzz, and not just from the great drink specials that they offer. No matter what time of day or what day of the week, it's always time to unwind and pass a great time at Panorama. Here is a glimpse at the daily events that you can enjoy:
Karaoke Monday is also Service Industry Night and the Kitchen is open late!
Acoustic Tuesday
Wednesday is Ladies Night with Drink Specials
Thursday - Live Acoustic Music 
(The Jay Ecker Jazz Quartet can be seen on most Thursday Nights!)
Friday and Saturday Night - The best Bands and DJ's in the region!
Sunday - Open Jam (more about that later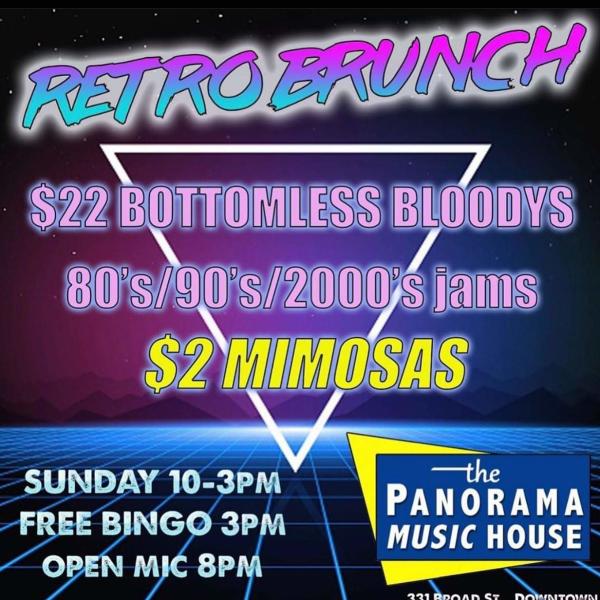 While Panorama provides for a great nightlife experience, they also have a fantastic "RETRO Brunch" on BOTH SATURDAYS and SUNDAYS from 10 AM to 3 PM! You'll enjoy music from the 80's 90's & 00's while sipping on their bottomless bloody marys. 
I love that that they also have $2 Mimosas and there is even a special MANMOSA on the menu that has an added twist of Wheat Beer to the ever-popular "Champagne and OJ" classic. Stick around Sunday after brunch because they host FREE Bingo at 3! Making a whole day of it? Open mic starts at 8 PM.  
A BIG event being organized by The Panoramic Music House is the Be Moore Festival which will be held this Sunday, February 9th, in downtown Lake Charles. The Be Moore festival was born out of the desire to honor the memory of a larger than life personality and well-loved friend of the Lake Charles' music community, Brian Moore.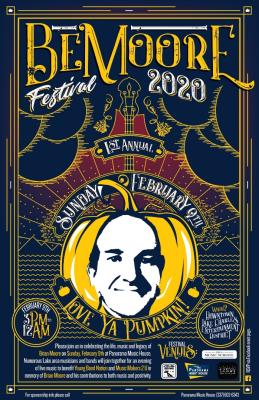 Brian Kevin Moore
1972 - 2019
Local music lover, Jacob Teracina said this about Brian,
"He was one of those people who, when you saw him, you knew who he was...but he also knew who you were."  Brian was obviously well known for his musical talent, but clearly for his love of people as well.
The Be Moore Festival will honor Brian's life and legacy and proceeds will benefit Young Band Nation and Music Makers 2U in his memory.
Looking Forward
Beyond Sunday's event, there is an amazing lineup of talented local artists coming to Panorama. Some of which include: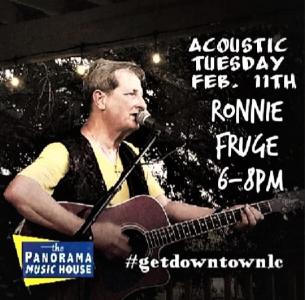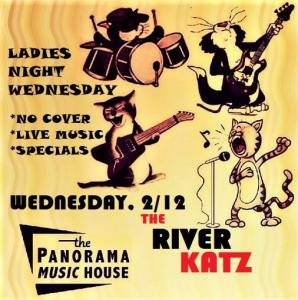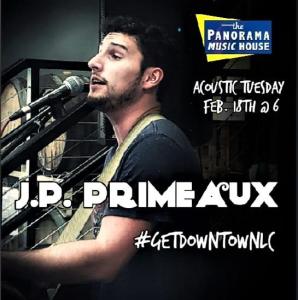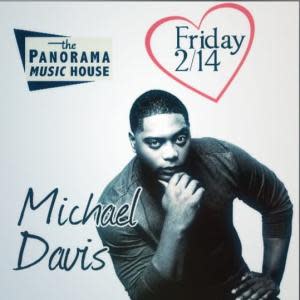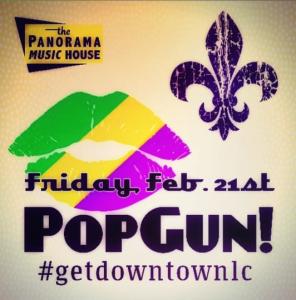 Panorama Music House, located at 331 Broad Street is creating quite a buzz, and not just from the great drink specials they offer. No matter what time of day or what day of the week, it's always time to unwind and pass a great time at Panorama. When you visit, be sure and share your photos and experiences with www.visitlakecharles.org and #getDOWNTOWNlc!
And remember, there is always something to do in Louisiana's Playground!