Pasta = Good!
I think we can all agree that Lake Charles deserves something good, right? Sometimes, though, that good is already here, and in this case, it's nestled in a cozy little square on East McNeese Street. I recently visited the Pasta Lab, created by Michael Gardner, to see what it was all about. Let me tell you— it's certainly something special and unlike anything else in our community. Did you think it was a restaurant? Think again!
The Pasta Lab is all about local creation, and you won't find this place anywhere else. I love pasta (sometimes a little too much), so I couldn't wait to get in and see everything this place had to offer. And boy, was I glad I got the opportunity! From the moment I walked in the front doors, Michael, the mastermind behind this place, was very kind and welcoming. I hadn't been inside any of the buildings in this square before, so I wasn't sure what to expect.

What's it Like?
The Pasta Lab consists of two rooms, with the back one serving as the hub for the cooking and for the classes. I felt quite at home in this little space, which is exactly the vibe I know Michael was trying to give. Classes can be personable in this space, which, to me, is something extremely important. Directly over the door leading into the kitchen area is a Willy Wonka quote also featured on his website, which says: "We are the music makers, and we are the dreamers of dreams." I couldn't help but feel the urge to create something special here!
Everything Michael had to say was incredibly informative. My knowledge of pasta is pretty much limited to the eating part, but I feel like I can now say I've learned something just from the bit of time I spent with him! I also found out pretty quickly that this was going to be very hands-on, as I was immediately given a handful of pasta noodles to feel in my hands. I promise they didn't feel like "brains" from those haunted houses when you were a kid. They were fresh, warm, and much better than any boxed noodle I've ever seen!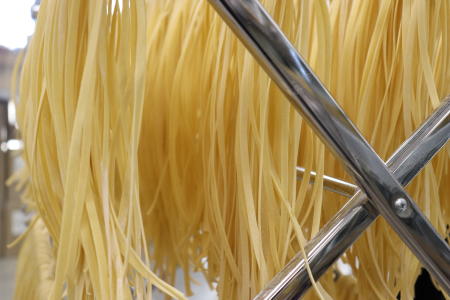 Time for Class!
There are a few things I want to highlight about this place. It's not a restaurant – it's a class! Have you ever wanted to learn the best way to make pasta? Perhaps you want to learn about cooking techniques or even just some history of pasta making. This is where you can come to do just that! If you don't have time for a class, Michael's pastas, including his delectable sauces – which I absolutely LOVED, are available for purchase as well. When I walked into the room, I could just smell that he was working on something good. Do yourself a favor and go buy those sauces. I literally have been thinking about the alfredo sauce non-stop for two days now because of how fresh and savory it tasted. On another note, you can even buy bags of flour and various oils and cheeses to create your own pasta at home!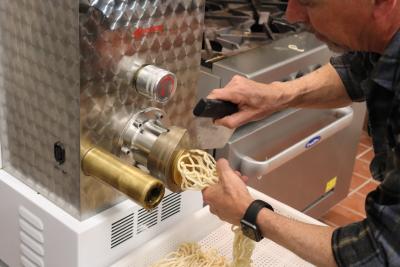 Local, Local, Local!
What I thought was really fascinating was that everything is local. Everything. Michael took a moment to explain that although he could have bought much of his equipment online, including small things down to his flour holders in the back, he instead went with a business here in town. I think this is such a clever way to support local businesses, and with everything that's happened in the last year, those places can use all the help they can get. Don't get me wrong – online shopping can be convenient. Sometimes a little too convenient (and dangerous…) when there are one-press buttons to order anything at any time of the day. But buying local is important, y'all. Keep it local where you can, and our town will continue to grow!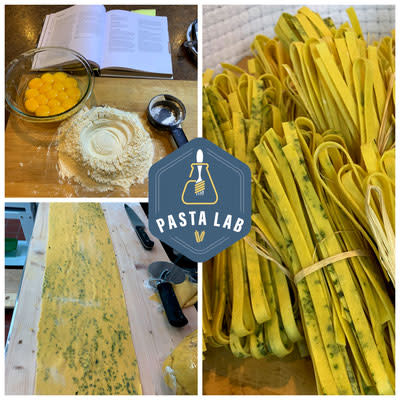 2020 (eesh) & Resiliency!
I asked Michael if there was anything that impeded his progress from Covid-19 or from the hurricanes. Although the Pasta Lab did have to push back its opening last year, Michael did not allow these obstacles to stop him from assisting the community. He began to reach out to local restaurants in town, and as of right now, multiple locally-owned restaurants use his pasta on their menus! Even though the flow of customers to all businesses significantly lowered after the hurricanes, and through the pandemic, Michael continued to step out and help the community by providing fresh ingredients to restaurants in the area. Again, the Pasta Lab shows its devotion to our city. Just another reason to love the place!
Long story short, go check this place out for a class or for your dinner! It's awesome, the pasta is great, and it's a fun activity for all ages. Looking back at the Willy Wonka quote from before, I think that that quote goes hand in hand with Michael's mantra of "peace, love, pasta," which sums up this place very nicely—a creative and fun idea led by someone who truly cares about his customers. I don't think I can ever go back to boxed pasta again!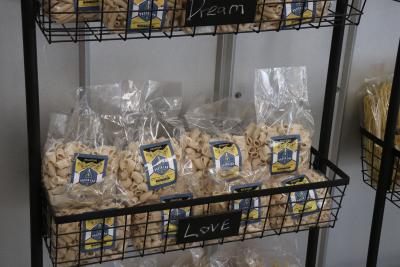 Check it out for Yourself:
Visit the Pasta Lab at 1305 East McNeese Street, Suite 105. Visit www.pasta.fun for more information, and give the Pasta Lab a like on Facebook!