This winter, get in the spirit by joining in Southwest Louisiana's beloved Cajun Christmas traditions – the ones locals have loved for years. The Cajun Christmas season will be bright and merry with magical holiday light displays, theatre shows, parades, shopping festivals and of course, seasonal cocktails.
Everyone loves the holidays – except when they stress us out! From travel to throwing parties to last-minute gift-giving (and wrapping!), the holidays can be a time of joy, or they can be a source of frustration. Whether you're on a budget, traveling with kids, or seeking an all-out luxury experience, these tips help you plan the perfect escape for a Cajun Christmas.
BEFORE YOU DEPART:
Check your car. A few days before you head our way, check the tire pressure, oil, washer fluid, windshield wipers and all lights. Remember to pack an emergency kit in your vehicle, just in case!
Plan ahead. Assume that the roads will be busier, that parking will be tight and that the weather will refuse to cooperate – and plan accordingly.
Keep the little ones busy. Prevent endless rounds of "Are we there yet?" by bringing along quiet, travel-friendly activities for the kids, like coloring books, music players, movies/portable DVD player (and headphones!).
ONCE YOU'RE HERE:
Shopping: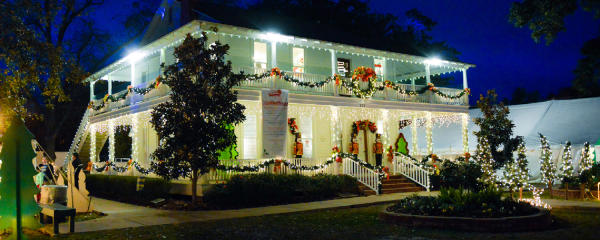 If you're kicking off your holiday shopping while you're in the area, then you need to check out our local Christmas shopping markets! Mistletoe and Moss Holiday Market (Nov. 15-18) at the Lake Charles Civic Center features more than 80 vendors from all over the US with items ranging from apparel and jewelry to specialty foods and home furnishings. Sulphur's Holiday House (Nov. 30 – Dec. 2) at the Grove at Heritage Square will have more than 35 different shops on site with Christmas decorations, gifts, ornaments and plenty of other items. Crave Gourmet's "Holiday Pairing & Sharing" (Saturdays, Nov. 4- Dec. 23) offers complimentary tastings of wine, cheese and artisanal food items while you shop for great local and regional gifts. Looking for original, local art? Then head on over to the McNeese State Holiday Art Sale on Dec. 1 from 8-4pm or the Holiday Art Market (Dec. 8-10) at Central School Arts & Humanities Center.
Parades & Festivals: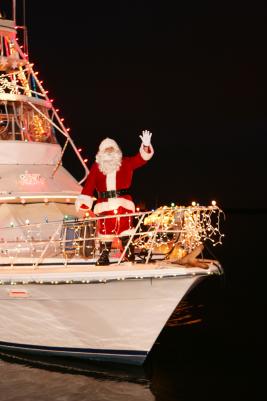 The season will "roll in" with a number of parades throughout the area. The Sulphur Kiwanis Lighted Balloon Parade will be on Friday, Dec. 1 in conjunction with Sulphur's Christmas Under the Oaks Festival (Dec. 1-2). The Light Up the Lake Christmas Festival in Lake Charles will take place on Saturday, Dec. 2, complete with fireworks over the lake that evening. Additional parades include the DeQuincy Christmas Parade (Dec. 1), Starks Christmas Parade (Dec. 2), Jennings Christmas Festival & Parade (Dec. 2), Vinton Christmas in the Park (Dec. 8), Iowa Christmas Parade (Dec. 9) and the Moss Bluff Christmas Parade (Dec. 9).
Many of the parades and festivals can keep you and your family entertained for hours. Pick up some boudin from one of the local meat markets on the Southwest Louisiana Boudin Trail before heading out for the day to hold you over until lunch or dinner.
Performing Arts & Live Music:
While you're in the area, you definitely need to see one of the holiday performances by our local theatre organizations, many of which are family-friendly - a perfect if you are traveling with kids! The Mines Sulphur Community Theatre will be performing the Christmas classic, A Christmas Story, Nov. 24-26. Christian Youth Theater will help you discover your "inner elf" at Elf Jr. – The Musical, which will run Dec. 1-3 at Lake Charles Boston Academy. Additional shows include the Francis G. Bulber Youth Orchestra Christmas Concert (Dec. 1), Handel's Messiah (Dec. 3), Louisiana Choral Foundation's Christmas Concerts (Dec. 8 & 10), ACTS Theatre's Dashing through the Snow (Dec. 8-17), Lake Charles Civic Ballet's 'Twas the Night Before Christmas (Dec. 9), Once Upon a Christmas Dance Production (Dec. 9-10), How Christmas Saved the Grinch (Dec. 10), Big Band Christmas Concert (Dec. 15).
If you don't have kids to worry about, then branch out & create memories this holiday season by dancing the night away to Zydeco or Cajun at one of our local hot spots. You can even listen to chart topping hits at our casino resorts, like the Martina McBride Holiday Show (Nov. 25) at L'Auberge Casino Resort or Kenny G – The Miracles Holiday & Hits Tour (Dec. 8) at Golden Nugget Lake Charles.
Tours, Displays & Lights!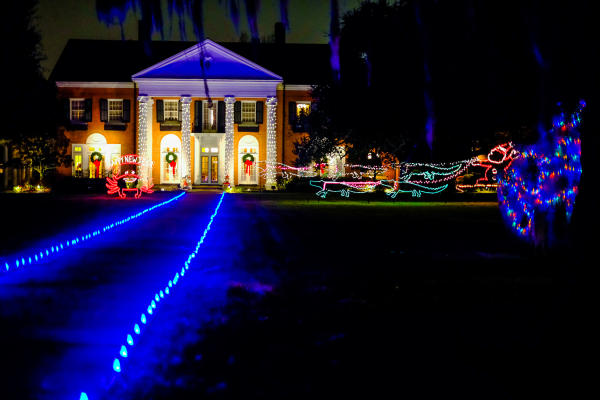 Be dazzled by the twinkling lights along Lake Charles as you take a carriage tour down Shell Beach Drive with Lake Charles Carriages or Vintage Carriage Company (remember to make your reservation early!). If you prefer to be indoors, smell the aroma of gingerbread at the Lake Charles/Southwest Louisiana welcome center for their annual Gingerbread House Contest & Display – while you're there, you can vote for your favorite entry!
On Sunday, Dec. 3, the Lake Charles Symphony will have their Holiday Home Tour, featuring several homes along Shell Beach Drive, each complete with delightful holiday décor. Docents will be at each location to provide facts about the home. After touring the homes, enjoy music and complimentary refreshments.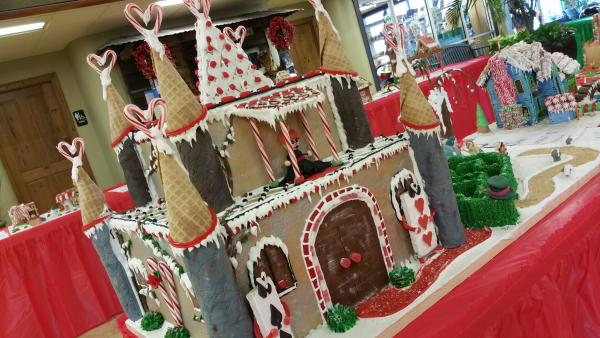 Additional displays include the Holiday Extravaganza Mini-Christmas Tree Decorating Contest & Display (Dec. 8-26), L'Auberge Casino Resort's Annual gingerbread House Display (Dec. 1-31), and Delta Down's Annual Trees of Hope – Charity Tree Decorating Contest (Dec. 2-27).
For more details and a complete list of Christmas events, go to VisitLakeCharles.org/CajunChristmas.