So by now you've either downloaded the Pokémon Go app and have tried to catch 'em all or you think it's another crazy app that the "kids" are addicted to. Recently I stumbled across a great blog that inspired me to introduce you to the Southwest Louisiana "cousins" of Pokémon characters.
Let's meet the real-life creatures you can find along the Creole Nature Trail.
Golem & Turtle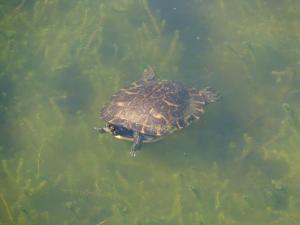 There are several species of turtles, tortoises and terrapins – 30 species to be exact. There are even a few species of sea turtles that reside along the Gulf of Mexico. You can find numerous varieties in the waterways of the Creole Nature Trail . The last time I visited the Cameron Prairie Visitor Center there were a few box turtles swimming and sunning around the facility.
Golem with his defensive shell and pointy teeth reminds me of the vicious snapping turtle. Wouldn't want to get into a PokéBattle with that thing.
Vaporeon & Otter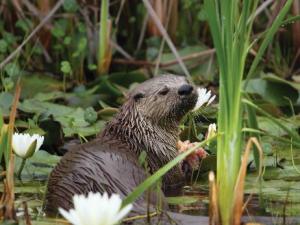 Just like Vaporeon, otters are comfortable in and out of water. You'll most likely find them in or along the water, hunting. Otters hunt for 3 – 5 hours. Their favorite meals? Frogs, crawfish and crabs. That sounds like a Cajun dinner party! I've seen otter on the Wetland Walkway. They are super-fast though – so keep your eyes peeled!
Krabby & Blue Crab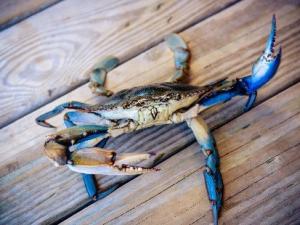 There is no dying a "family resemblance" here. Good news for you, catching blue crabs is probably a lot easier than trying to toss a PokéBall at Krabby. All you need is a few supplies and a little patience and you'll soon have an ice chest full! Click here to learn How to Catch a Blue Crab.
Magikarp & Redfish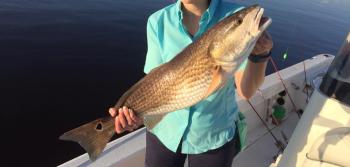 Magikarp reminds us of the Louisiana Redfish. Of course the red-orange scales are a given, but just like Magikarp, redfish are extremely tough and strong. I wrestled my first redfish all around the boat before I mustered the strength to reel him in. And, what a trophy! Catch a trophy of your own by setting up a guided fishing trip.
Farfetch'd & Pintail Duck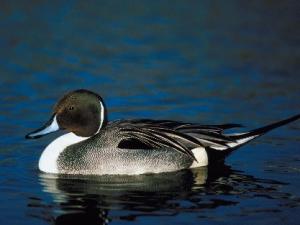 Finding Farfetch'd cousin was hard! More than 400 bird species visit Southwest Louisiana each year – all different. The Creole Nature Trail is actually one of the Top 10 Birding/Birdwatch Destinations in the country. Here are a few birding hotspots to visit.  We decided that the Pintail Duck was the closest match since they share similar feather colors and patterns. Wonder what Farfetch'd would taste like in a gumbo?
Totodile & Alligator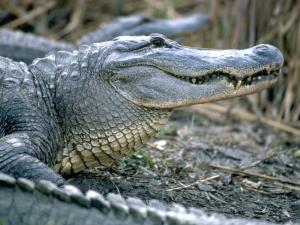 Last but not least, Totodile and his cousin the mighty alligator. Granted Totodile is probably more closely "related" to a crocodile, but they all share the same prehistoric family members. Totodile's most valuable asset is his strong jaw. Did you know that an alligator's jaw can crush with 2,115 pounds of force? I'd like to think the alligator would give Totodile a run for his money!
Well, there you have it. Now it's time to go out and explore the Creole Nature Trail – and check out all the wonderful wildlife that make the marshes their home.
Make sure to visit the Convention and Visitors Bureau or Creole Nature Trail Adventure Point for more ideas on where to find wildlife. Download the Creole Nature Trail app before you go for a guided tour throughout the area. Happy Trails!
Pokémon Source: http://bulbapedia.bulbagarden.net/
Adapted from a blog posted by the U.S. Department of Interior. See the original here.