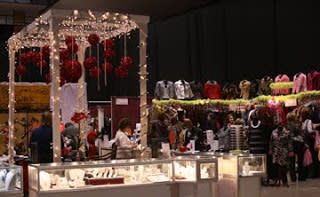 Ringing in a Cajun Christmas in Lake Charles/Southwest Louisiana
The spirit of Christmas and the holiday cheer start early in Southwest Louisiana. There are some great art pieces, fine homemade jewelry and unique creations, perfect for gifts at several upcoming events. Mark your calendars for these great shopping excursions:

Kiwanis Christmas at Jackson Square West:
Fine Art & Authentic Handmade Crafts
November 5–7
The first weekend in November marks the time for hundreds of expert artisans and crafters to display and sell their products to many eager shoppers at the largest art and handicraft fair in Southwest Louisiana. Sponsored by the Kiwanis of South Lake Charles since 1972, this event offers one-of-a-kind art that will enhance any space. The featured artist this year is Dianne Christopher with the Picasseaux Art Studio from New Roads, LA. Check out the sneak preview, gumbo and silent auction Friday from 6–9 p.m. Get a head start on holiday shopping. Weekend hours are Saturday from 10 a.m.– 6 p.m. and Sunday from 10 a.m. – 4 p.m. For more information, call (337) 532-3839. www.visitlakecharles.org/jacksonsquare

Mistletoe and Moss
November 17–20
The Junior League of Lake Charles, Inc. celebrates the 18th Annual Mistletoe & Moss Holiday Market Wednesday–Saturday, Nov. 17–20. A holiday tradition, this year's market is sure to be spectacular! With over 80 merchants, the event will be held in the Exhibition Hall and Coliseum of the Lake Charles Civic Center, and shoppers will catch the holiday spirit as they experience the sights and sounds of festive holiday decorations and entertainment while shopping for Christmas goodies!

Be the first to shop the 2010 Holiday Market Merchants during the Plantation & Pearls Preview Party Gala featuring cuisine from the finest area restaurants plus cocktails, auction items and live entertainment on Wednesday, Nov. 17, from 7–10 p.m. Admission is $40. Enjoy a complimentary mimosa or Bloody Mary while local celebrity chefs whip up delicious recipes for the crowd during the Southern Sassy Brunch on Thursday, Nov. 18 from 10 a.m.–noon. Admission is $25 per person.

Grab your girlfriends for Belles and Bordeaux Ladies Night starting at 5:30 p.m. This exciting and fun-filled night will include wine tasting by The Wine Store and delicious appetizers by local caterers. Buy your tickets early for a chance at fun door prizes!

Beignets with Santa will be on Saturday, Nov. 20, with three seatings at 8:30 a.m., 10:30 a.m. and 2 p.m. Don't miss your chance to tell Santa what's on your list! Photographer Jennifer Kilpatrick will be on hand to take each child's picture with Santa in his sleigh. Beignets will be served and local author Tommie Townsley will entertain children with her latest book.

General Marketplace hours are Thursday, 10 a.m.–9 p.m.; Friday, 10 a.m.¬–9 p.m.; and Saturday 9 a.m.–5 p.m. Admission is $7 per person and children eight and younger get in free. On Thursday, Nov. 18, there will be no stroller fee. For more information on event availability or admission contact the Junior League of Lake Charles, Inc. office at (337) 436-4025 or visit www.jllc.net.

Sulphur's Christmas Under the Oaks' Holiday House
December 2–4
Let it snow! Snow will definitely be glistening in Sulphur for the 9th Annual Christmas Under the Oaks celebration with all activities centering around the Henning Cultural Center at 923 Ruth Street Dec. 2–4.

The Holiday House at Christmas Under the Oaks will be preceded by a special "Preview Gala" on Thursday, Dec. 2, from 6:30 – 9:30 p.m. which will allow guests to enjoy great food and music and find those perfect gifts before the festival actually begins. The exclusive event is $35 and benefits the Brimstone Historical Society. Tickets must be purchased in advance from the Henning Cultural Center.

The Holiday House will be open Dec. 3–4 from 10 a.m.–8 p.m. and will have over twenty-five different shops with a multitude of fabulous Christmas items. The Brimstone Historical Society will also be unveiling its seventh ornament in the Sulphur Ornament Series. It will be available for purchase at the Henning Cultural Center desk for $15. Ornaments from previous years are available as well, though on a limited basis. They will be on sale for $13 each.

Saturday, Dec. 4, opens with the "Breakfast with Santa" event. Tickets for this event will be available starting the month before. Tickets are $5, and include a pancake breakfast courtesy of Pitt Grill in Sulphur, and a photo with Santa! Other festivities include performances by local school choir and dance teams, music from The Bayou Jazz Kings and a tea room hosted by the Sulphur High School "ProStart" program.

The sky will be a kaleidoscope of color with the Sulphur Kiwanis Balloons on Parade on Saturday at 3 p.m. The parade will start at W.W. Lewis Middle School and come down Cypress Street. Grab a comfortable spot later that evening and enjoy the 9th annual Spectacle of Lights at 6 p.m., where there is always a 100 percent chance of snow in the forecast along with Sulphur's biggest fireworks display.

For more information, call the Henning Cultural Center at (337) 527-0357, the Southwest Louisiana Convention and Visitors Bureau at (337) 436-9588, or check out www.holidayhousesulphur.com.