Santa Under the Oaks – Christmas Event!
The first time I discovered Pecan Street in Sulphur, I really felt like I was on some sort of movie set for a Christmas movie. It's quaint, delightful, and decorated to the brim. This year, the neighborhood decided to create an event along with the Henning Cultural Center to brighten up the holidays. You can enter Pecan Street near Kent Drive, and everyone is invited to come out to the "Winter Sleigh Ride" at the Henning Cultural Center, 923 Ruth St., between 5 – 8 p.m. on Saturday, Dec. 19. Kiddos can drop off letters to Santa and wave to Santa himself! (Elves will be on hand to deliver letters to Santa, and hand out goodie bags).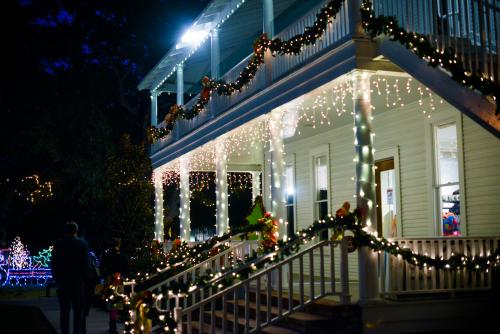 Photo by Lindsey Janies
After catching a glimpse of Santa, it's recommended to park down the street at The Grove Park to fully enjoy the displays. Both the Grove and the Henning Cultural Center are decked out in Christmas décor, the perfect backdrop for photos and enjoying an evening holiday stroll. Event-goers can then walk down one side of Pecan Street and up the other side to enjoy the neighborhood. Free hot chocolate and candy canes will be handed out as long as supplies last.

Many families have a tradition of taking photos in front of the Henning Cultural Center each year, and the building is definitely dressed in its Christmas best. While the annual Christmas Under the Oaks festival was canceled due to storm damage, the Brimstone Historical Society wanted to bring a bit of Holiday cheer to Sulphur and say thank you for all the support and care everyone has shown to the organization throughout this difficult year.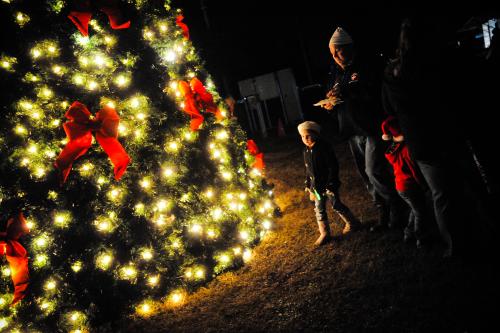 Photo by Lindsey Janies
*The Santa Under the Oaks event is brought to you by The Brimstone Historical Society, in partnership with Sulphur Parks and Recreation.

For questions, please contact the Henning Cultural Center at (337) 527-0357.