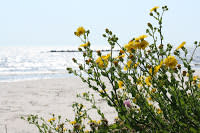 Holly Beach on the Gulf
The Creole Nature Trail All-American Road
is home to some of the most beautiful, untouched nature Louisiana has to offer. What makes it better is that it has been made conveniently accessible for people to experience for themselves. There are 26 miles of natural beaches that offer a wide range of activities such as swimming, surf fishing, sunbathing, and shelling!
If your interest is shelling or if you have kids that love to comb beaches for treasures, you're in luck! Southwest Louisiana offers some of the best locations for these nature hunts, if you know where and when to go, and we will help you with just that!
Where to Shell?
All the beaches along the Creole Nature Trail provide great shelling opportunities, but the beaches to the west of Holly Beach, on the Gulf, usually offer the best results as they are the least inhabited. Be sure to look for shells both where waves are currently hitting as well as where they did hit at high tide. The Gulf often leaves its treasures as the high tide slowly recedes.
So what are you waiting for? Click here for our complete
Shelling Guide
!