Growing up, my parents would load my sister and me up to go for rides through the Kisatchie National Forest in Central Louisiana. When we could, my sister and I would opt to ride in the bed of the pickup truck. I loved feeling the wind and sun on my face, and it gave me the best view of the trees and wildflowers along the side of the road as well as any wildlife we'd encounter! I'll never forget the time we saw a band of wild horses.
The story behind April's photo of the month reminded me of those family drives as well as the natural wonders to discover here in Southwest Louisiana.
This photo was taken by Kim Couch, a Lake Charles local and avid photographer. Kim is no stranger to the road, she and her husband, Tim, are traveling musicians. When they are not on the road singing, Kim drives throughout Southwest Louisiana to capture photos. She posted this photo of an American alligator, and it's one of the best closeup shots I've seen in a while.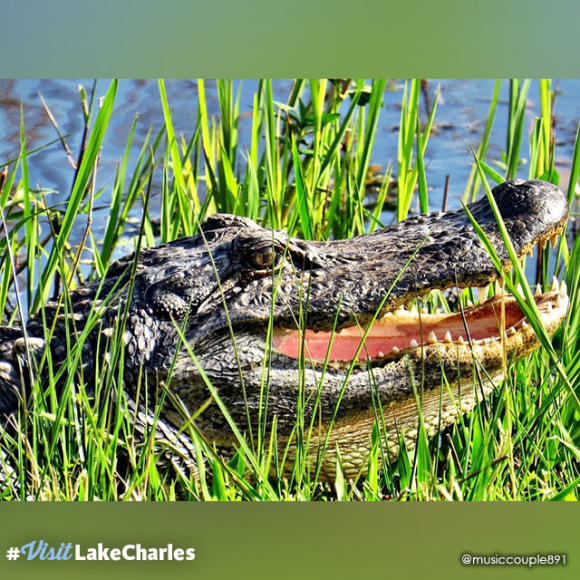 "This picture was taken at one of my and my husband's favorite drives, Pintail Wildlife Drive and Boardwalk. It's a beautiful drive that shows the variety of animals and plants in Louisiana. (When taking photos) I try to look for angles or perspectives that other people may not see. As I was looking through the lens to take this shot, waiting for the sun to hit the alligator just right I knew the second it was perfect. This picture shows just one of the things, along with the food, music, and culture, that make Louisiana so special. And, after you see these majestic animals, you can drive to Lake Charles and enjoy some deliciously fried alligator. Just another thing that makes Lake Charles unique," said Kim.
It's nice to just get out and explore your little part of the world. In fact, I encourage you to do that OFTEN! The Creole Nature Trail, the Creole Nature Trail Adventure Point, Sam Houston Jones State Park, and our parish and city parks are great places to start your outdoor adventures.
For your chance to be shared on our Instagram, Facebook, or Twitter pages, featured on our blog, or even claim the title "Photo of the Month," tag your photos with #VisitLakeCharles.
All Photo of the Month winners receive a FREE mini canvas with the official #VisitLakeCharles stamp!