Have you ever had one of the days or evenings spent with friends/family that you wished could have gone on forever?! You know the one? You wish that EVERYDAY could be like that day.
One of my favorite things about social media is the ability to share moments.  For me, my social media posts are like time capsules. Whenever I think about a night out, a celebration or vacation – I can look back to my Facebook or Instagram feeds and relive those moments. Even re-share them with the people who were with me.
That is what Dayton Robinson did when visiting the Lake Charles lakefront with his friends.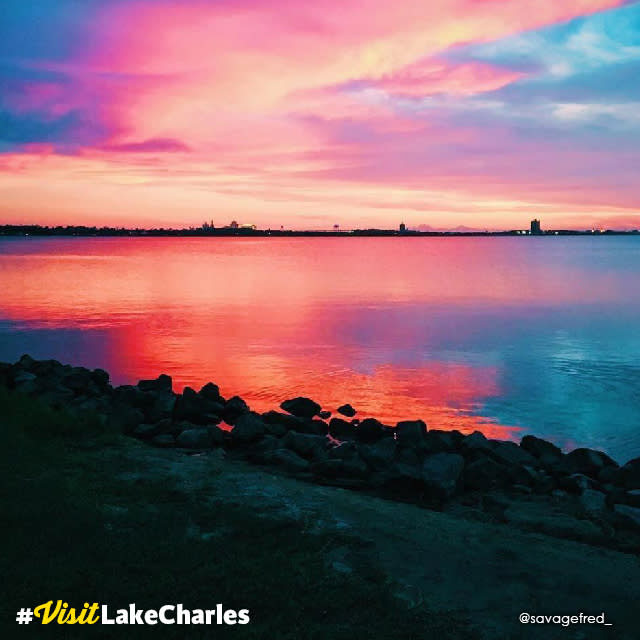 "I was enjoying my time with friends at the boardwalk. We all had green teas in hand and were enjoying an evening of Pokémon Go. It was a really good night for all of us and I wanted to photograph an image to capture the pureness of  a good time; to remember it by. I loved the colors of the horizon along the Lake Charles Boardwalk and am very happy about the result."
Thanks for sharing this moment with us, Dayton.
It's a rule of thumb for me to always try to be PRESENT in life. But there is nothing wrong with taking some time to capture the moments we live so that we can reminisce the good times.
For your chance to be shared on our Instagram, Facebook, or Twitter pages, featured on our blog, or even claim the title "Photo of the Month," tag your photos with #VisitLakeCharles.
All Photo of the Month winners receive a FREE mini canvas with the official #VisitLakeCharles hashtag stamp!