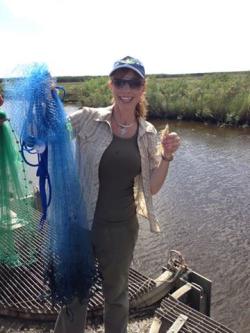 When you head out to catch shrimp in Southwest Louisiana, pretty much all you need is a cast net and a bucket. Oh, be sure to bring your appetite because the bayou is brimming with surprises, and the only thing better than catching a bucketful of large Louisiana shrimp is cooking your bounty for dinner. Scattered among 76,000 acres at the Rockefeller Wildlife Refuge are hundreds of prime spots for fishing, crabbing and, of course, shrimping.
As an avid angler and guest of the Lake Charles/Southwest Louisiana Convention and Visitors Bureau, this Ohio native learned very quickly that cast netting is a common hobby for people of all ages in this part of the country. I also learned that there is a bit of technique involved with tossing the net. If you aim too high, you are likely to catch a tree; aim too low and your weighted net lands like a bomb in the water scaring off your catch; twirl too much and you could hurt your friends beside you and don't twirl enough...well, you get the point.
As I set out for a scenic drive along the Creole Nature Trail All-American Road, which spans for 180 miles in Southwest Louisiana, I see the occasional fisherman (or woman) cast netting for shrimp. I think about how exciting it would be to spend an entire day out in nature catching this iconic symbol of Southwest Louisiana. I get hungry thinking about the fresh Gumbo and shrimp cocktail that will adorn tables later in the evening when the dinner bells ring.
My stop in the Rockefeller Wildlife Refuge in Cameron Parish happened out of curiosity and an opportunity for my hosts to showcase one of the most biologically diverse locations in the country. I scramble for my camera hoping to catch a glimpse of an osprey or another of the 400 bird species that call this place home.
Nearly a mile into the refuge, my attention shifts from nature to people. I see a small swarm of locals made up of children, families, college friends and oil riggers home on their one-day break. I see cast nets being tossed through the air, fishing poles propped against guardrails and two giddy girls pulling up a crab caught on the end of a string in waterway bordering the dirt road.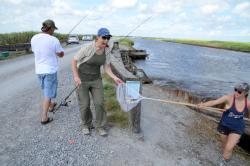 Like commercial shrimpers pulling in the daily catch for market, I could not believe the number of giant red buckets brimming with large, fresh shrimp. The locals tell me that on a good day it is easy to catch the 25-pound per vehicle limit in the span of an hour or two. Seeing the camaraderie unfold among those with a shared interest, all braving hours in the sweltering sun, was just as fun as catching shrimp.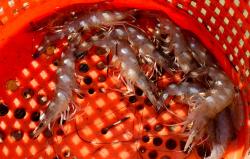 I certainly could not visit here and not take part in the excitement. A local handed me his 5-foot cast net, and with a little instruction, I tried my hand at "the toss." After several failed tries through my new friend's shouts of encouragement in an indistinguishable Louisiana accent, I caught my first shrimp. A celebration ensued with high-fives and fist-bumps.
Here, when one person makes a great catch, it's as if everyone just pulled in a great catch. That is because at end of the day, everyone heads home to cook a seafood and shrimp feast of epic proportions. It is a truly an unforgettable experience.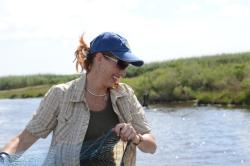 If you want to try your hand at this Louisiana past time, all you need is a basic cast net, a bucket and a license. You can find these items at baits stores and stores with fishing or sporting goods sections. Be sure to abide by license and regulation requirements for the State of Louisiana and the Rockefeller Wildlife Refuge by visiting The Louisiana Department of Wildlife and Fisheries.  To cast net for shrimp at Rockefeller WIldlife Refuge, you'll need Louisiana basic and saltwater fishing licenses.
For information and maps, contact my friends at Lake Charles/Southwest Louisiana Convention and Visitors Bureau.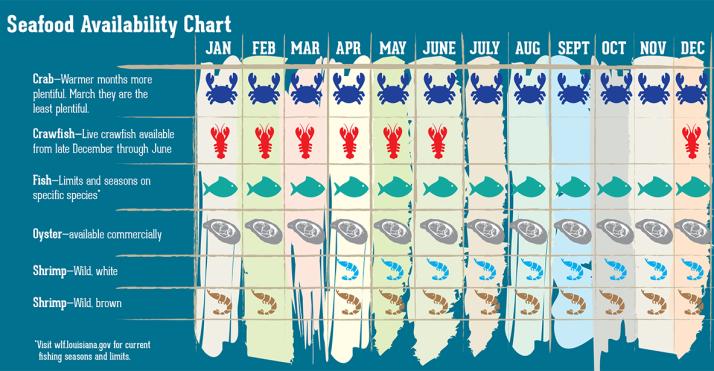 *Anietra Hamper is a travel writer and fishing columnist from Columbus, Ohio. Link:  http://www.threewordpress.com
Photos are credited to Anietra Hamper.