I don't know about your but when summer hits, my need for fruit ANYTHING becomes strong! Number one on my list is fruit pie.  The only thing standing in the way to a delicious pie - is my fear of homemade pie crust. There are too many rules and tricks to make it work properly. Butter or shortening? The pastry cutter. The time. Ugh. 
Boy was I excited to see Flip My Food's recipe for a skillet cobbler. It takes all the elements of a pie and throws them into a cast iron skillet together. Y'all – you even tear up the pie crust. No fear of imperfect edges!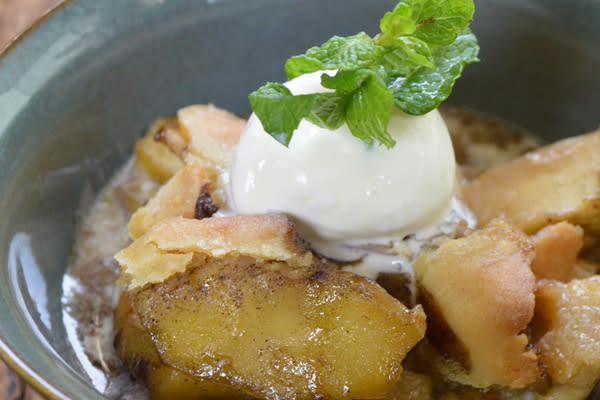 Ingredients:
2 pounds fresh Granny smith apples, cored, peeled and cut into wedges
3 tablespoons unsalted butter
3 tablespoons dark brown sugar
1 teaspoon ground cinnamon
¼  teaspoon ground allspice
¼  teaspoon fresh ground nutmeg
Pinch of salt
1 tablespoon fresh squeezed lemon juice
1 tablespoon cornstarch
2 refrigerated pie crust
2 tablespoons granulated sugar
Preheat oven to 350 degrees F.
In a large cast iron skillet, combine apples, butter, brown sugar, cinnamon, allspice, nutmeg, salt, lemon juice and cornstarch. Cook apples over medium heat until caramelized and softened.
Using a rolling pin, roll out pie crust shells and slice or tear into squares. Place crust pieces over apple mixture. Sprinkle with granulated sugar.
Bake cobbler for 35-40 minutes or until crust is golden brown. Cool on a wire rack for 30 minutes. Serve with vanilla bean ice cream.
Find more Cajun Recipes here. To learn more about Flip My Food, visit www.flipmyfood.com.