South Beach Sports Bar & Grill
Palm trees, white sugar sand, and a cool breeze. One thing that holds true on a universal level - is that everyone can use a little more fun in their life! With the abundance of screen time for the modern family, getting away from it all can be just want your heart needs. When I pulled into the parking lot of South Beach Sports Bar & Grill, which is tucked away behind Crying Eagle Brewing, I absolutely felt like I had been whisked away into a beachside oasis with the fluttering sound of palm trees sounding like ocean waves as I walked down the sidewalk to meet with Nikki Fontenot who is ramping up operations over at South Beach.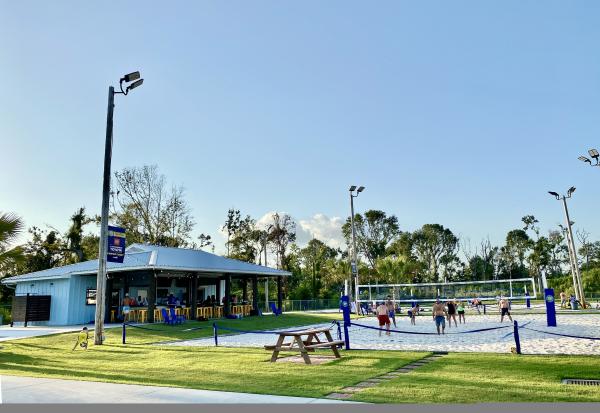 Nestled near the back of the property, I saw a light blue cabana-style bar & grill with hanging lights – perfect for beach bums! Like many businesses in the Lake Area, South Beach hit a few bumps in the road getting revved up with the all-too-familiar challenges facing Southwest Louisiana over the past 18 months, but fortunately, the partners and fans of South Beach have seen a united vision and are moving forward with big plans! Nikki and I go way back, and we keep running into each other for different projects over the years. I know that whenever she puts her mind to something, great things follow.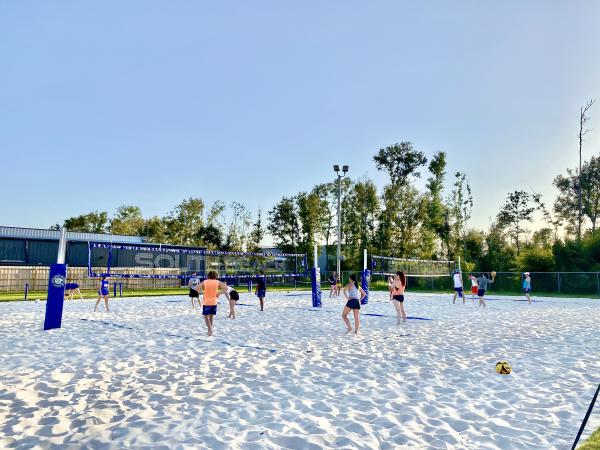 So, who's up for volleyball? South Beach currently has 9 deep sand volleyball courts and a bar & grill that has a California surf shack feel to it. From pulled pork sandwiches to cauliflower pizzas, the menu offers good eats. Not to mention, a full bar is available for anyone who would like to have libations – including frozen margaritas. One interesting fact is the sand courts do not pack when it rains. Drainage and the quality of the sand were both top priorities for optimal play.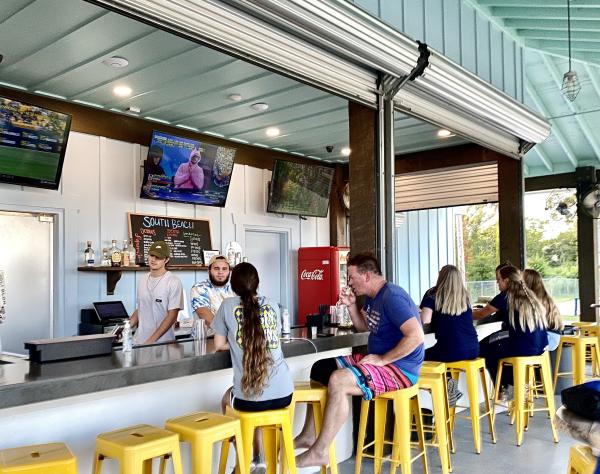 One of the big goals at South Beach is that the staff wants to create a place where people can just relax, get a little exercise, spend time with friends and family – and lose any stitch of anxiety from the world.
Nikki explained: "Our goal is to be the bright part of your day. So, when you come to South Beach, you can relax and have fun. People tell me that they feel that this is a kind place, so definitely, that's right in line with the kind of environment we are working to create."
Eventually, South Beach is going to add more courts, a stage area for live music, and further down the line, they are planning on opening a full-scale two-story restaurant with a balcony overlooking the volleyball action – plus axe throwing below. Currently, in addition to volleyball, South Beach hosts adult dodge ball tournaments, spike ball, and corn hole tournaments.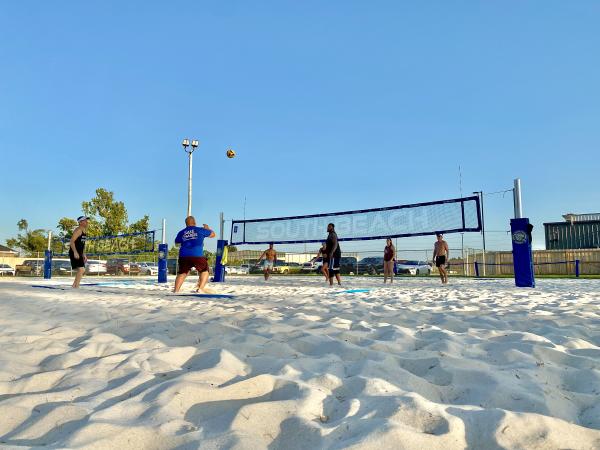 League play, birthday parties, corporate events – South Beach does it all. The leagues last for 8 weeks, and they host them three nights a week. Or, anyone can play for $5 per person, or you can call to reserve a court for your group of friends! There are lots of ways to have a good time at South Beach! Hours of operation are Monday, Wednesday - Saturday (5-10 p.m.) Check out South Beach online, call 337-508-0588 or e-mail sbvminfo@gmail.com for more information. For the latest updates, follow them on Facebook or Instagram!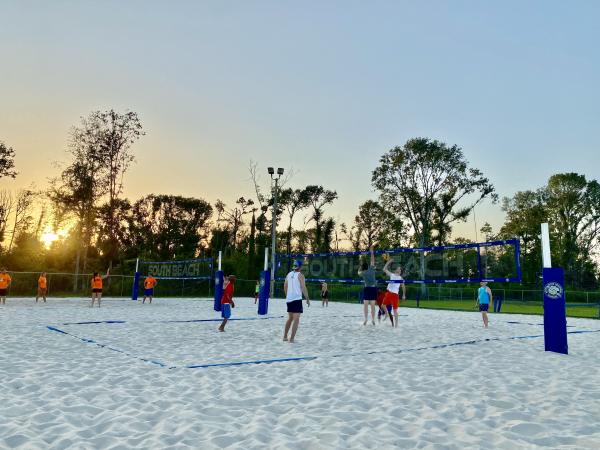 Featured Photos by Kathryn Shea Duncan