"People were itching to do something creative and fun." – Devan Corbello, executive director of the Arts & Humanities Council of SWLA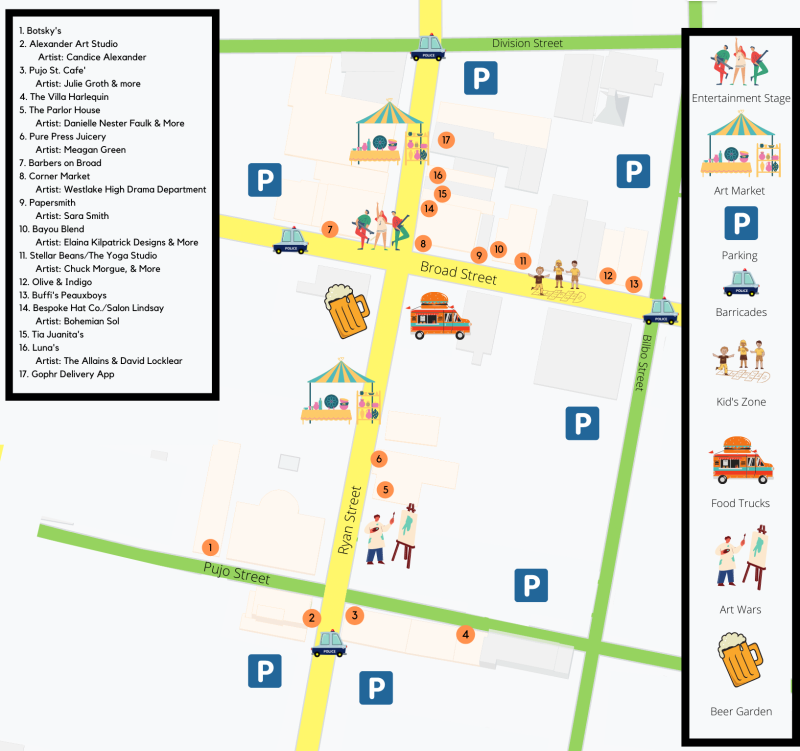 Clear your calendars because the Spring Art Walk is back on Saturday, May 8! I met up with Devan Corbello, executive director of the Arts and Humanities Council, to discuss what it meant for the community to get this event going again. With this being the first major event for the city in over a year, the question I was most curious about centered on the reaction from local artists and how many people were expected. I was not at all surprised with the answer that Devan gave to me. A huge number of people have signed up to present, and I know that's because of how excited everyone is to have a chance to share their work with the community again.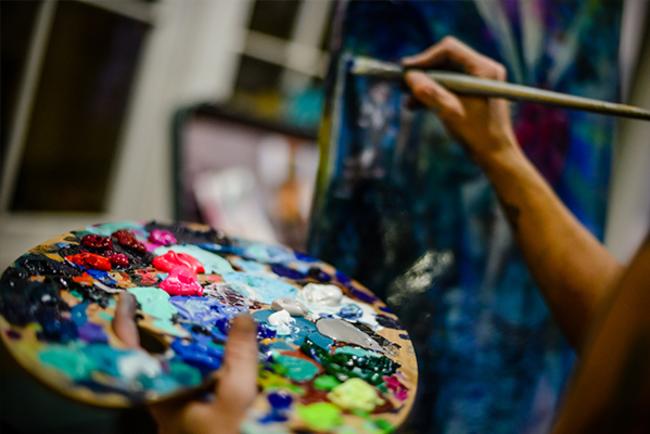 This year's Art Walk will feature an art market and popup galleries, as well as food vendors and special performances from the drama, music, and dance departments of various schools all over town. An "art war" is also set to take place, where students and adults are encouraged to join and create their own artwork under the theme of jazz icon Nellie Lutcher and her legacy on the city. It is incredible to see all forms of art coming together for an event in downtown Lake Charles. In the words of a friend and fellow writer, this event will be a renaissance of the arts! I can guarantee you that there will be something for everyone.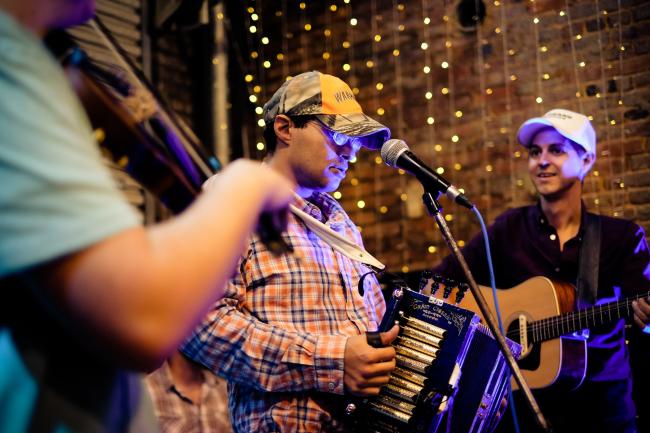 The 2021 Art Walk has been in the works for many months now. I asked Devan what measures had to be taken due to the pandemic. Mask wearing will be encouraged, and vendors will be spread farther apart than usual. The good thing about this event is that it will be outside, and it should be fairly easy to keep some distance between different groups. Several restaurants downtown will also host booths inside, which will help to spread people around. In addition, Devan shared with me that although the Children's Museum is not able to open its doors at the moment, the business will still host a booth outside its doors. Super cool, right? Even though our city has encountered setbacks, our people are still enthusiastically looking forward to coming together. This year's Art Walk will be just that—a beautiful display of creations linked together by people who truly love Lake Charles. Devan expressed to me how thrilled he is to be involved with curating this event, and I am proud to have a city full of individuals passionate about getting people involved!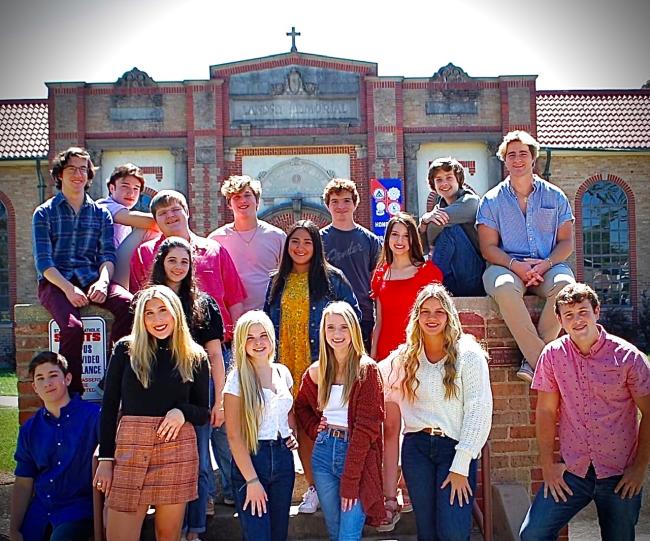 St. Louis Show Choir
Scheduled Performers:
 In addition to over 30 art vendors, expect entertainment by The Westlake High Drama Department, St. Louis Show Choir, Damien Guillard, Barbe Drama Club, Deep End, Lake Charles Dance Academy, Barbe Show Choir, Young Band Nation, and Brandon Broussard & Chez des Bons Temps! 
Meet some of the Local Talent!
Performing Arts - Drama:
With the Art Walk being one of the first big events here in over a year, I wanted to speak with a few people about what they would be sharing with the community. I had the pleasure of speaking with Kelli Cooley of Barbe High School's drama club, as her students are set to perform a portion of their spring production. Kelli discussed with me a bit of what her drama students had been missing this past year, as they have not had many opportunities to perform. I asked Kelli what drama club meant to her students at Barbe, and the response I got blew me away. Within one day, Kelli spoke with many of her students and asked them something I had asked her—what had been the feedback from students about being back in drama club? Each response was unique to the student that answered, but the theme remained the same. These students were desperate to join together and perform as a family again, to gain a bit of normalcy. They all expressed how blessed and excited they were for even the smallest opportunity to work together and put on a show for the community, to give people a reason to smile again. I've been a part of several productions, and I know what it's like giving that last performance on the last night. As the lights go up and the curtain closes, it's bittersweet knowing that it's the end.
Humanities - Author:
I also spoke with local author Shawna Boudreaux, who will be featuring her novels at the Art Walk. As a writer myself, I was super excited to hear of an author getting the chance to feature her works at this event. I usually hear about lots of artwork (and the art is always incredible!), but I don't always see novels being presented here. As I spoke with Shawna, who writes under the pen name of SG Boudreaux, I learned that she had been the only author to present at the last Art Walk in 2019. Even through everything that has happened in the past few years, Shawna has homeschooled her three children and has managed to publish six books, with five of them being published on her own. If you want clean and fun fiction reading, check out her books! I continue to be amazed at the talent we have here in town, and I can't express enough how excited I am to see all that this year's Art Walk will have to offer.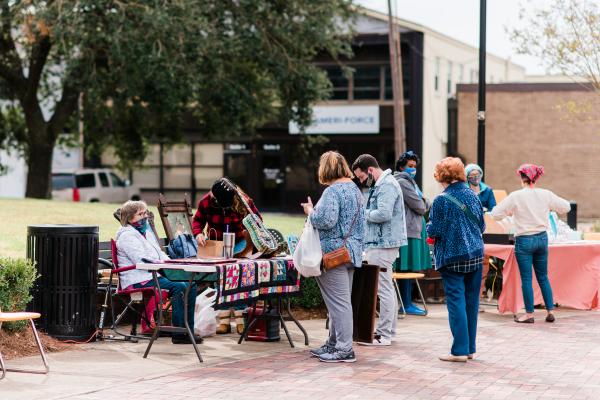 Support SWLA!
That's just a snippet of what we'll be seeing at the Art Walk this year! Living in Lake Charles my whole life, I have seen what our city has to give. I've seen beautiful creations born out of struggle, and art built from broken pieces. I feel in my heart that the creations this year will be unique and one of a kind. I remember something truly special being made after Hurricane Laura, taken from the broken glass of the Capital One building downtown. People began making jewelry from these pieces, and I don't think I've ever seen anything like that before. We could carry those with us and see our reflections as a reminder that we're still here. A hurricane may have knocked those pieces out, but those pieces were still there. Everything at the Art Walk can serve as a reminder to us as well.
So, take your children, your parents, anyone and everyone, and come support the community at this year's Art Walk on May 8, 3 - 7 p.m. on downtown Ryan Street. 
Participating Venues:
Luna's, Olive & Indigo, Corner Market, Pure Press Juicery, Stellar Beans/Yoga Center of Lake Charles, Gophr, Buffi's Peaux Boys, Bespoke Hat/Salon Lindsay, Papersmith, The Parlor House, Tia Juanita's, Botsky's, Alexander Art Studio, and Barbers on Broad.