You have at least five or six (or maybe a hundred) in your closet. You wear them when exercising, socializing, and grocery shopping. They show off your personality, broadcast a message, or make you part of a team. They can be worn layered, tucked in, or cropped. In Southwest Louisiana, the T-shirt is more than clothing, but a tangible reinforcement of our cultural identity.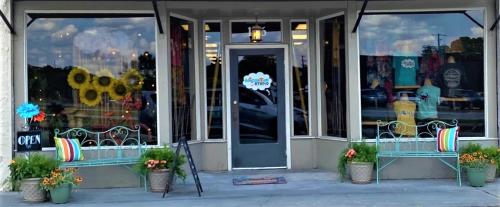 Imagination Studio, Sulphur
My journey begins when I set out on a mission to "re-discover", or in my case, "discover" Sulphur. Amidst the dining destinations throughout the city, I stumble upon several screen printing shops. Swept away by the sheer variety in product and magnitude of Sulphur's t-shirt enterprise, I comb through a sea of colorful fabrics. Friendly employees quickly greet me and offer to design my perfect tee.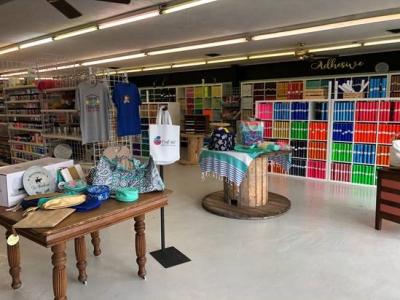 The Craft Addict, Sulphur
Externally, I politely smile back and continue browsing. Internally, my mind races to answer the question: what is my perfect tee? What do I want my clothes to say about me? What am I even wearing right now? In Southwest Louisiana, tees go beyond the fashion-factor. They flaunt the cultural aspects we love so deeply that we want to wear them on our backs. Tees display allegiances to universities and flex the grandeur of family reunions.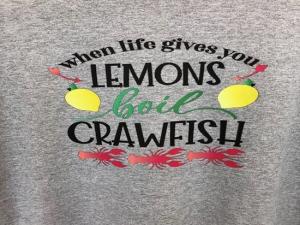 They promote political candidates and church youth-groups, support dance teams and Mardi Gras Krewes, and distinguish Barbe from Sulphur High fans. Popular tees in Sulphur shops feature designs of scripture, crawfish, and baseball-mom regalia. Perhaps these are truly the holy trinity of our southwest Louisiana identity. Although somewhat alien to travelers along I-10, locally made tees display our beliefs, loves, and inside jokes. They are an outward reflection of ourselves.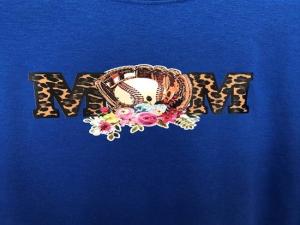 Shops to check out:
-The Craft Addict
-Innovative Expressions
-4D Outfitters
-A Total Tee
-The Stitch House
-Imagination Studio