(Photo above: Haylie Loftin and Jason Labove squeeze and strain their juices fresh every day at Restaurant Calla.)
Seasonal. Daring. Progressive. These are just a few adjectives used to describe Restaurant Calla, one of the newer upscale establishments on the Lake Charles' dining scene. Calla has earned a reputation for visionary gourmet cuisine. This same vision and commitment to quality and creativity extends beyond the kitchen and over to the bar where bar manager Jason Labove oversees libations.
"We like to do everything here as fresh and original as possible," he says, while straining lime juice for the pending crowd on a recent Friday evening.
Labove and his fellow bartender, Roberto Calin, squeeze all their juices fresh each day. They use 2-3 quarts of lime juice, 2 quarts of lemon juice, 1 ½ quarts of pineapple juice and a quart of cucumber juice. Every. Day.
They occasionally make their own bitters, such as pepper or cucumber. Jason currently is experimenting with a bitters recipe made from cucumber, black peppercorn, and lime. The team is dedicated to the integrity of each refined recipe. If the restaurant runs out of an ingredient in a drink or dish, they simply won't make that item.
The world of cocktails entails more than simply pairing a spirit with a mixer. Labove says every detail is important, from glassware and garnishes to the shape of the ice cubes. Calla uses four different types of ice -- crushed, small cubes, large cubes, and spheres the size of tennis balls.
Large cubes and spheres compliment the slow-sippin' drinks that should be chilled but not diluted. Crushed ice works better for cocktails that go down quick and easy, such as their popular signature drink, Gin and Tonic.
"It's the way the ice melts," says restaurant General Manager Haylie Loftin. "For our cocktails like Sazerac or Scotch on the Rocks, we use the sphere. Old-Fashions are chilled with one large cube.  A Moscow Mule or Peach Smash is served with crushed ice."
Calla changes their cocktail menu seasonally so they can utilize the freshest ingredients. They buy local produce or grow their own, as much as possible. In summer, it's all about fresh fruits and juices. For example, they've been serving plenty of Peach Smashes lately (made with fresh peach, two of the finest whiskeys, honey, basil, and lemon juice). In the fall, they might incorporate pumpkin into a cocktail. And I'm told their eggnog is truly a treat during the winter holidays.
Loftin helps out behind the bar during extra-busy times. "Everything we do here is going to be a little bit different," she says. "The majority of liquors, wines, and cocktails you can get here, you can only get here." At least in Southwest Louisiana.
On a recent visit to Calla, Labove introduced me to two of his signature specialty cocktails, both quite popular with their regulars – the Chupacabra and their surprisingly unique Gin and Tonic.
To make a Chupacabra, Labove starts with a fresh muddled slice of jalapeño. He adds fresh pineapple, cucumber, and lime juices, tequila, orange liqueur and agave nectar.  "It's like a play on a margarita but more fresh and vibrant," says Loftin. I found it to be delicious and refreshing.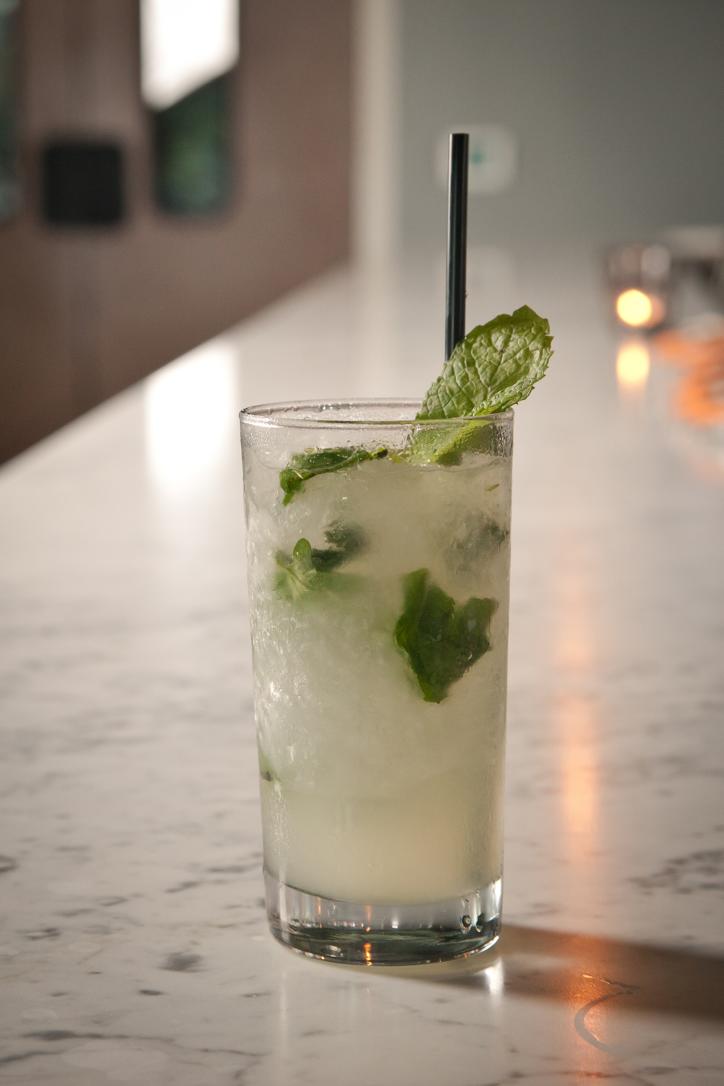 Their "Gin and Tonic" is no ordinary gin and tonic. Labove makes Calla's own unique tonic with fresh rosemary, thyme, and cinchona bark. It's essentially a flavorful tea that transforms a simple gin and tonic into a celebration for your taste buds. They use Ransom Gin and an herbaceous Ransom Dry Vermouth with a splash of juniper simple syrup and garnish it with a star anise. Incredible!
Cocktails at Calla are made only with top shelf liquors, fresh juices, and custom syrups made in-house. Labove takes popular New Orleans cocktails such as Old-Fashions, Sazeracs, Manhattans, and puts his own twist on these classic drinks. At Calla, a cocktail is akin to a work of art. When creating an original cocktail, Labove labors over the recipe for weeks, melding flavors, defining details, and perfecting the presentation until the glass contains a masterpiece to behold and enjoy.
Restaurant Calla is located at 1400 Market St. (off Sallier St. in the Walnut Grove neighborhood), Lake Charles. They do not take reservations. They serve lunch Tuesday - Friday, 11 a.m. – 2 p.m., dinner Tuesday - Wednesday, 5 – 9 p.m., Thursday – Saturday 5 – 10 p.m., Happy Hour Tuesday – Friday 4 – 6 p.m. For more information, call 337-419-1980 or see their website, restaurantcalla.com.