In Louisiana, meals are meant to share. We enjoy the dining experience from the shaken specialty cocktails, to the fresh vegetable sides, and most importantly, the company that gathers at the dinner table. Memories are made at the dinner table.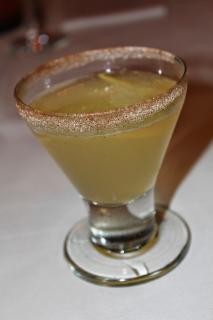 The Cable Car from Ember 
As we adapt our meals at home to the seasonal vegetables and warmer weather, restaurants do as well.  I was able to get recipes of a few of my favorite summer selections from the Isle of Capri Casino Hotel's Otis & Henry's and L'Auberge Casino Resort's Ember Grille and Wine Bar.
Ember Grille &Wine Bar
Recently, I shared a memorable dinner at Ember listening to the soulful John Guidroz singing with Kevin Lambert playing piano while I sipped on the old Ember classic Cable Car. 

I've attempted to make the Cable Car at home many times – even for my Pokeno group – but since I don't have a little blow torch, it just isn't the same.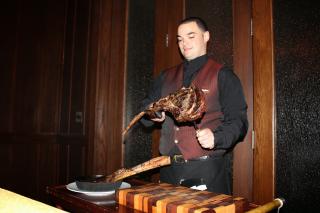 The Ember Prime Tamahawk
As the mixologist dramatically melted sugar with fire for my Cable Car, the servers at Ember were definitely in the midst of a performance when they brought the main dish to the table.  The Ember Prime Tamahawk, a 40 ounce rib eye for two, was carved tableside and was as high quality as it gets.  Although it comes with your choice of two sauces, my dad always told me that you never want to cover the taste of good piece of meat with sauce.  The quality of the meat, simply prepared with salt and pepper, spoke for itself.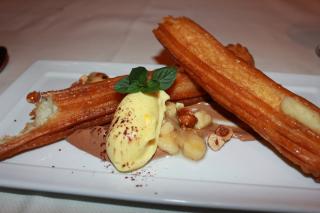 Ember's New Banana Nut Honey Churro
As a side dish, we shared the Truffled Mac n' Cheese, an adult version of the childhood staple.  Cheesy, rich and delicious, this nostalgic Southern dish brought me back to my mom's kitchen in the house where I grew up.  (They also offer Crawfish Mac n' Cheese that is packed with flavor!)
For dessert, award winning Pastry Chef Bill Foltz prepared a banana nut honey churro.
Otis & Henry's
For an affordable lunch date, my husband and I love going to Otis & Henry's at the Isle of Capri – especially on Saturdays and Sundays when they have live music.  (Check out the Events Calendar to see who's playing.)  The bartenders are always crafting their specialty martinis that are fun to try.  It's like being at an island oasis!
Otis & Henry's Shrimp Cocktail is making a splash on their summer menu and is an outstanding appetizer choice.   It just doesn't get any better than flavorful, Louisiana seafood!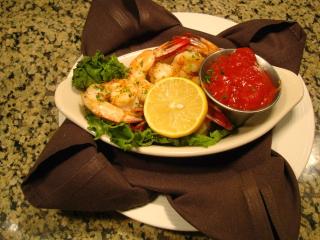 Otis & Henry's Shrimp Cocktail 
I enjoy the Cajun Rib Eye (medium plus please!) that is always seasoned just right and expertly prepared.  We always split the Bourbon Pecan Pie for dessert.  It's made from scratch and tastes pretty close to my great grandmother's recipe.
On Sundays, the Otis & Henry's has their Blues Brunch that is an option for live blues music and delicious food.   
Check out a few of these recipes to try at home this summer.