I've learned so many new words since moving to Louisiana eight years ago. For example, mayhaw.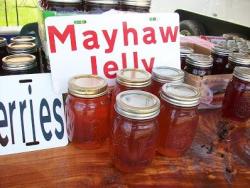 I recall my first trip to a farmers' market in Lake Charles. A friendly lady stood behind a table with an impressive display of jams and jellies. I saw some jars labeled "Mayhaw Jelly." I'd never hear of that. So I asked her, "What's a mayhaw?" I learned it is a berry-like fruit that grows on trees, similar to crabapples, but somewhat smaller. Naturally curious, I bought a jar. It's very good on toast or biscuits.
A few years later when I heard about a mayhaw festival in Starks, Louisiana, I was all over that like bees on a blossom.
The Starks Mayhaw Festival offers the usual amusement rides and games, musical entertainment, arts and crafts, and carnival food. There's a parade, queen's pageant, talent show, and auction. There's also a mayhaw jelly contest and plenty of vendors selling homemade mayhaw jelly.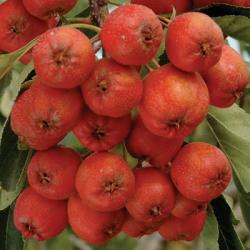 When it comes to fruit preserves, I prefer jam over jelly, but it's not easy to find mayhaw jam. In 2013, we found only one vendor, David Griffis from Buna, Texas, who sold mayhaw jam. He gave us a sample. It's difficult to describe the taste of mayhaw. Sweet is the only word I can think of. I suspect the mayhaw by itself is rather bitter, like a crabapple, thus requiring a lot of sugar to render it palatable. Mr. Griffis says he uses four cups of sugar for every six jars of jelly. Griffis also makes a wonderful blackberry jam. We bought a jar of each.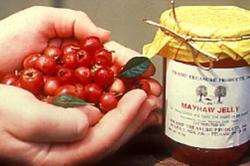 For a complete schedule of events and musical line-up, see their website, mayhawfest.com.