Nothing is sweeter or creates more genuinely happy-filled memories than a delicious scoop of ice cream in the sun-drenched Louisiana summers. It's just magical to take a break, sit on the porch and indulge in a little spoon filled with ice cream heaven! Louisiana Reauxl (pronounced like Roll) is a local ice cream company that is owned by father-daughter combo, Whitney Moss Griffin and John Moss. Their ice cream is stylized and really looks like works of art, bringing a special amount of care in the creation of their tasty treats.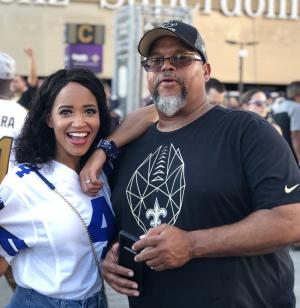 Whitney said that their inspiration grew from enjoying desserts with their family dinners and good times around the table. She said that her dad had worked on the East Coast in 2018 and came across a Thai fried ice cream business and fell in love with the concept of rolled ice cream. Louisiana Reauxl has an artistic and scientific approach to the final dessert product. They start with a liquid and form a solid the tastiest way ever – plus it's fun to watch them roll up the frozen deliciousness.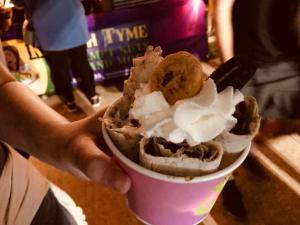 Each order is assembled with the flavors and ingredients, which become frozen onto a metal plate and then rolled up into rose-shaped forms. All their ingredients are fresh, and each order is crafted right before your eyes. Two of their most popular flavors are Cookie Two Step (Oreo, chocolate chip cookie and chocolate syrup. Topped with whipped cream and cookies) and – always a crowd favorite – Birthday Cake (birthday cake flavored vanilla ice cream with sprinkles)!
FUN FACT: They have used over 10,000 Oreos since they opened!
Louisiana Reauxl literally rolls up to gatherings and events, and they love getting out and showing new customers what they have to offer. They have become a huge staple for parties and even weddings. Whitney said that their support system is huge, and that was one of the most surprising things that she learned as a business owner – people really do want to support local.
"I didn't think this many people would fall in love with this concept of ice cream so quickly and continue to support us, even during today's trying times. As far as our business goes, we can set up anywhere … office party, birthday party, any celebration, we can cater to you!"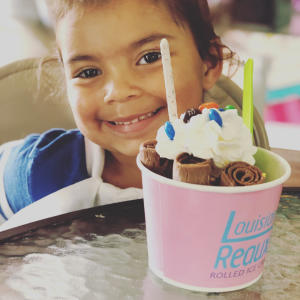 When it comes to motivation, Whitney said that hands down having endless amounts of support from family and dear friends.
"They have not only helped me along this journey but also encouraged me when I felt defeated. As a business owner, things happen, and I've had to jump in and help my employees multiple times, but I love what I do."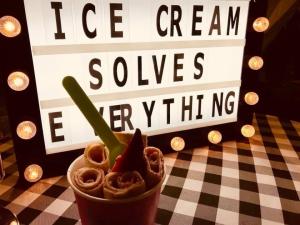 When she's not spreading cheer through ice cream, Whitney loves photography and traveling and has been a part of the pageantry world for about 20 years now. She currently holds the title of Louisiana International Junior Ms. and will be competing for the International Junior Ms. title in December. She also recently picked up balloon crafting and make unique balloon bouquets for special events – which goes hand-in-hand with Louisiana Reauxl!
Advice for Business Owners out There?
"Small business encouragement. If you are good at something and have a love for something, do it. There is a whole world of customers that love being able to say they supported local and only support local." ~ Whitney
Check them out on Facebook for Pop-Up Appearances or to Book!
Louisiana Reauxl / louisianareauxl@gmail.com 

Looking for Black-Owned Businesses? We have a list!