Fall is coming for us, which means two things: relief from the summer heat (hopefully) and football! Whether your cheering for Local State University or Hometown Tech, personally we prefer our McNeese Cowboys, tailgating and other gatherings are sure to ensue no matter where you are. So why not spice them up with some cajun and creole dishes?
Being a McNeese alum, some of my favorite memories from college are of the days I spent tailgating. Hearing the band play the Jolie Blonde (the official school fight song) when we scored a touchdown, indulging in the free food at the student tailgates, many failed attempts at playing washers – all of this and more is part of my tailgating experience at McNeese State University. Aside from my personal experiences, tailgating in Southwest Louisiana is something that everyone can enjoy!
Friday evenings before a home game, you can already see the signs of tailgaters when driving by campus. People setup tents and park trailers - the serious tailgaters have claimed their territory and are ready for a day of festivities.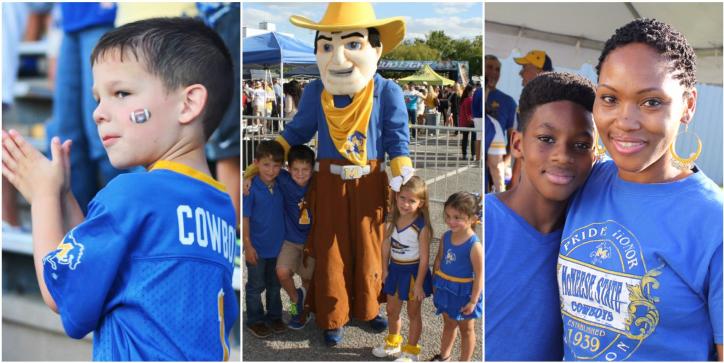 Of course, what's a good tailgating party without good food? In Lake Charles, we take our tailgating food very seriously. If you're lucky, you'll run into some old friends, relatives, teachers, neighbors (… or someone that you know), and they will more than likely offer you some food. I mean, come on… who doesn't love free Cajun food? A few weeks ago, my family cooked a pork and sausage jambalaya in a cast iron pot – it was delectable!

If you're a part of the Alumni Association, stop by The Grove to catch the Pride of McNeese Cowboy Marching Band, the Cowgirl Kickers and Cheerleaders perform and grab a bite to eat.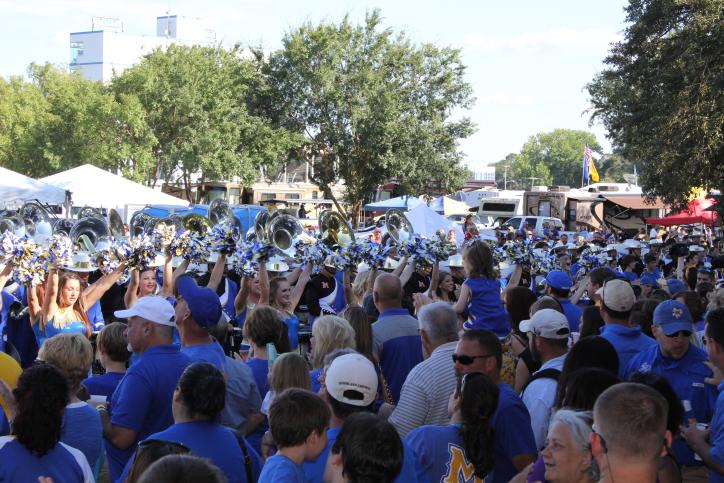 At the alumni tailgate I went to, hot links and a variety of drinks were offered - check out the grill that they used!
Many would say tailgating is all about the beer, the food, or the giveaways. While all of these elements are important to a tailgate, neither are the most valuable asset. The finest libations, great food, decked-out tailgate RVs, and painted bodies all contribute to a good tailgate, but the people in the Southwest Louisiana community are what make all the difference between a good tailgate and a great tailgate.
So grab a few friends and make your way to the tailgate this weekend and make it one to remember. After you tailgate, be sure to head to Cowboy Stadium to cheer on the Cowboys!

Find out how we tailgate in Lake Charles during football season! 
Geaux Pokes!
Stay up-to-date with all of the McNeese games by downloading the free events app!