There's nothing better than a big story to share after a vacation. Sometimes sharing those vacation experiences is just as fun as the vacation itself. The relatives of Photo of the Month winner, Britt Richey, brought a fun story home; especially after big guy jumped into action!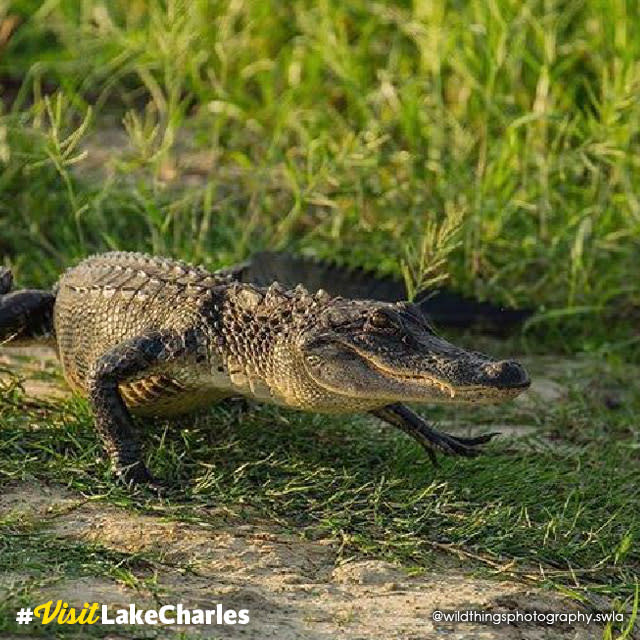 "For this particular photo, we had some family in town. So, we wanted to take them and show them around and give them a feel for Southwest Louisiana. We loaded up and set out for Pintail Wildlife Drive.  When we arrived and were driving around one of the corners along the drive the alligator was lying there sunning.  We watched him for a bit, and I took a few pictures. Then, he got up and started to scurry down to the water.  They sure got a kick out of that!
I hope (this picture) will encourage more in the area and get out and explore some of the great areas that make this corner of the state such a great place."
Fantastic! Are you looking for a one-of-a-kind vacation experience? We've got a ton of ideas for you. With our new 5 action-packed itineraries, we've done the hard work for you. All you have to do is "Choose Your Adventure!"
And while you're here and even after you've returned home, share your stories online. Make sure to tag us by using the #VisitLakeCharles hashtag.
For your chance to be shared on our Instagram, Facebook, or Twitter pages, featured on our blog, or even claim the title "Photo of the Month," tag your photos with #VisitLakeCharles.
All Photo of the Month winners receive a FREE mini canvas with the official #VisitLakeCharles hashtag stamp!