It's Official! Mardi Gras has Begun! 🎉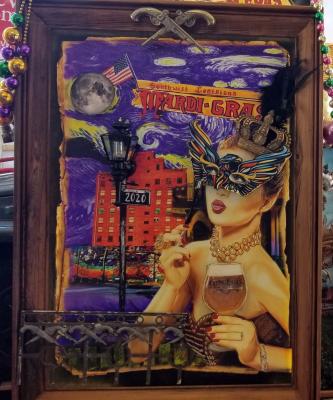 On January 3rd, the 2020 Mardi Gras Season in Lake Charles kicked off with a downtown party that brought the community together to enjoy music, food, libations and the big reveal of the official 2020 Mardi Gras Artwork! So who is behind this festive piece of art that defines Louisiana's Playground? Allow me to introduce you to Candice Alexander!
Not just any "Thing"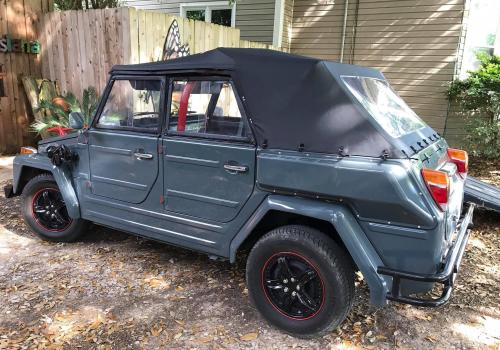 Every great artist has a story, and Candice Alexander is no exception. Candice was born and raised in Jennings, Louisiana and has been in Lake Charles for 20 years now. Prior to putting her roots down here, she traveled the country developing her craft. Candice spent 15 years creating and selling her art at Renaissance festivals. She lived in New York, Pennsylvania, and Florida before making a home in Lake Charles.
I love Candice's story of how her journey unfolded. She shared with me that in 2001 she purchased an old 1974 VW Thing. She then bought a second wrecked one for parts. Being the artist that she is, she even made a sculpture from the front panel. Funny enough, a professor of Candice's found out that the old wrecked car had belonged to him! She traded the car to him for a small printing press, and so began a new chapter in printmaking. Her 1974 VW Thing fixed up from parts of that old wrecked car is tucked away in her studio! That's right, in the front corner as you walk into the studio is her jeep that she's not sure why she felt so compelled to have, but became such a key piece to her success as an artist. I'll let Candice tell the next part of the story,
"In 2006, while living in New York and Pennsylvania a woman commissioned me to design a simple Fleur de Lis copper engraving. She wanted to purchase the original copper plate and 12 prints for Christmas. She never picked up the $300 order, which was exactly the amount I needed for rent." 
Talk about a Christmas miracle! She goes on to explain,
"In the Lafayette Mall in 2007, I sold the original 12 prints and nearly 200 black and white prints of the engraved plate. Thus began my journey in to the "Fleur De Lis - World's Within" series...all thanks to a commission gone bad"
I'll tell you more about the Fleur De Lis series later!   Candice had a studio at Historic Central School for 10 years before outgrowing it. One day, she was sitting across the street from her current studio having lunch with friends when they noticed the space for lease and told her that she should make it her new "home". That was eight years ago. She said when she moved in that it was so large that every noise echoed. It is now filled with her art and has become something of a landmark in downtown Lake Charles.
The 2020 Commission
Though Candice began her career as an artist with printmaking, she has also become known in the art world for her 3D and very custom pieces. If you can imagine it, chances are she can create it! Candice was thrilled to be commissioned to create the official Mardi Gras artwork for Lake Charles for the second year in a row. She was also commissioned to create artwork for Mardi Gras in Washington D.C. for 2020 as well! Her passion for Louisiana Mardi Gras culture and history can be seen throughout both pieces. I was thrilled to meet with Candice in her studio in downtown Lake Charles, where I was able to get a sneak peek of the grand originals. Candice explained the inspiration and history that inspired the paintings.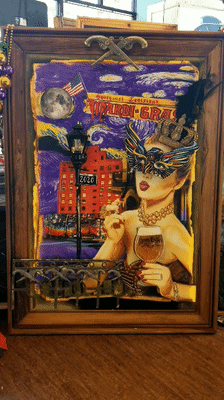 Candice's artwork for this year's official Mardi Gras poster shows Lake Charles' rich history, and she revealed a few elements of surprise embedded in the piece. She has captured the Historic Downtown District beautifully. One of the features in the piece is the first "skyscraper" of Lake Charles, the Charleston Hotel that is now the home to her current studio and gallery. If you look closely, you will see some familiar faces looking out of the window of the downtown building depicted, those who commissioned and sponsored the artwork, including Mayor Nic Hunter! You will also see Katherine Vidrine of Steamboat Bills, Paige Vidrine of Buffi's Peauxboys, and Candice herself to name a few! The Mardi Gras queen in the painting is holding a crafted beer from The Crying Eagle Brewing Company, also a sponsor of Mardi Gras 2020. You may notice that her mask is the official logo of Crying Eagle.
Interesting Fact: A neat fact that I learned about Crying Eagle, is that it is the name given to the chief of the Native American tribe known to the area, the Atakapa or Ishak Indians. Crying Eagle translated, is to the tribal language is Calcasieu which is the name for the parish. Recently, Crying Eagle Brewery announced the plans to build their new location on the lakefront in downtown Lake Charles next to the Port Wonder project which will eventually house the Children's Museum of Lake Charles and the Louisiana Department of Wildlife and Fisheries' Science Center and Educational Complex. 
Also included in the poster is the railing that the woman of the painting leans upon is a nod to the Calcasieu River Bridge adorned by one of the iconic symbols of Lake Charles, crossed pirate pistols! The painting also has a light-up feature that creates a festive vibe that truly immerses you in the feeling of Mardi Gras. The street lantern depicted also lights up and has been designed with a motion sensor. Candice can be seen below putting some final touches on the sky, a tribute to the design of the famous Starry Night.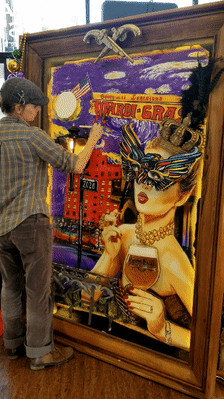 The Washington D.C. Mardi Gras painting was inspired by The Story of Evangeline, a famous tale of a husband scorned when his wife Evangeline, was unfaithful to him and was caught with none other than John Lafitte. Upon this unfortunate realization, he was overcome with anger and shot Evangeline. The bullet ricocheted off an amethyst broach on her dress and she survived. There is a poem written about this dramatic event in history. Candice has artfully "hidden" the words to the poem in the painting. She has added 3D elements like the amethyst on Evangeline's dress, the state flower, the magnolia, and even a giant dandelion to the painting that really make the story come alive.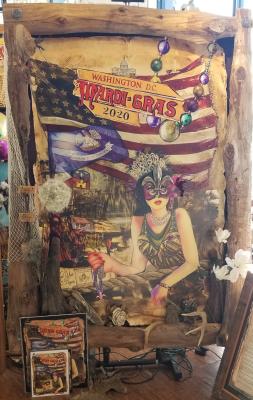 The Mardi Gras 2020 artwork is available in multiple size options. You can even have them framed right in the studio. A wide range of merchandise featuring the print will also be available including everything from t-shirts to coffee mugs, keychains to cutting boards, and more! Pictured below is the painting that Candice created to honor the 150th Anniversary of Mardi Gras in Lake Charles three years ago. Prints and merchandise with this design are also available in her studio and online.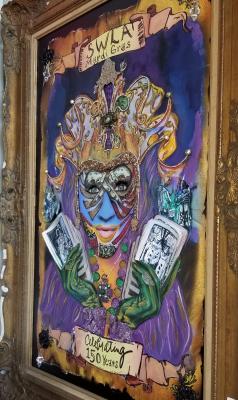 Molding Lake Charles' History
After viewing Candice's framed artwork, you may begin to notice a unique signature that has also become one of her most popular pieces. Mounted on the frames of her artwork are pirate pistols, an iconic symbol of Lake Charles history. Fun fact, there are 5,000 pirate pistols adorning the Calcasieu River bridge! The pistols that Candice creates are cast from a mold right in the studio. Candice shared with me that eight months ago, she had never cast anything from a mold and this was a completely new medium of art for her. The very first mold was from plaster of paris. After production began...she broke the mold...literally. After the mold broke, she had to find the perfect material and method. Seven molds and many months later, she has perfected the mold and casts. During my visit to her studio, I got a behind the scenes look at the top-secret materials used to make these one-of-a-kind pirate pistols. They are available for purchase and come in many sizes. You will find life-size sets that are mounted in a box frame with a backdrop of the history behind the pistols. You can also find them in ornaments and keychains, which make a great souvenir or gift for any occasion.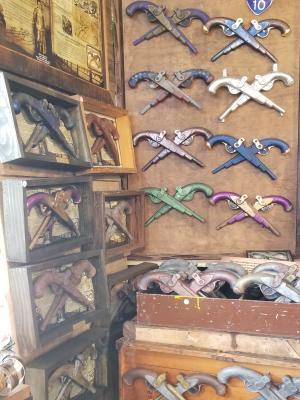 Something else that caught my eye while visiting Candice in her studio, was a miniature lighthouse. When I asked about it, she explained that she has partnered with the Cameron Preservation Society to preserve and restore that Sabine Pass Lighthouse. She has created replicas, each unique and different, using original wood and glass from the lighthouse. Proceeds from the sale of the replicas will go towards preserving this historical landmark.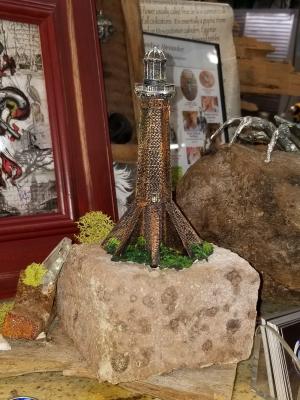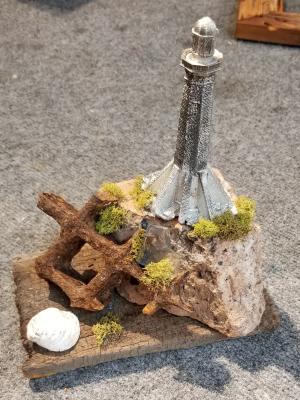 This is just one more way that she uses her talent to preserve the history of the region.
It did not surprise me to learn that Candice was recently recognized by the Arts and Humanities Council of Southwest Louisiana and was extremely proud to receive the Citizen of the Humanities Award for 2019 for her efforts to preserve our region's history.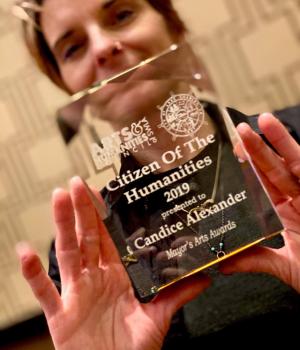 Another part of Lake Charles' rich culture is our historic churches and deep-rooted faith. Candice prides herself on pouring everything into commissioned pieces like the one you see below of a church. You can find many spiritual pieces throughout her studio and available for purchase.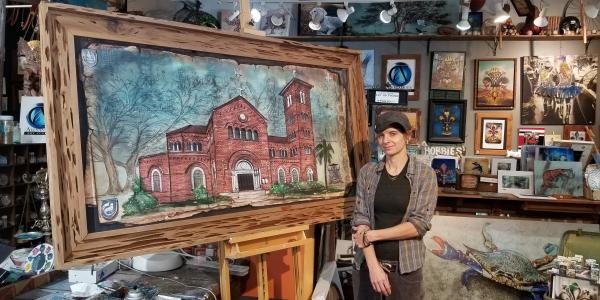 While strolling through the studio enjoying Candice's creations, I noticed a book on display that I recognized. I recently was introduced to the book while visiting Ally-Gator Book Bites, Lake Charles' very own publisher and book boutique. The book is called Hannah from Louisiana, written by local author Paige Vidrine. My daughter loves it, and it's illustrated by Candice Alexander! There are so many layers to her talent! Can you spy this year's Mardi Gras Artwork in the array of coasters pictured below?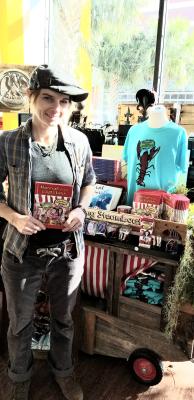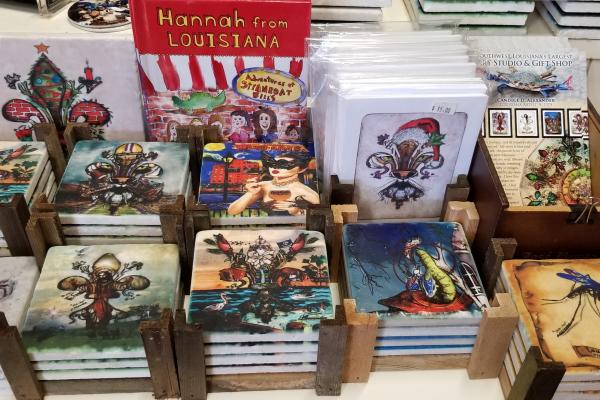 Fleur De Lis Series "World Within"
One series of Candice's art that can be seen throughout Lake Charles in restaurants, offices, and more, is her Fleur De Lis Series "World Within", that I mentioned earlier. Pictured below are just a few of the designs in this unique collection.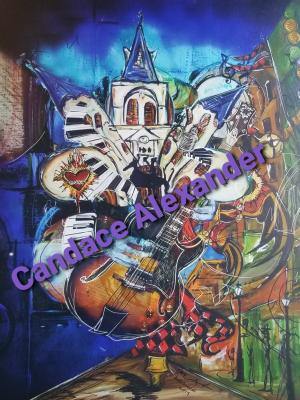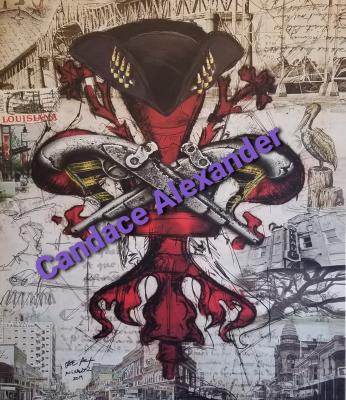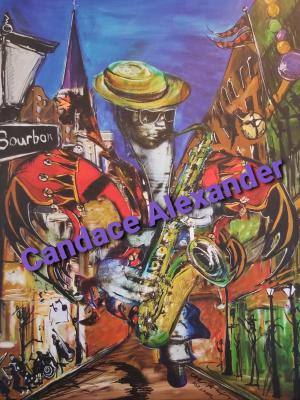 You can visit the Candice Alexander Studio website and pick one of the many designs from the gallery, then choose a product to have it printed on! There are designs ranging from sports, career, religious, landscape, and more, Here is the link to her site: https://www.candicealexander.com/  
I encourage you to visit her studio and see her artwork in person. You may even get to meet her if she is in! She is incredibly welcoming and always excited to help her patrons find exactly what they are looking for. And if it doesn't already exist, chances are she can create it! Pictured below is a custom piece that she created for me that was absolutely perfect. There was a story behind it that Candice magically brought to life. The cast was made from an actual shell of a locust and she then created it's little "habitat" from materials in her studio. Candice even gave me a behind-the-scenes look at how the creations are cast. The pewter that is melted down and placed into the mold reaches a temperature of 600 degrees before being poured and set! It's fascinating to watch.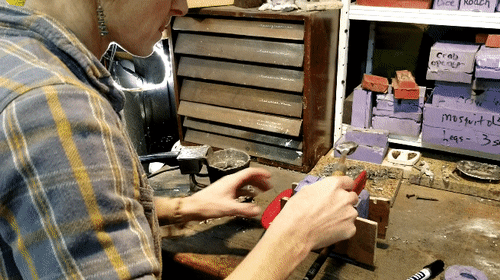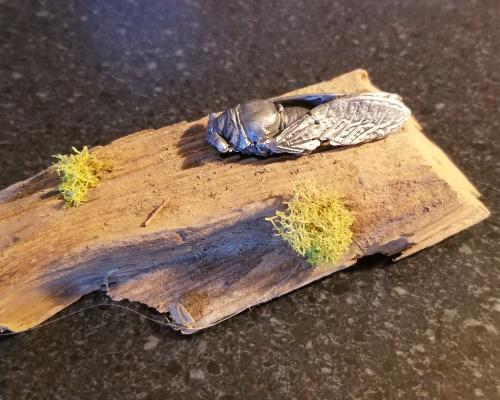 Another custom pewter piece that Candice has designed are the interlocking hearts shown below. This would make an absolutely perfect gift for Valentine's Day, which will be here in the blink of an eye!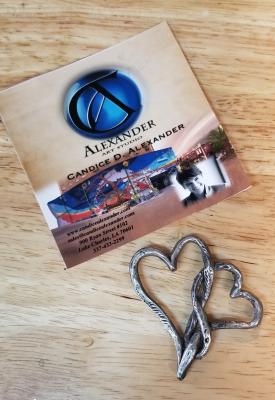 It was a privilege to get to know Candice, her journey, her art, her philanthropy, and her humanity. She has a passion for Louisiana culture and for the city of Lake Charles. She has a way of sharing and connecting with people that makes you feel not just like a fan, but a friend.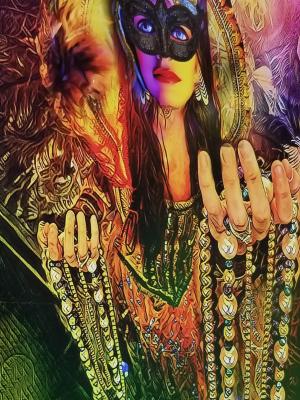 I'll leave you with a quote from Candice, 
Life is a journey, and all journeys should be chronicled. My story is best told through art, the purest form of expression and reflection. It pours from my soul, filtered through my hands, resulting in a wide variety of images visually inspired by my deep Louisiana roots. I love this opportunity to share my vision with you all. I feel truly blessed and honored that the work I create is not only seen, but felt. Your support has inspired me to the core. Thank you!"