Downtown at Sundown
One of my favorite memories as an event planner took place in 2010 when I was working for the Arts Council of SWLA under Matt Young. It was May, hot (well, hotter than normal), and our staff had just completed the first week of staging the four-week outdoor concert series Downtown at Sundown on behalf of the City of Lake Charles. After the crowds dispersed around 10 p.m. and the equipment was hauled away, Matt and I sat down in awe of this event. We didn't know at the time that we were looking at a shift in downtown culture as Downtown at Sundown helped usher in other downtown events that continue today to build our downtown as a cultural hotspot for Southwest Louisiana.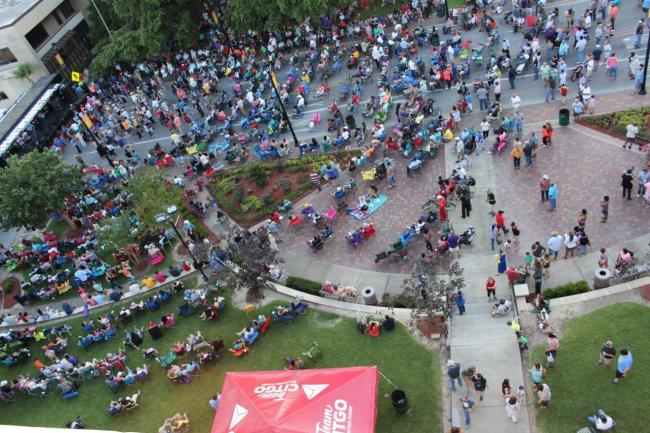 Today, Matt Young is the Cultural Affairs Director for the City of Lake Charles, and 2019 marks his first season of planning Downtown at Sundown in this position. The concert series annually brings thousands of people into the heart of downtown amongst businesses, restaurants, bars, and coffee houses, and each season seems to grow even further in ambition and innovation.
Like so many cultural events that look to the future and determine what people really want out of a music festival, Downtown at Sundown goes beyond music. It brings in a huge art market to help promote and support our cultural economy workers, all beverage proceeds are donated to the Literacy Council of SWLA, the streets are lined with local food trucks, and the event brings new and creative ways to celebrate Lake Charles culture, like adding more local music acts.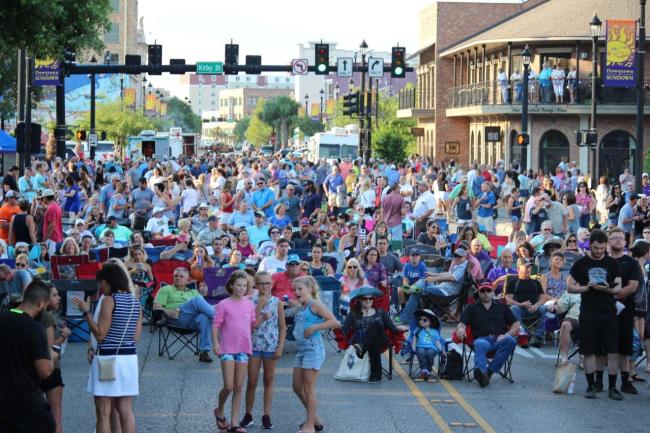 For this season, which begins today May 17, Downtown at Sundown will bring elements of multicultural dance into the crowd. On May 24, Jay and Maria Cotto will deliver Latin dance lessons to audience members, and on May 31, members of the Southeast Texas Ballet Folklorico – an organization dedicated to the preservation and education of Mexican culture through traditional folklore dance – will perform on stage.
We can also expect the atmosphere of Downtown at Sundown to shift to a more street festival feel. The music series has found its home on the 1000 block of Ryan Street, nestled between the Calcasieu Parish Courthouse and the Historic 1911 City Hall Arts & Cultural Center, but this year string lights will cascade down the front of 1911 City Hall and over its bricked plaza to create an umbrella of lights for the crowd to enjoy.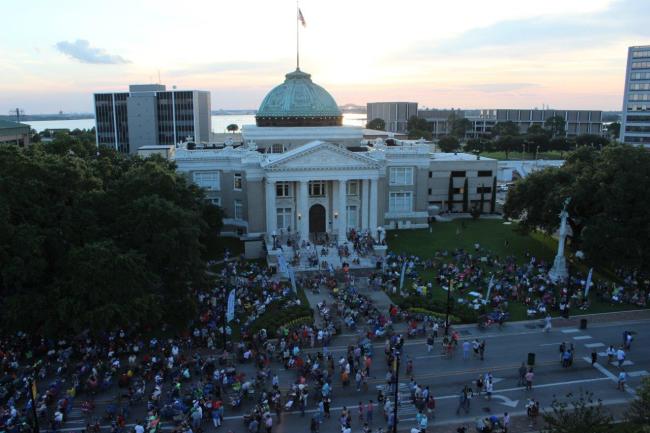 The 2019 line-up is exciting and spans from blues and folk to Cajun and party rock. May 17 will kick off with the Calcasieu Cajun Ramblers and Brandon Broussard and Chez De Bon Temps as the opening act. Crowd-favorite Terrance Simien and the Zydeco Experience will ignite the stage on May 24. On May 31, Bluesiana RED will perform with Young Band Nation as the opener. Party rock band The Tugboats will close out the season on June 7 with Mickey Smith as an intermission performer.
Downtown @ Sundown is free to the public thanks to community partners. Attendees are encouraged to bring their own seating as well as dance the night away under a ceiling of lights with Lake Charles culture circling around. Just like that night back in 2010, you'll be sure to sit back in awe of what downtown Lake Charles has become.
To learn more, visit www.cityoflakecharles.com or call Historic 1911 City Hall Arts & Cultural Center at (337) 491-9159.