When I finally left Crying Eagle Brewing Company after what seemed like days of sampling their new menu, I didn't eat for 24 hours. That was because Marketing and Special Events Director Krickett Racca took care of me. During my lunch break, I came to Crying Eagle to interview Krickett, but before I could ask the first question, she laid out before me a colorful parade of new dishes from chicken wings and deviled eggs to avocado toast and bread pudding. I hadn't tried any of these new menu items before – I was staunchly loyal to their pizzas – but that day I was ready to expand my horizons.
---
📰 Related Article: More than just a Brewery
---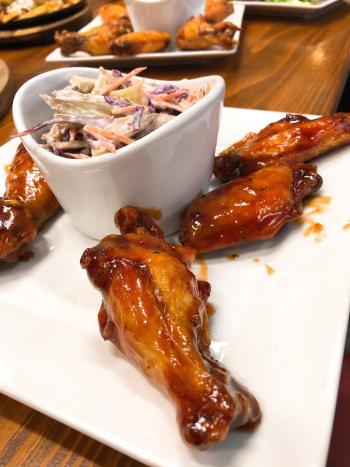 The cornucopia that Krickett organized into Intagram-worthy spreads showed me how serious she and the entire Crying Eagle staff are about their cuisine. The story of Crying Eagle has never been just about beer. It's been about beer and culture; beer and tourism; beer and atmosphere; and beer and culinary expertise.
"For many people, visiting Crying Eagle is their first experience of a real taproom, and while beer is at the top of mind for our guests, our menu is quickly becoming a big reason why we are such a destination for both locals and visitors,"

-Krickett 
"We elevated our menu to bring new flavors and new techniques to our guests," co-owner Fran Avery commented. She and Larry Avery happened to be at the next table over enjoying some chicken wings for a quick lunch. "Our culinary team is using the deep and profound flavors of our beers in all of our dishes."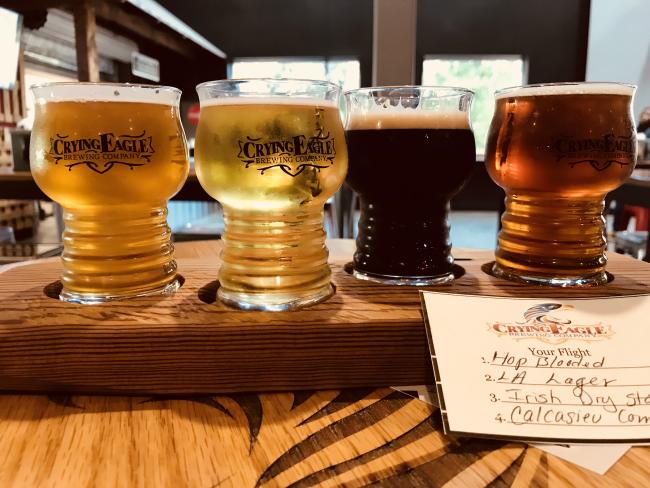 That's right – in every dish you taste at Crying Eagle, you'll notice beer in the mix, whether it's the background music in a wing sauce or a center stage star in the beer cheese, and the result is both surprising and delightful. "We use beer in every way that we can," said Krickett. "It's part of our soul as well as our menu." The crew identifies flavor profiles in their beers and brainstorm on what dishes could raise brew flavors to the heavens.
Head Chef Matthew Kaub hails from culinary school and brings years of experience crafting some of the best dishes in the Lake Area. "We build our menu and our beers around what inspires us, what our staff likes to eat and drink. We keep close to our roots here and mix Louisiana flavors with exotic ideas. We never stop evolving our food and beers," said Krickett.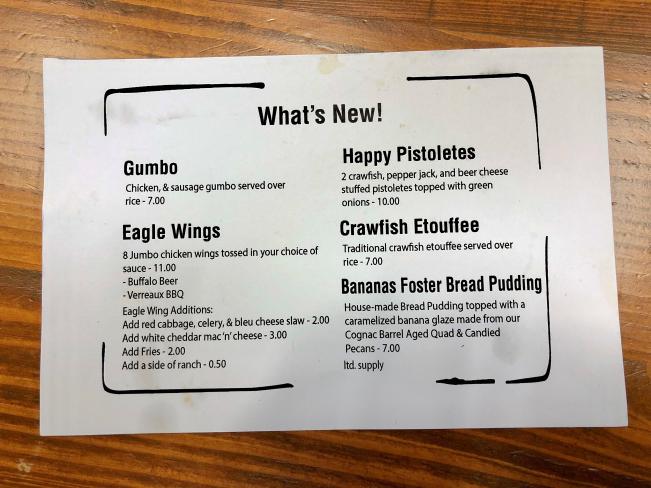 The new menu encompasses some heavy-hitting entrees and appetizers, such as gumbo, pistolettes, crawfish etouffee, and the real MVP – Eagle Wings, which have become an instant hit. When I was there, nearly every table had a plate of wings. You get eight meaty wings with your choice of sauce imbued with one of their beers. The Buffalo Beer sauce takes advantage of Louisiana Lager's light citrus tangs and creates a local twist on the traditional buffalo wing sauce. The Verreaux BBQ sauce is a sweet and smoky sauce with the flavor tones of their Verreaux, which is a Cascadian Dark Ale.
The new gumbo is a solid recipe, and Krickett highly suggests asking for boudin instead of rice, which understandably blew my mind. The pistolettes are stuffed with pepper jack cheese and beer cheese then blanketed in their crawfish etouffee.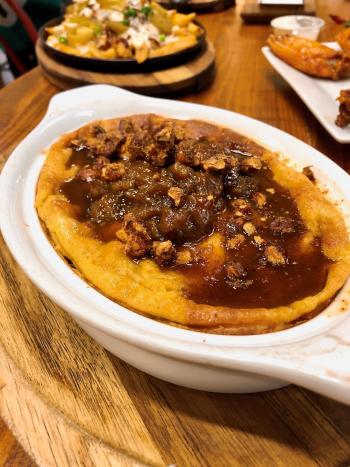 But the real reason why I'm writing all of this is to tell you about their new bananas foster bread pudding. I know you probably have your favorite bread pudding at some other restaurant, but I need you to understand how insane Crying Eagle's bread pudding is. What sets it apart from other bread puddings is that it's drenched in a caramelized banana glaze made from their Cognac Barrel Aged Belgian Quad.
Crying Eagle's barrel-aging program has propelled their beers to a higher level of flavors. For the Cognac Barrel-aged Belgian Quad, they utilize a cognac barrel from a top-secret supplier and introduce it to their already delicious Belgian Quad. This brew has an intense cognac backdrop with bright flavors of banana, which make it the ideal companion to the bread pudding. Tasting each separate is amazing but tasting them together will knock you off your feet.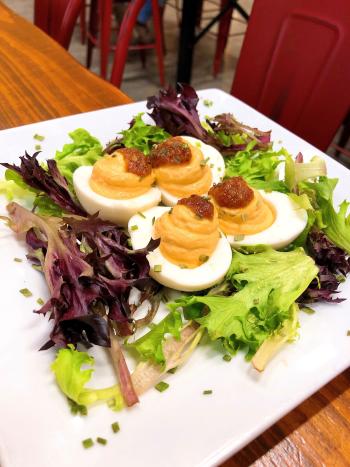 Krickett and I didn't stop at the new menu. She introduced me to her favorite dish – the loaded fries with beer cheese and pulled pork. Their 44 Farms black angus burger was a great hit, and their Eagle Eggs were a new favorite for me. The quartet of deviled eggs is made with Sriracha mayo and topped with bacon jam. Their new spinach and artichoke dip is perhaps my favorite in the area now – it has massive chunks of artichoke and isn't the typical spinach mush you may find elsewhere. Avocado toast has never been on my greatest hits list at other restaurants, but when Krickett plopped it down in front of me, I was instantly won over with its thick-sliced bread, roasted chicken, caramelized onions, bacon, arugula, and avocado ranch. Trust me, give it a spin.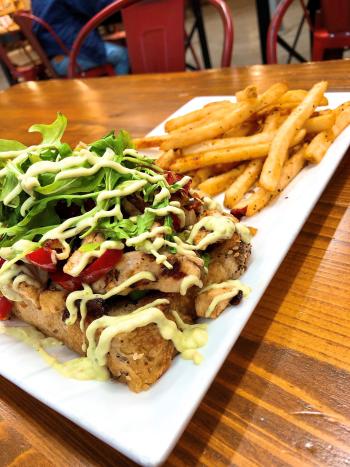 With every dish there is a beer pairing that's been thoughtfully planned out by multiple beer minds, and new pairings emerge daily. The best way to experience Crying Eagle is to talk to the crew. Their dishes are what they like to eat, so they have the best knowledge on what will fancy your tastebuds. While Crying Eagle is competing with some of the best breweries in the country, it is still a homegrown Lake Charles destination with some of the biggest beer nerds you'll never meet. But these nerds will deliver some of the most creative and tasty dishes in the area and make you rethink all-things-beer.