I love coffee. I mean – LOVE – coffee. It's probably an addiction for me, but it's definitely about 50% of my body weight! So, when The Village Coffeehouse announced it was opening its doors, I had to go. I invited my coworker, Kathryn, to join with me on this new adventure because she's awesome, and bonus – she takes exquisite pictures. So, win-win! We were both eager to highlight this intriguing new business in downtown Sulphur.
Sitting brightly on the corner of Hwy. 90 and Huntington St., The Village Coffeehouse is like a beacon for downtown Sulphur, calling people to relax, visit, and become part of the fabric of the community. The stark black and white treatment to the outside and inside of the building is chic and clean yet simple and inviting. It has a modern feel, yet at the same time, it seems like you're in someone's kitchen with the tables and chairs situated in a way that invites conversation.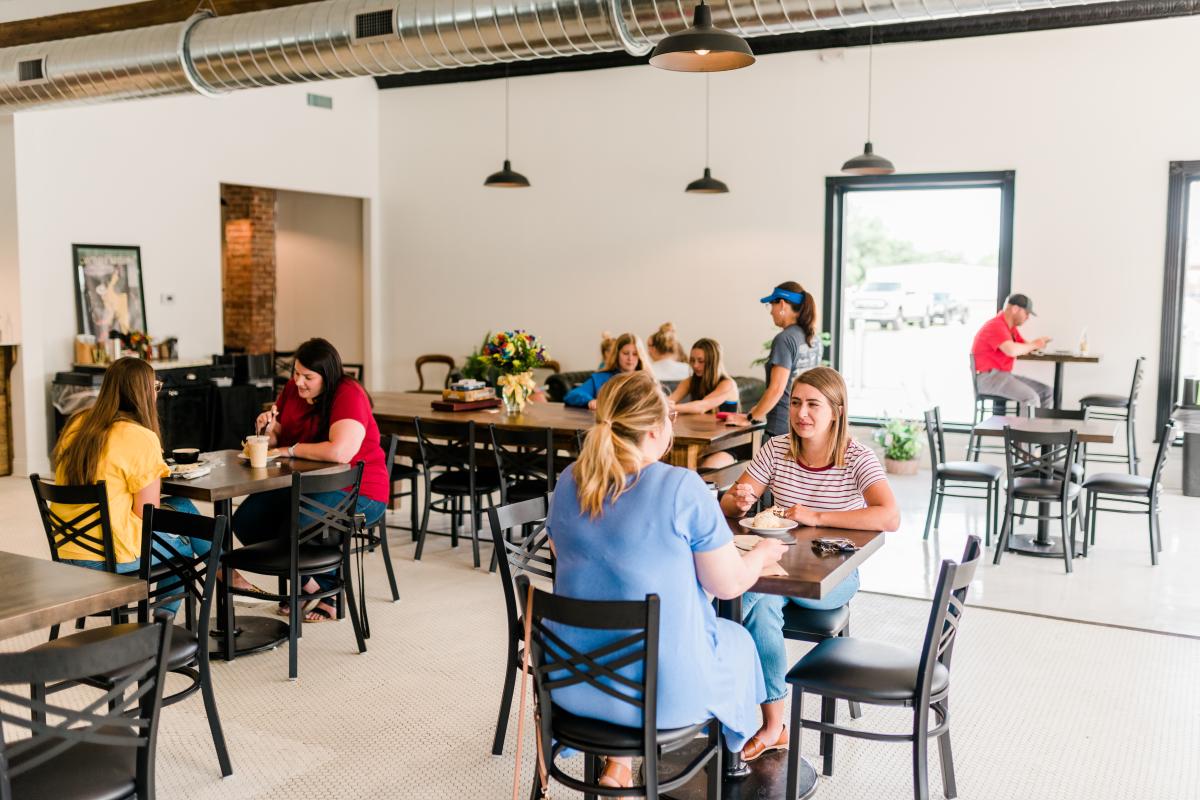 The corner door with decorative, lead glass creates a sense of elegance as you walk into the coffeehouse. Looking up, I admired the designs on the white, pressed metal ceiling, and beneath my shoes, the restored white tile floors from 1918 brought me back in time – in a sweeping flash of a moment. I was told that everything was restored to its original glory from the floors to the ceiling, reestablishing the style from over 100 years ago. The exposed brick wall to our left brought out a rugged quality, which juxtaposed the freshly painted sheetrock walls and neatly trimmed windows lining the streetscape.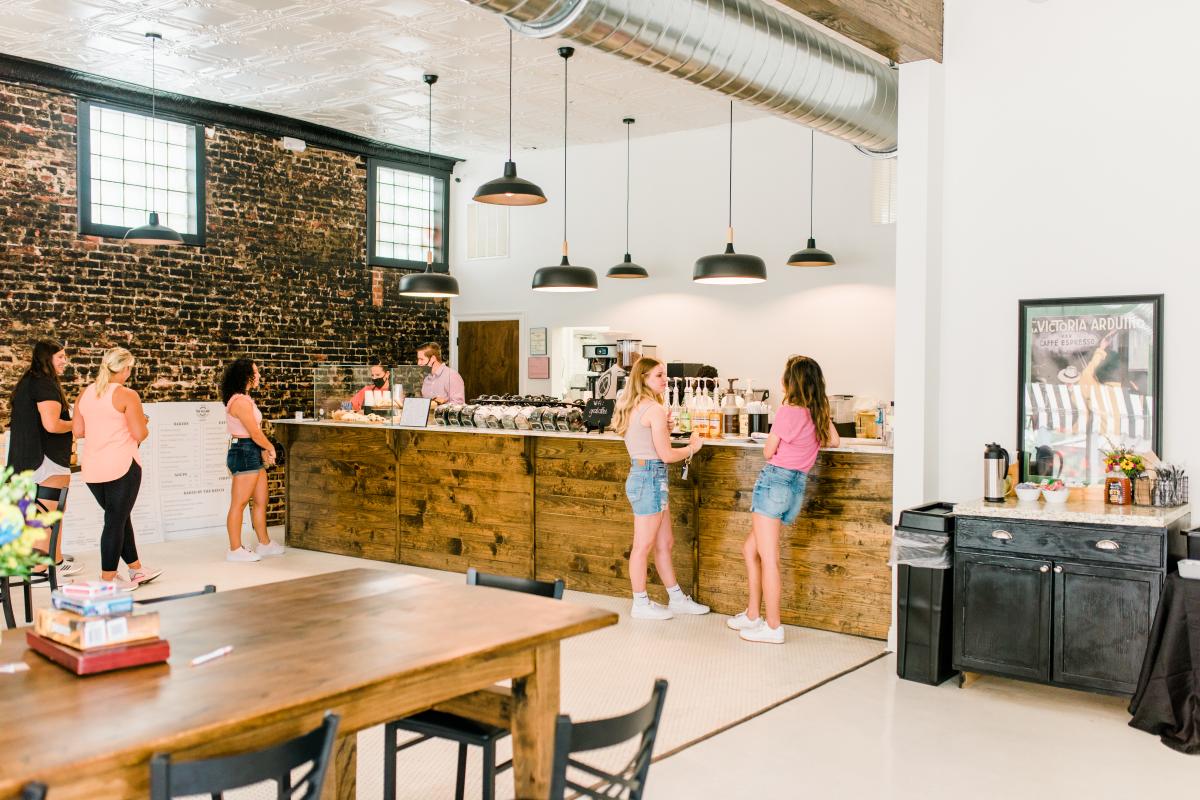 Talking to Blake, one of the owners, I was inspired by the vision behind the coffeehouse which is to create a space where people in the community can come together and share experiences. He pointed to a long, wooden, family-style table in the middle of the room which created a bold and sturdy visual. He said that the idea behind that table was to create a space for community, and "trivia" – it was actually built by one of their baristas, Josh Harris of Wood Intentions. How perfect is that? The table, complemented by a vase with colorful flowers, looked like it was ready for some of the best conversations to be had. Actually, one of the patrons dropped off some table games to encourage that kind of camaraderie!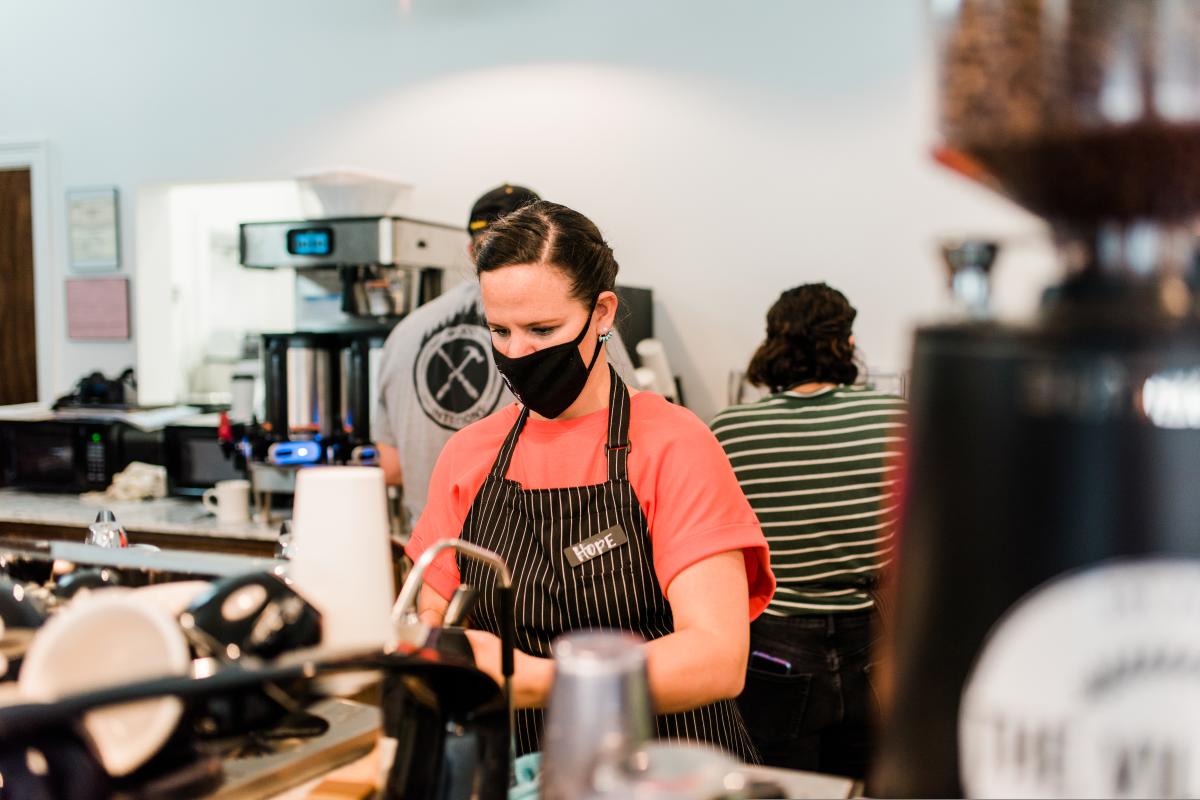 As Blake was chatting with me, I took greater notice of the logo for The Village Coffeehouse. Everything is so nice and polished that it made me wonder if it was a franchise. He said that it's all local, and even the logo was designed by a local graphic artist. He pointed out the olive branches in the logo, which I didn't immediately recognize. He said that the olive branches symbolize a coming together and connections that can be made through offerings of peace and understanding. He spoke with such exuberance, and his passion for the vision was so evident as he looked around at the patrons enjoying brunch.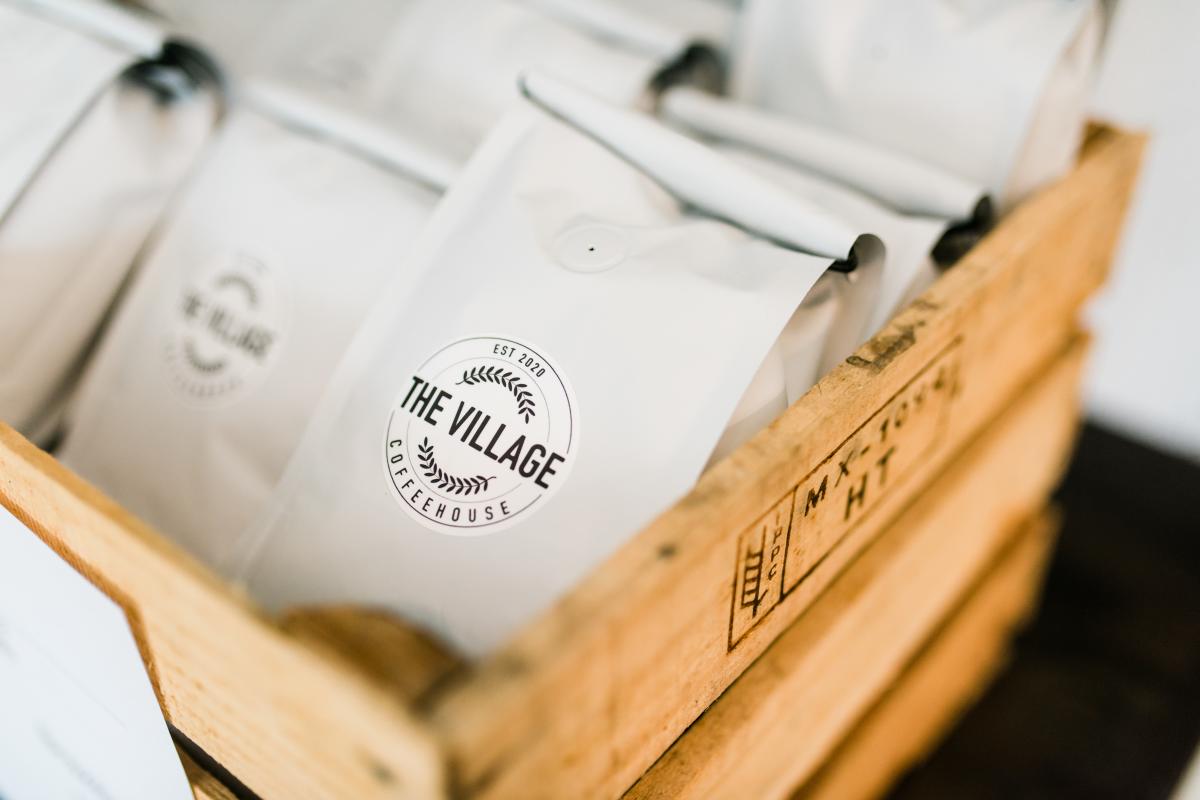 The menu features all sorts of brews, smoothies, The Village Coffeehouse's signature coffees, scones, muffins, sandwiches, soups and an array of delicious choices. I picked up the turkey sandwich and a cold brew, and my coworker, Kathryn had her eye on a blueberry scone. We sat in the "antique" corner part of the coffeehouse, and I nestled myself back into the leather sofa and enjoyed every sight, sound – and taste, perching my coffee on a dainty marble-topped table. In the spirit of being open to all walks of life, Blake even pointed out that while many of the gourmet coffees and dishes have prices that you normally see for boutique products, they also have a "name your price" for their signature house brew and bacon cheddar scone to encourage anyone to be able to enjoy the atmosphere and connection with the community. I loved that idea and thought it reflected their overall mission to be a gathering place for all.
Current plans underway are to finish up their drive-through window and outside patio area. As cooler weather approaches, Blake anticipates having a platform built for live music, and maybe even down the road, looking into encouraging a farmers' market for the downtown area. 
After Kathryn and I enjoyed our coffee adventure, we strolled around downtown Sulphur, checked out some of the stores and had a nice chat with several shop owners including Abby McMurry Ferguson over at Etie's, A Children's Shoppe. She too was excited about The Village Coffeehouse and the sense of community it's creating. We enjoyed our visit to downtown Sulphur, and I am definitely looking forward to my next cup of coffee – breakfast, lunch or dinner at The Village Coffeehouse!