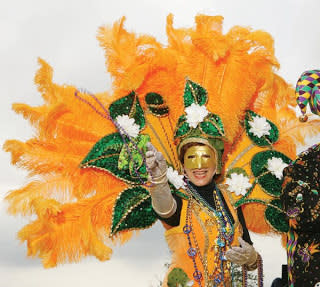 Being the "catch" of the town has a whole new meaning from Jan. 6-Feb. 21, as Southwest Louisiana hosts the second largest Mardi Gras in Louisiana. With more than 50 krewes, we make sure the whole family has something to celebrate.
The excitement kicks off on Jan. 6 with the annual Twelfth Night Celebration, as the royal courts from 2011 usher in the new year in style with their extraordinary and intricate costumes. After Twelfth Night, Laissez les bons temps rouler, as the celebration and festivities pack the calendar until Fat Tuesday on Feb. 21.
Don't miss the Mardi Gras Queen's Pageant on Saturday, Jan. 14, where the 2012 Miss Mardi Gras will be selected. And put on your dancin' shoes for the free Mardi Gras Community Dance for special needs citizens on Thursday, Jan. 26 at the Lake Charles Civic Center.
Every day is a reason to celebrate during Mardi Gras, and as Mardi Gras weekend approaches, the celebration kicks in to full gear with parades, cook-offs, balls, galas and more! Start out with the Merchant's Parade on Friday, Feb. 17, and get ready for some fun on Saturday, Feb. 18 with the World Famous Cajun Extravaganza and Gumbo Cook-Off, the mystical Krewe of Barkus Parade, the Krewe of Omega Parade, the Zydeco Dance and public presentations by the Krewe of Cosmos and the Krewe of Illusions.
On Sunday, Feb. 19, join in and celebrate the children of the community with Children's Day activities and the Children's Parade. Also taking place will be Taste de la Louisiane and the return of the Lighted Boat Parade along the lake behind the Civic Center at 7:30 p.m.
Always a favorite, don't miss the 2012 Royal Gala on Monday, Feb. 20, as the 2012 royal courts of krewes parade for the public in full regalia at the Lake Charles Civic Center.
Set your alarm clocks on Feb. 21, as Fat Tuesday starts off early with the Krewe de Charlie Sioux Block Party. Come early to reserve your spot for the grand finale of Southwest Louisiana Mardi Gras, the Krewe of Krewes Parade at 5:30 p.m. in downtown Lake Charles.
And, if you're not exhausted from all the celebrating, stop by the Mardi Gras Museum of Imperial Calcasieu where the good times roll year-round at the museum featuring more than 250 complete costumes—making it the largest Mardi Gras costume display in the world!
The Southwest Louisiana Mardi Gras has been chosen as a Top 20 Event by the Southeast Tourism Society for the first quarter of 2012. This award is a coveted honor among 12 member states.Visit www.swlamardigras.com for more details on Mardi Gras 2012 in Southwest Louisiana.
MARDI GRAS SCHEDULE OF EVENTS
January 6
Twelfth Night, 7 p.m., Lake Charles Civic Center
January 14
Queens' Pageant, Lake Charles Civic Center
January 26
Community Dance, 6:30–8 p.m., Lake Charles Civic Center
February 11
Vinton Mardi Gras Parade & Festivities, 2 p.m., Downtown Vinton
February 13
Krewe of the Golden Years, 9 a.m. –2 p.m., Lake Charles Civic Center
February17
Merchants' Parade, 7 p.m., Downtown–Midtown Lake Charles
February 18
Carlyss Mardi Gras Trail Ride, 8:30 a.m., West Cal Arena/Sulphur
World Famous Cajun Extravaganza/Gumbo Cook-Off, 8 a.m.–2 p.m., Lake Charles Civic Center





Krewe of Omega Parade

,

2 p.m.

,

Downtown Lake Charles





Zydeco Dance

,

3 – 5 p.m.

,

Lake Charles Civic Center





Krewe of Barkus Parade,

3 p.m.,

Lake Charles Civic Center





Krewe of Cosmos Presentation

,

6:30 p.m.

,

Sulphur High School





Krewe of Illusions,

7:30 p.m.

,

Lake Charles Civic Center



February 19


Taste de la Louisiane

,

11 a.m.–2 p.m.

,

Lake Charles Civic Center





Children's Day,

Noon–3 p.m.

,

Lake Charles Civic Center





Children's Parade

,

3 p.m.

,

Downtown Lake Charles





Lighted Boat Parade,

7:30 p.m.

,

Lake Charles Civic Center



February 20


Royal Gala

,

7 p.m.

,

Lake Charles Civic Center



February 21


Krewe of Charlie Sioux Parade Block Party,

Noon

,

Corner of Broad & Ryan





Hot Rods, Classics and Motorcycles Parade,

1 p.m.

,

Downtown Lake Charles





Krewe of Krewes' Parade

,

5:30 p.m.

,

Downtown–Midtown Lake Charles