Ever wanted to get into golf? Now maybe as good of a time as any to try it out and enjoy a change of scenery and some fresh air. Several Southwest Louisiana golf courses are adjusting to the times by implementing social distancing and cleanliness efforts to ensure you can still have an amazing golf experience.
Here's a list of some of the efforts at Mallard Cove, The National, and Frasch:
Cart usage will be limited to one rider per cart with a maximum of four golf carts per group, however, walking is encouraged. Club rentals will be unavailable until further notice. Upon completion of play, golfers will need to remove their own clubs, personal items, and trash. Carts will be sanitized by Course personnel after each round.
Flag sticks are to be left in the hole and should not be touched by golfers. Ball washers, bunker rakes, and sand bottles will be removed from the course and carts respectively at this time.
They have placed a pool noodle around the flag pole in the cup so the ball does not fall all the way to the bottom.  The pool noodle leaves the cup about 1 ½" deep. 
Golfers are asked to refrain from handshakes, high fives, etc. and should not play if they are sick. Regular hand cleansing with hand sanitizer is encouraged throughout play.

The Country Club at the Golden Nugget also assures players that employees will be wearing face masks for the safety of themselves and their guests. Employees will also be thoroughly sanitizing high touch areas and golf carts in between uses.
More about the Courses
Country Club at the Golden Nugget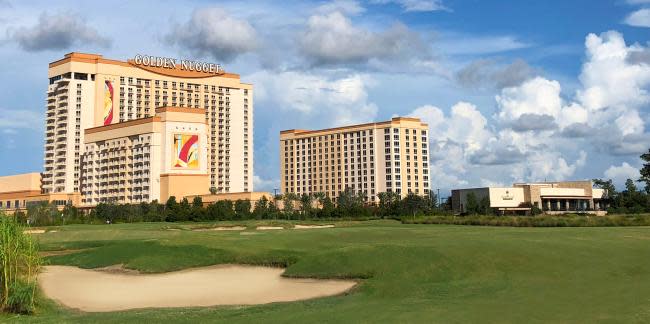 Named the #2 course in Louisiana in 2018 by Golfweek Magazine, the Country Club features one of the most enjoyable golfing layouts in the state highlighted by the club's immaculate fairways and greens, impeccable for drivers of all types.
If you decide to head over to the Country Club, then you'll be treated to world-class golf, and an extensive pro shop that boasts the variety of clothing and high-quality equipment you'd expect at a five-star golf resort.
At the course, the golfer can expect a layout that uses sand, water, and a spot of strategy to provide a remarkably fun and dynamic day on the links.
---
The National Golf Club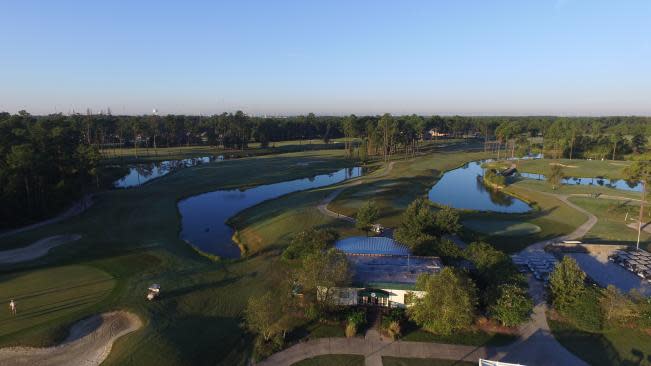 In nearby Westlake, The National Golf Club stands tall as one of the most beautiful golf courses in the region. Golfers from all over the south enjoy coming to The National for its open layout and challenging design.
Measuring over 7,000 yards from their professional tees, The National can play long for some amateurs, but that shouldn't deter you from writing this course on your list. With 14 lakes and 65 bunkers, the course is an absolute pleasure to play from tee to green on each of the impressive 18 holes.
What I tell golfers looking to play The National is that you should arrive early and enjoy the first-rate practice facilities. The club has over an acre of hitting areas, two enormous chipping greens with sand bunkers, and a jaw-dropping 12,000 square foot green that gives you a complete putting practice experience.
My favorite hole on The National is the 5th hole, a par-3 that is worthy of a postcard. With water running along the left side of the hole to an elevated green, golfers will have to bring their accuracy to scramble for par.
Known for its beauty and solid play, The National Golf Club is a gem worthy of the short drive to Westlake.
 
---
Frasch Park Golf Course
If you are looking for a relaxing day on the links without wearing a hole in your wallet, then the Frasch Park Golf Course is a terrific place to spend an afternoon. The well maintained par-71 course has excellent practice facilities that will help you get warmed up for your round.
If you intend to get out and play a quick 18 in the Lake Charles area, you'll be best served to make the 10-minute drive down I-10 to Sulphur, home to Frasch Park. You'll soon discover that what is great about this course is how relaxed you'll find yourself during the round. Once you hit the first tee, you'll notice how charming the layout is with large fairways and greens that don't penalize your wayward shots.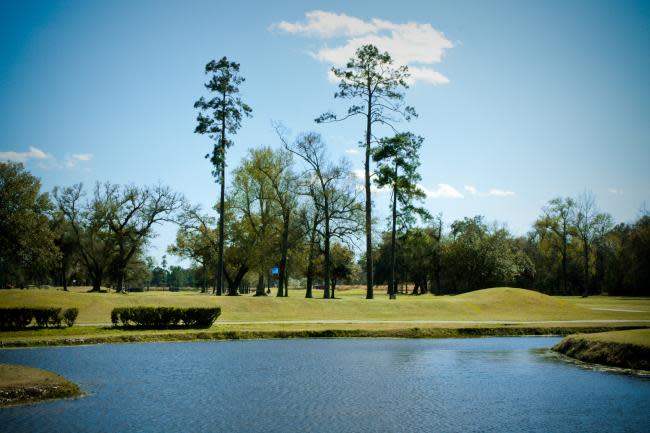 Another great aspect of Frasch Park is that the course isn't too long, making it ideal for high-handicappers. Measuring just under 6,000 yards at the intermediate tees, Frasch Park is a perfect getaway course for the golfer looking to focus on hitting them straight without too much distraction. Most of the par-4s play in the mid-300 yard range, which is great if you have a rangefinder, making them potentially drivable from the tee box for the big hitters in your group.
Affordable and well worth your time, Frasch Park offers a delightful alternative to the expensive courses around the area.
---
Mallard Cove Golf Course
Another club that provides an exceptional experience for a low green fee is the Mallard Cove Golf Course. With water on 12 of the 18 holes and over 25 of the biggest bunkers you'll ever see on a course, Mallard Cove has set itself apart from other surrounding courses by offering top-tier golf for a great value.
Always well maintained, Mallard Cove stays busy year-round, so it would be wise to make sure there's a tee time a few days in advance if you're looking to play the course.
The layout at Mallard Cove isn't too demanding, rewarding the golfer who sticks to the fairways and keeps it close on the greens. Several holes offer risk versus reward shots that could create terrific scoring opportunities or sink your final score.