Sometimes the best days are the ones spent closest to home. And since I call Southwest Louisiana home, I'm surrounded by exotic flavors, hauntingly beautiful bayous, and colorful festivals. In order to appreciate all home has to offer, I regularly act as a tourist in my own backyard. Steeped in rich French heritage, doused in Caribbean spices, and triple-dipped in Native American, African, and Spanish influences, Southwest Louisiana offers a savory experience like no other.
Indulging in Our Unique Flavors
There are so many fantastic restaurants loved by locals but a few stand out for their lagniappe (Cajun French for "a little something extra"). From well-known Creole and Cajun cuisines to modern twists on classic favorites, our restaurants are throwing down some serious flavors.
Seafood Palace remains a long-standing local favorite and for good reason. The arrival of crawfish and crab season is ushered in by the billowing clouds of steam drifting from behind Seafood Palace. Mounds are boiled crawfish and crab platters punctuate the many tables throughout the down-home, casual restaurant. The spicy aroma of the seafood seasoning lingers long after the trays have been cleared away.

Fried Alligator at Jack Daniel's Bar & Grill
Who doesn't love a hometown celebrity? Here in Lake Charles, we certainly do and that's why locals love Jack Daniel's Bar & Grill. Their chef's accolades include being named one of Louisiana's Cookin' Magazine's 2016's "Chefs to Watch", featured on The Today Show, and also History Channel's All You Can Eat. Born and bred in Lake Charles, Chef Lyle Broussard shakes up JD's menu by marrying his signature Louisiana roots and Culinary Institute of America training with legendary Jack Daniel sauces. The results are savory dishes that bring native Louisianans and visitors alike coming back for more. Dishes like blue crab crusted trout paired with charred cream corn grits. And my personal favorite, bacon wrapped Gulf Shrimp served with Jack Daniels Signature BBQ Sauce.
The towering cypress trees that line Southwest Louisiana's rivers and waterways provide a beautiful setting for casual al fresco waterfront dining and live music. Huddled into a wide bend of the Calcasieu River, Loggerheads remains a favorite little-known gem to us locals. Weekends bring boaters to their dock for a quick lunch or to listen to the local bands. Their smoky house-made boudin, crispy duck wontons, and crumbly crawfish pies are perfect any time of day but there's just something about eating them on the two-story patio while the sunset colors dance across the water.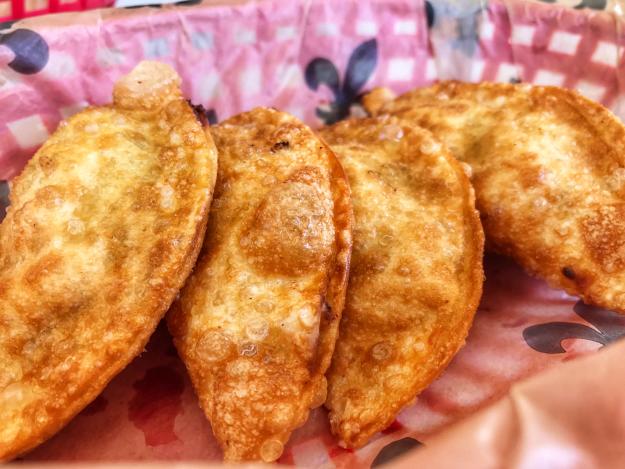 Fried crawfish meatpies from Loggerheads
Embracing Southwest Louisiana's agricultural roots, Restaurant Calla composes superior, artistic dishes using fresh ingredients from local farmers. Their intimate dining room thrums with modern, mellow, and unpretentious vibes. Seasonal cocktails crafted by superb mixologists and small batch wines are intuitively pairs with their farm-to-table cuisine. Since their menu shifts with the seasons, dining never becomes redundant. My favorite part, though, happens while washing up where Julia Childs instructs the proper way to prepare French cuisine through the restroom speakers.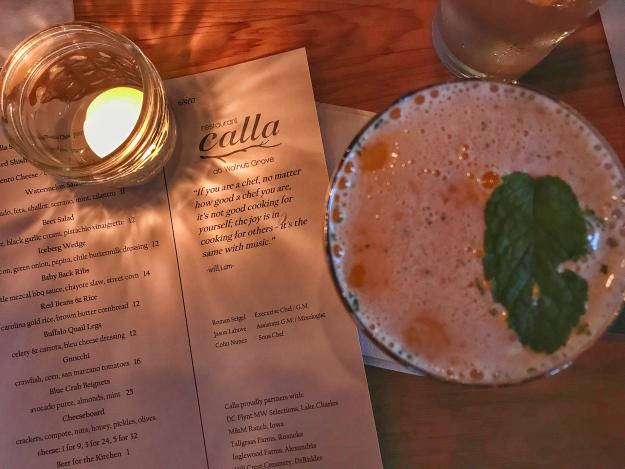 Craft cocktails at restaurant calla
Playing tourists or no, Rikenjaks Brewing Co. sits at top of my " I just love this place!" list. On any given night, a group of us friends bring our dogs for a night out under their soft patio lights. Whether there is live music, a football game broadcasting over the bar, or a round of Giant Jenga coming to a crashing end, it's always a good time. And their menu is stacked with craft brews and funky twists on classic favorites like cheesy, gooey Lazy Pistolettes. Instead of stuffing the roll like traditional pistolettes, they drown the roll in a shower in rich, creamy fondue then top them with grilled shrimp, fresh green onions, and sharp parmesan cheese.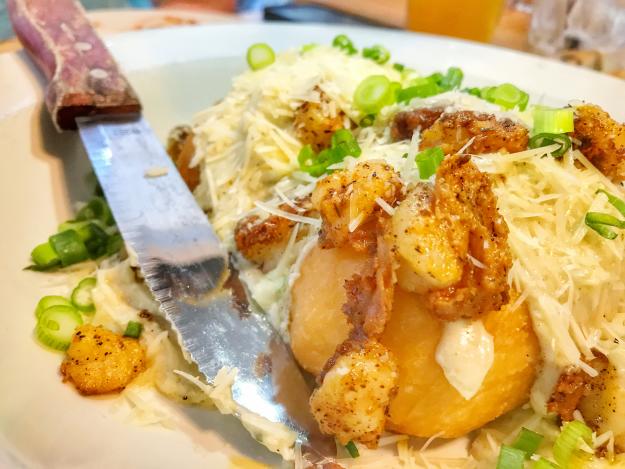 What are your favorite Lake Charles eateries? Let me know in the comments below. Show us your plates! Tag your culinary adventures with #eatswla and #VisitLakeCharles.