When I first moved to Lake Charles in fall of 2019, I made it my personal mission to try all the Lake Charles staples before the close of the year. One culinary delight that locals insisted that I try was BOOMBOX Frozen Pops and Ice Cream's hot cocoa!
Growing up, having hot cocoa at my Maw Maw's house in the winter months was a tradition, but it was just Swiss Miss or Nestle powder mixes. My initial reaction to this "famous hot cocoa" was … "How can something as simple as hot cocoa be this good?" Oh wow, was I pleasantly surprised! This really lived up to the hype! 
So, I wanted to know - what do they do to achieve the perfect cocoa? I spoke with Skylar Pierce, COO of BOOMBOX, to get all the details. He graciously welcomed me into the new South Lake Charles location, which is owned and operated by Lake Charles native, Chris Primeaux. The new store opened on November 5 after the downtown location closed permanently due to recent hurricanes. If you haven't been to their new location, you have to check it out! 
A neon pink "Never Gonna Give You Up" sign greets you upon entry, and a Ms. Pac Man arcade game sits ready for players to battle it out – 80s style against the maddening "stalker ghosts!" The indoor seating features the record tables from the Downtown location but also new high-top tables with 80s colorized pop culture and music icons. They also have a picturesque cassette wall and "We Got the Treats!" mural!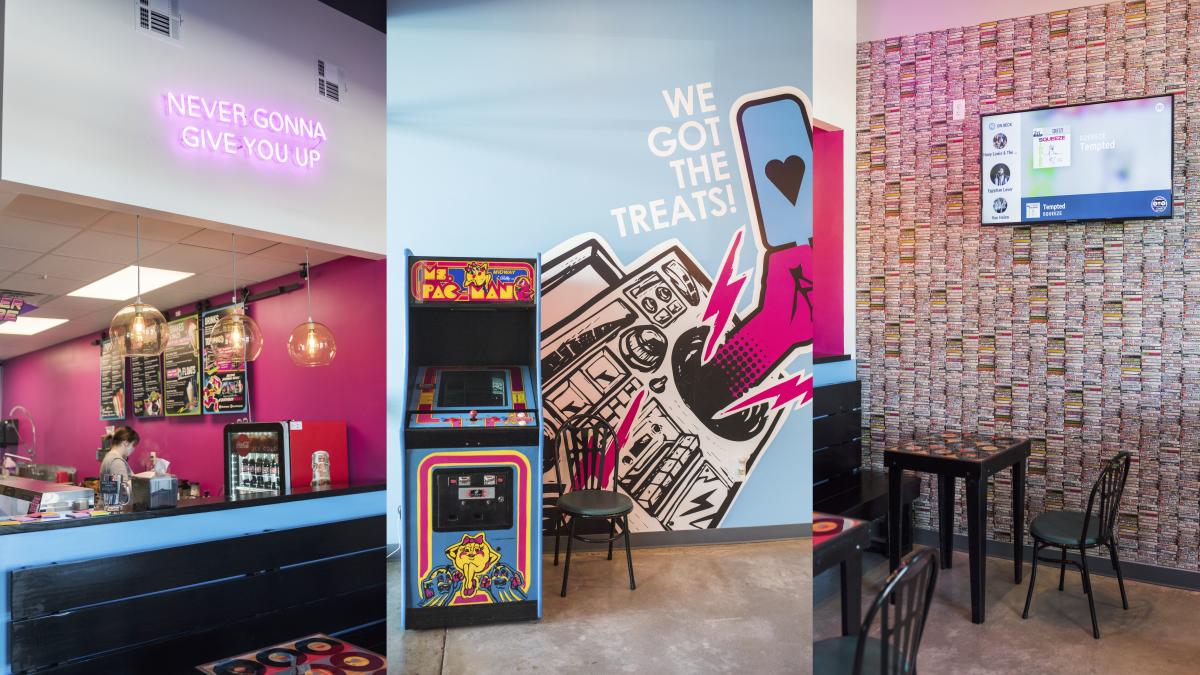 So, back to making cocoa: It begins with boiling together whole milk, Hershey's semi-sweet chocolate chips, a little sugar, vanilla extract, and just a touch of sea salt in their temporary production facility in Baton Rouge. Once the mixture arrives in Lake Charles, it is prepared per order! The mixture is first frothed to give the hot chocolate just a hint of fluff and poured into a cup.  
However, the big secret to their success lies in their homemade marshmallow. They torch it to give it a golden exterior while allowing it to remain ooey-gooey in the center. The marshmallow slowly begins to emerge itself into the steaming hot chocolate.  
The whole city of Lake Charles eagerly awaits this cocoa's return each year and honestly, who could blame them? A shop that sells both ice cream AND hot chocolate? Count me in!
Follow BOOMBOX on Instagram, Facebook, and Twitter for new ice cream and pop releases and even 80's trivia! Be sure to tag  #boomboxrocks and #VisitLakeCharles when you visit!