***Updated June 23, 2017***
Click here for a full list of food trucks in the Lake Charles/Sulphur Area. 
From tacos to pulled pork to authentic Chinese food, there is no shortage of deliciousness rolling through the streets of Southwest Louisiana. The food trucks have a wide variety and seem to be adding new fans on each corner where they set up shop.
Let me introduce you to your next MUST HAVE meals and their chefs.
Dat Truck
Owner Shauna St. Pierre Fuselier describes her truck as "gourmet on the go" and with a culinary background that includes study at Le Cordon Bleu in San Francisco, there is no denying that Fuselier can creatfive-starstar meal!
#1 on the menu, Da Tacos - made with chipotle shrimp, braised pork belly, Mardi Slaw and cucumber de gallo. Also try her Loaded Pork Frittes with pork smoked for 15-20 hours and served over sweet potato fries.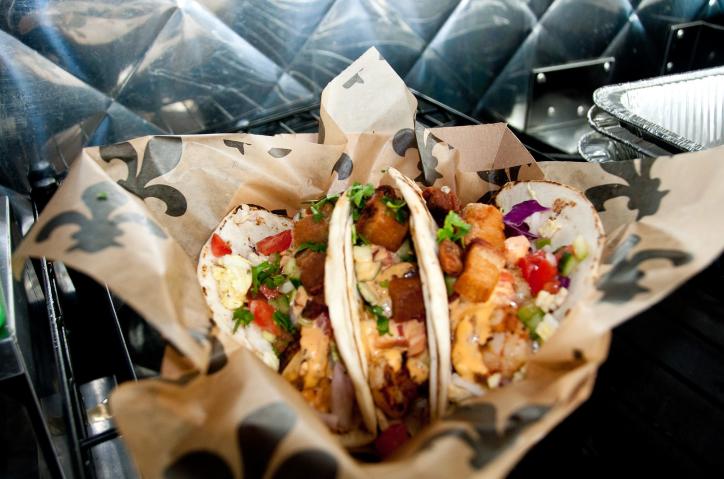 Photo Credit: Dat Truck Facebook
Hi-Licious Street Kitchen
One of the most unique trucks in our area belongs to Haili Li. Li came to America from China in 2006. Haili became homesick for the cuisine she grew up with, especially very spicy food. Li started making and selling her food at the local farmers market, and it didn't take her long to want to expand her business. And boy are we glad she did!
Hi-Licious' most popular dishes include a rib plate, shrimp fried noodles, crab Rangoon, and bean salad. The crab Rangoon is so popular in fact, it won the 2016 Arts & Crabs Festival's Best Dish award.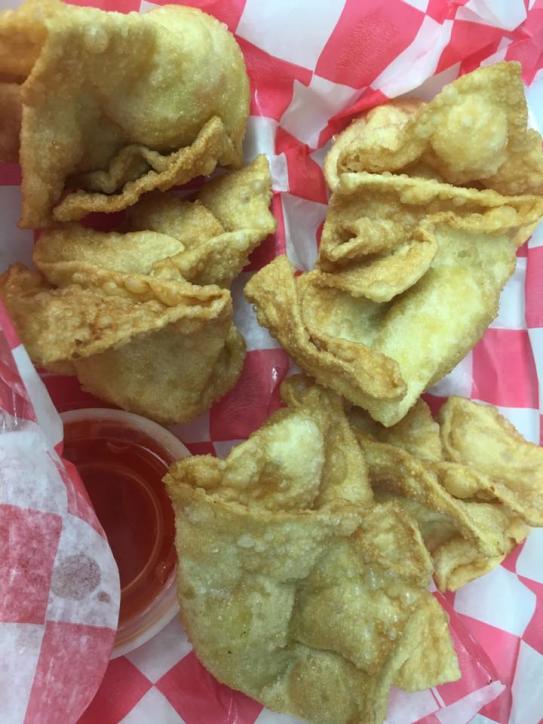 Photo Credit: Hi-Licious Facebook 

Weinie Dog Cart
Years before food trucks came on the scene in Lake Charles, there was Weinie Dogs. Kristi Wooldridge bought her hot dog cart in 2011 and headed out to local events to feed the hungry masses.
For a hot dog shop, the Weinie Dog menu boasts some unbelievable food! She offers a Monte Cristo - ham and cheese melt, deep fried with egg, powdered sugared, and a homemade strawberry sauce. The LaFrance Fries - her version of poutine, with fresh cheese curds, french fries, homemade brown garlic gravy, and green onions is crazy good.

Photo Credit: Weinie Dog Cart Facebook 
You'll also find these delish dogs at Chicageaux Bar at the corner of Lake St. and University Dr.; open for lunch, dinner, or late night.
The Sloppy Taco
Owners Brett and Amanda Stutes got the crazy idea for The Sloppy Taco in 2014. By May 2015, the truck was at nearly every city event and turned into a local hit FAST.
Amanda describes their food as "gourmet fusion tacos with a blend of experimental and classic, Asian, Cajun, and Mexican influences." Fan favorites include the Sloppy Taco - braised pork, grilled steak, grilled shrimp in a chipotle glaze, Monterey jack cheese, purple onions, jalapeños, and their house remoulade.
After just a year of serving from the truck, they have expanded to a brick and mortar kitchen located at 2500 Kirkman St.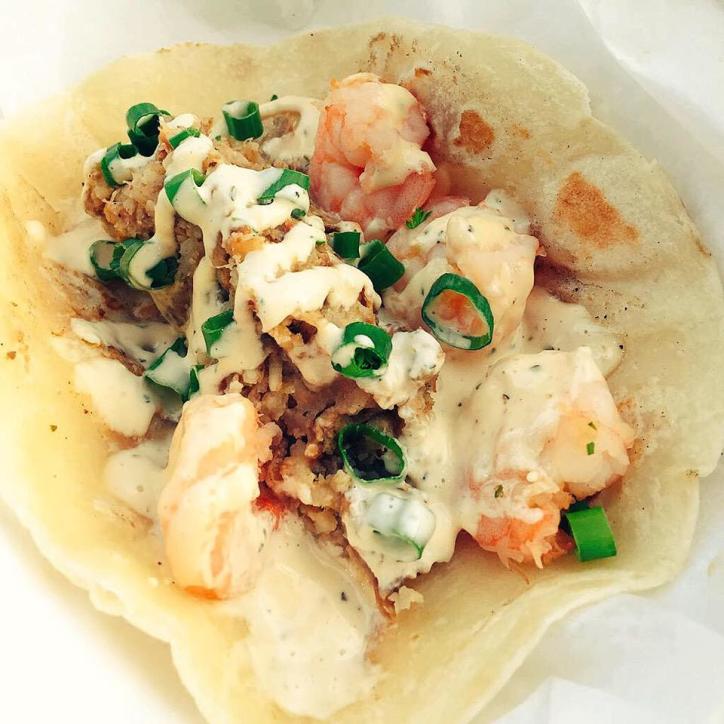 Photo Credit: Sloppy Taco Facebook
Smokin' Hot Grill
Hans Funk and his fiancé Jessica Ieyoub invite you to "Come and get a BITE." They describe the menu as Cajun/Texan flare.
There is no lacking of flavors or variety – chipotle sauce, cheese steak, roast red pepper hummus and barbecue. If a little kick is what you're looking for, make sure you try the C'Asian Bourbon Chicken plate – chicken seasoned with just the right amount of tangy and spice served over rice with a side of crawfish cornbread and potato salad.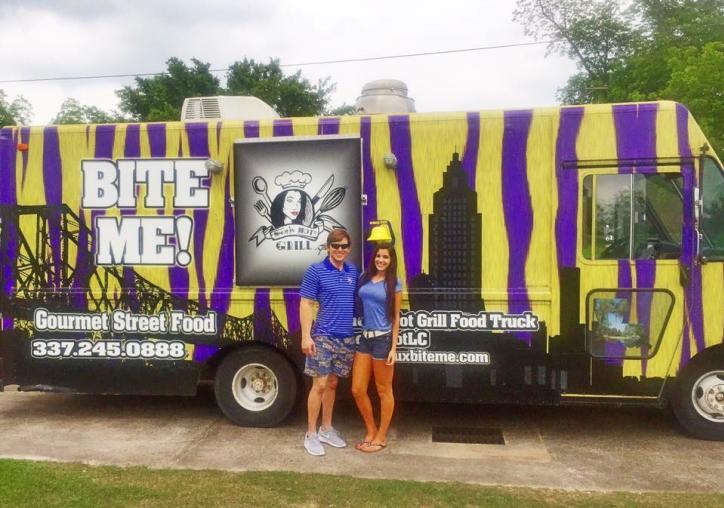 Photo Credit: Smokin' Hot Grill Facebook
Pops and Rockets
Owners Robbie Austin and Nick Villaume are kings of the popsicle. Their hand-made, gourmet pops hit the streets during the summer of 2014; today you'll find them at the local farmers markets and select retailers around Lake Charles. Be assured, there is always an opportunity to get your pop fix. Between their trusty freezer carts and 80s-tastic van – Pops and Rockets never misses an event.  
Flavors rotate throughout the year, tried and true favorites include 99 Red Doubloons – virgin strawberry pina colada, Blue Moon on Mango – mango cream and blueberries, and Root Me Amadeus – root beer float.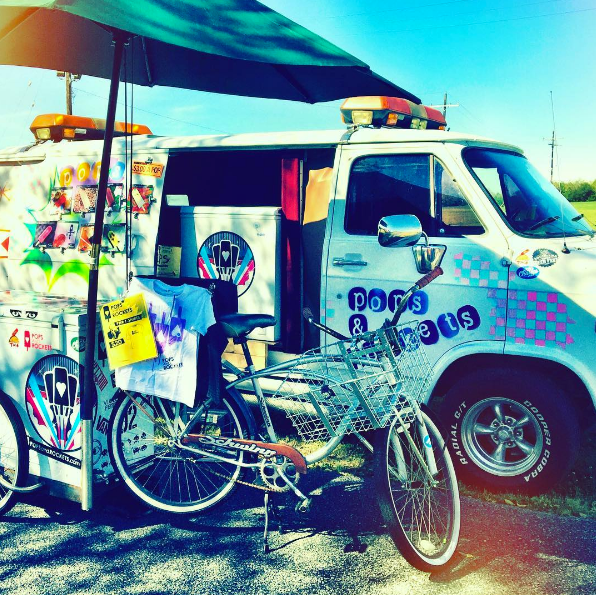 Photo Credit: Pops & Rockets Facebook 
Mucho Bueno
Round out your food truck experience with the taste of an AUTHENTIC Mexican menu from Mucho Bueno. The menu is made fresh daily by Angelica, Bruce and Anita Burgara. Originally meeting in California; they keep the menu authentic by drying their own chilies, cooking tomatoes for their 3 house salsas and serving REAL street tacos – chopped beef or pork, onions and cilantro served on warm, double corn tortillas.  
Looking for a bigger bite? Try the California burrito – you pick the meat and they will fill a 12-inch burrito tortilla with French fries, cheese, sour cream, and guacamole. WHOA! Owner Bruce Parnell says a second truck is in their future, but for now, you can find them at 1511 Ruth Street in Sulphur.
Love at first bite? Make sure you pick up a customer appreciate card to earn a free meal. And a special treat for all first responders, you can enjoy a 50% discount.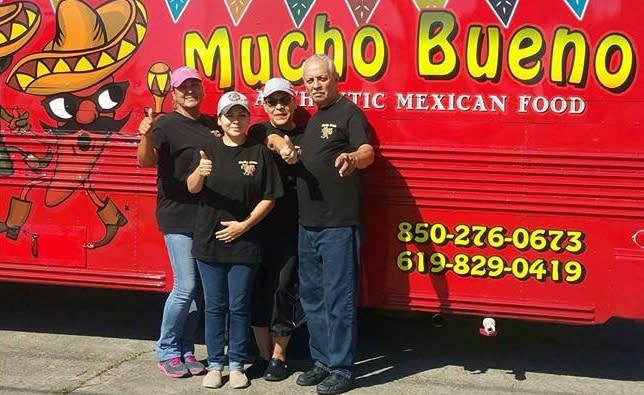 Photo Credit: Mucho Bueno Facebook 
Follow all of these fabulous food truck on Facebook for the latest on menus and weekly locations. Make sure to download the Lake Charles Events App; so not to miss the next Food Trucks Invade! event. Enjoy your visit to "Flavor Town!" 
Adapted from a story posted by Thrive Magazine. See the original here.