When Louisiana Answered the Call
When the United States officially entered into World War II on December 8, 1941, the Pelican State answered the call to war. Yet before that fateful day, which was one day after the Pearl Harbor attacks, Louisiana was already at the center of defense preparations. Our home state hosted the largest maneuvers in the U.S. military history between 1940 and 1945, and countless Louisiana civilians left families and jobs behind to enlist.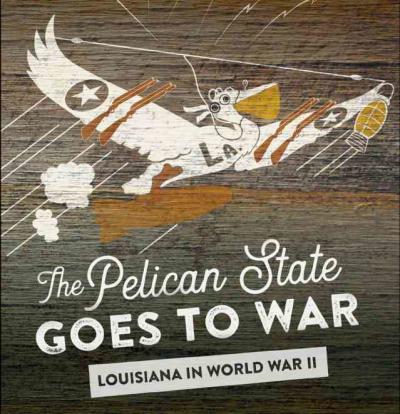 Special Exhibit Announced
Mayor Nic Hunter recently announced that Historic City Hall Arts & Cultural Center will exhibit The Pelican State Goes to War: Louisiana in World War II, an extensive exhibition that will feature artifacts, photographs, and oral histories that highlight Louisiana's extraordinary contributions toward America achieving victory in World War II. The exhibit is on loan from the National World War II Museum and will be on view from August 2 through October 19.
Charles Dalgleish, President of the Mayor's Armed Forces Commission, is proud to honor the sacrifices and contributions of this great state during the war. "Many citizens of Louisiana contributed to victory in World War II on the battlefield, with nearly 280,000 individuals from the state serving in the armed forces during the war," Dalgleish said. "The Pelican State Goes to War will share the courageous stories of Louisiana's six Medal of Honor recipients, which represent sacrifice and devotion. The exhibit will also explore tales of the Louisiana Home Front, from the great mobilization efforts of Higgins Industries to first grader Billy Michal's scrap collection for school."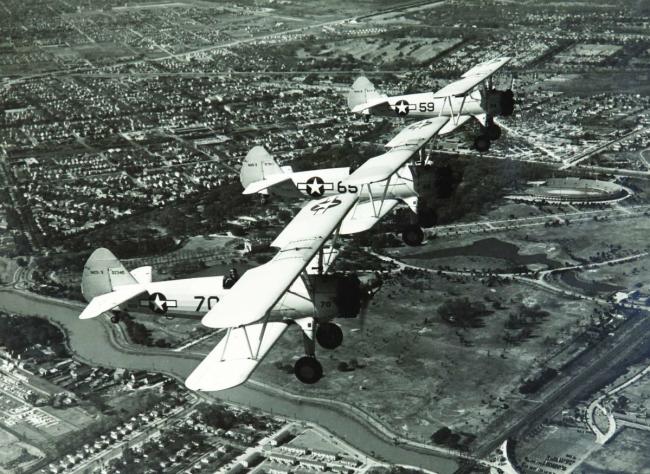 The exhibit is greater than the sum of its parts; when the City of Lake Charles and Historic City Hall Arts & Cultural Center expanded the exhibit to include connections to local history, Lake Area families and veterans – like Louisiana in 1941 – answered the call. Matt Young, Director of Cultural Affairs for the City of Lake Charles, invites the public to lend Historic City Hall World War II memorabilia, photos, and artifacts for the exhibit.
"Nearly every family in Southwest Louisiana was affected by World War II, whether it was a family member or a friend who served," said Young. "These heroes who answered the call fought bravely and changed global history, and this exhibit and its accompanying programs will honor their memory."
Local's War Stories
This effort will help us remember heroes like Charles Mayfield, who was stationed in Port Chicago, California. On July 17, 1944, munitions detonated while being loaded onto a cargo vessel bound for the Pacific Theater of Operations, killing 320 sailors and civilians and injuring 390 others. Charles Mayfield was among the deceased. 
Local giant Gus Corbello was a naval ordinance man on a twin engine amphibious PBY5, a Navy Patrol Bomber. On May 24, 1944 he left his base in Hawaii on a routine patrol flight. The plane made one radio report but failed to rendezvous as scheduled over Kure Island near Midway. An extensive search was conducted, but Corbello was never found.
Claude Arnold graduated from Lake Charles High School in 1937 and joined the US Navy. He was a fireman third class on the USS Arizona. On 7 December 1941, the USS Arizona was bombed by the Japanese during the attack on Pearl Harbor. After a bomb detonated in a powder magazine, the battleship exploded violently and sank, with the loss of 1,177 officers and crewmen. Claude was among those who perished.
Alvin Joseph Monlezun of Lake Arthur entered LSU in 1936 and graduated Cum Laude in August of 1941 with a BS in Commerce. In that same ceremony, he was commissioned through the LSU ROTC program as a Second lieutenant. His last duty assignment before being deployed overseas in August of 1944 was that of Commanding Officer of a training company at Fort Lewis, Washington. He was assigned as a replacement officer to Company K, 119th Infantry Regiment, 30th division. He served under General Omar Bradley's 1st Army. On Oct 10, 1944 Alvin died in Achan Germany, at the age of 24. 
Local's Contributions
Families have already brought numerous items for display, from letters and medals to postcards and clothing. This is a celebration of our homegrown veterans and of the families that were touched by war, and the displays of memorabilia helps breathe a bit of life back into the lives of veterans who fell during and after World War II. McNeese Department of History student Grand Leonards will catalogue artifacts from the community. A Wall of Honor featuring the photographs of local veterans who served in the war will be assembled to stand alongside The Pelican State Goes to War exhibit.
"The City also worked with the Calcasieu Parish School Board Television Production program, led by Britney Glaser Felder, to record oral histories," commented Mayor Nic Hunter. Storytelling is an integral part of preserving history, and countless stories from veterans die with them. Conserving oral histories is another way to ensure the vitality of our state and city's own histories.
Mayor Hunter continued, "Those interviewed include General Erbon Wise, a World War II veteran; E.K. Hunter, son of the late Judge Edwin F. Hunter, Jr., a World War II veteran; and Jim Beam, reporter for the Lake Charles American Press. The video documentary was recorded and produced by Felder's high school students, and it will play alongside the exhibit at Historic City Hall."
Mayor Hunter also announced that a special panel discussion will be held in the Tritico Theatre on McNeese campus on September 5, 2019. The panel will discuss World War II's effects on Southwest Louisiana, and it will be led by KPLC News Anchor John Bridges.  Panelists will be announced in the coming weeks.
Multisensory, engaging occasions like these to honor the fallen are too few and far between, but the announcement of The Pelican State Goes to War reinforces the fact that when opportunity comes to revive lost loved ones, honor the spirit of those enlisted, and celebrate the legacies of veterans, Louisiana answers the call.
The Pelican State Goes to War will be on view at Historic City Hall Arts and Cultural Center August 2 through October 19. National Geographic's 50 Greatest Landscapes will run concurrently on the building's second floor. The museum is open Monday through Friday, 10 a.m. to 5 p.m. and Saturday, 10 a.m. to 2 p.m. Admission is free. An opening reception will be held on August 2 from 5:30 to 8 p.m. For more information, please call 337 491-9147 or visit www.cityoflakecharles.com.