I love to cook. Well…I LOVE to eat and while eating out in Lake Charles is totally worth it – a true Southern belle should know her way around the kitchen. Right? Right!
Over the last 10 years, my love for cooking has rubbed off on my husband (He's a pretty good sous chef, by the way!). While looking for new date night ideas, we came across The Velvet Pig Cooking Classes. Perfect! We both get excited when trying a new meal, and cooking is something we enjoying doing together.
If you're a food lover, you just NEED to take a cooking class while traveling. Here's why I think you should take a cooking class on your next trip to Lake Charles…
You'll learn about the culture
Louisiana is known for many things – but food, our food is special. The food is different throughout the region too. Southwest Louisiana's culinary traditions stem from Native Americans, French, German, Cajun and Creole cultures who settled in the region. Velvet Pig showcases that with French Influence and Creole/Cajun classes.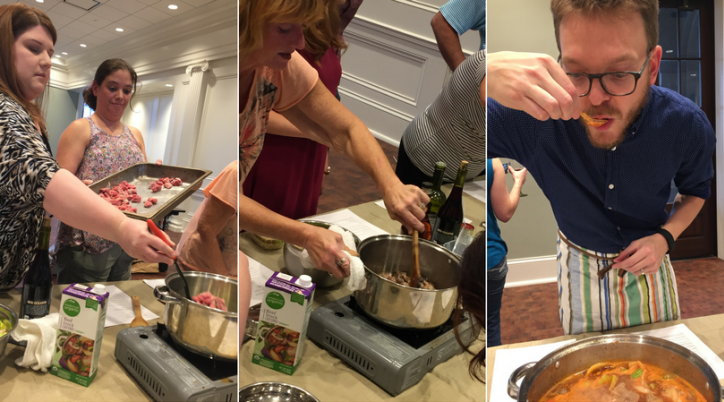 It could be the best meal you'll have on your trip
We've got so many great restaurants in the area that I know you'd have a great meal, but there is just something about preparing a meal "homemade." The crawfish bisque we made in the class was spectacular! And, there is a certain satisfaction of cooking your own meal. Plus, you're in charge of the recipe – I am still thinking about the rich and deep flavors the wine added to our beef bourguignon. (I may have added a bit more than the recipe called for!)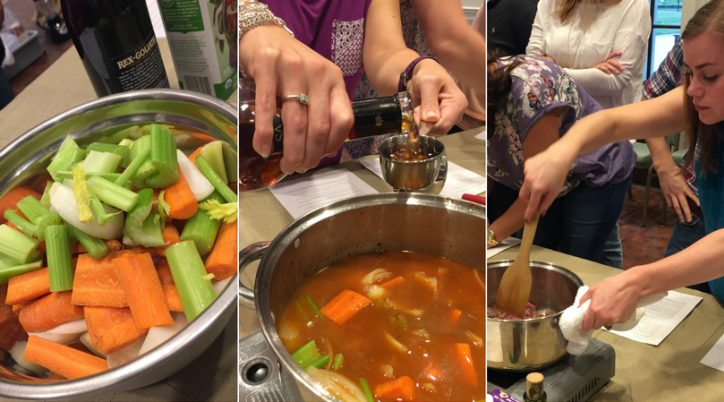 Support local farmers
One of the things I loved about Velvet Pig is that a good portion of the ingredients came from local farmers.  Produce, meats and eggs were from local farms such as Guidry Farm, M&M Ranch, Tall Grass Farm, Inglewood Farm, Little Ass Farm, & Caney Creek. (FYI – you can find these at local farmers markets)
Learn practical cooking tips
We made eggs benedict during our class. That involved poaching an egg. WHaaaaaaaaaa? I had never tried that before.  With a few instructions, I was on my way to gently encouraging the egg whites to cohere to itself – creating what I like to call an "egg pillow."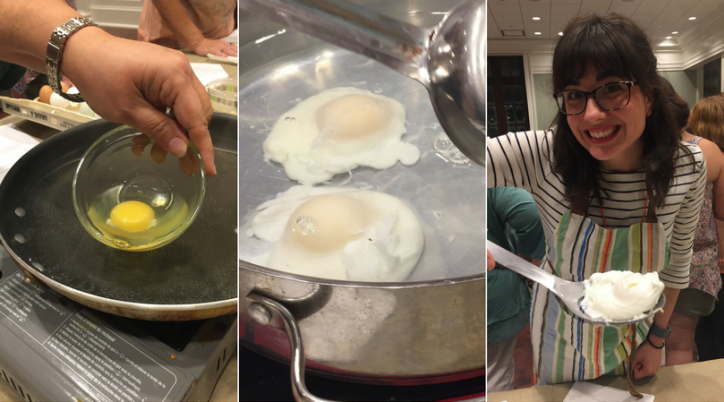 Leaving with the best souvenir
You'll learn how to make a delicious meal, and don't worry, you'll get a copy of the recipe and ingredient list before you leave. You are literally taking the flavors of Southwest Louisiana home with you – you can make a tasty meal time and time again! That beats a T-shirt any day.
Cooking Class FAQs
I am vegetarian/gluten free/have allergies/a picky eater. Can I still take a cooking course?
The Velvet Pig specializes in making food that is accessible to those with food allergies or sensitives. All of the class menus are dairy and gluten- free. They also make sure to always have several vegan or vegetarian selections, and always offer a vegetarian option of all dishes.
How long are cooking courses? 3 hours.
How much do cooking courses typically cost? All classes cost between $65 and $70. 
I don't have much cooking experience. Can I still take a cooking class?
Absolutely! All skill levels are welcome in every class.
Follow The Velvet Pig on Facebook for news on upcoming cooking class – and download the Lake Charles Events App to stay on top of all the culinary events in the area.