The Wounded Warrior Amputee Softball Team is coming back to Sulphur for a rematch against the Bayou All Star Celebrity Team, Friday-Saturday, June 20-21 at McMurry Park, 300 S. Hazel St., Sulphur, La.
Come see several celebrities including reality television stars Willie Robertson, of Duck Dynasty and Gator Queen Liz and Justin from Swamp People hit the diamond to help raise money for the wounded warriors.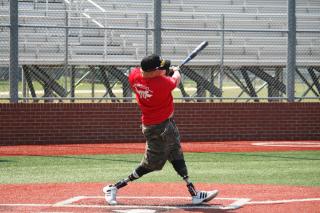 Wounded Warriors Amputee Softball Team in Sulphur June 20-21
The Bayou All Star team also features Jennie Finch-Daigle, former pitcher for Team USA softball; former MLB players, Casey Daigle, Patt Rapp, John Thomson, Kevin Mench and Roy Oswalt who is a 3 time MLB All-Star and Future Hall of Famer. Other athletes playing are David LaFleur, former Dallas Cowboy, Thomas Henderson, former Houston Rocket, Calvin Murphy, NBA Hall of Famer and former Team USA Softball players, Leah O'Brien-Amico and Toni Mascarenas.
The wounded warriors and celebrities will participate in a game Friday and Saturday nights, home-run derby and have a meet and greet autograph session with their fans. The activities begin at 5 p.m.
A
ll proceeds from the event will go towards helping wounded warrior amputees. Tickets are $10 and can be purchased at
all Calcasieu Parish McDonald's locations. For more information, visit
www.wwastsswla.com
or
www.facebook.com/battleonthebayou
.