Jamison Trouth at Yellowfin is coming out with new products, and there are limited editions ready for purchase just in time for summer! The most exciting, innovative thing that he has been up to lately is making Oaked Otoro - which is exclusively available at the distillery in Sulphur. He creates Oaked Otoro by resting his original Yellowfin Otoro with American Oak. There are two versions, a "toasted" version and a "charred" version. Oaked Otoro is similar to other aged spirits, but the biggest difference between it and aged rum or bourbon is that he's aging it in stainless barrels using staves. Doing it this way allows him to keep air from deteriorating the spirits, and it also allows him to make it more quickly than aging in wooden barrels. Another big plus is that there are no additives in Oaked Otoro while there can be quite a bit of additives in bourbon or rum (sugar, caramel, etc.).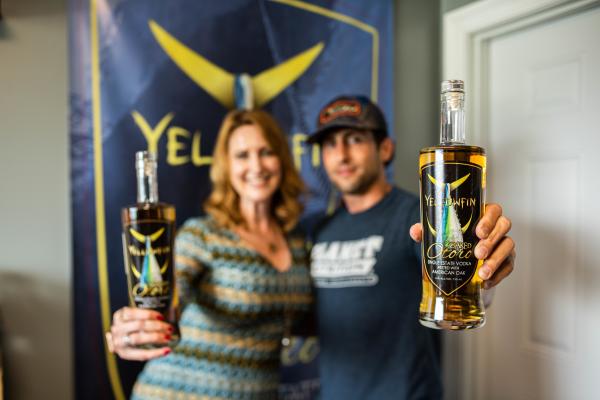 Tucked away in an unassuming, beige metal building, 1716 East Burton Street in north Sulphur, passersby might not even know that some of the most exquisite vodka is being distilled to perfection in varying amounts of interesting, natural flavors. Vodka can be used in a variety of mixed drinks and recipes, but Yellowfin is so smooth, it can stand alone. Owner and distiller, Jamison Trouth's eyes lit up when talking about his customers who love his products or those who travel through from all over the Gulf coast who are surprised to find a hidden gem distillery right here in Sulphur.
I strolled into Yellowfin's store front to meet with Jamison after what seemed like an eternity since I had first visited the place when he opened in 2017. There are varying products for purchase at the front desk, a few pieces of Yellowfin inspired artwork and Yellowfin glasses - designed for sipping! Through the interior windows, customers can peek at some of the distilling equipment, and Jamison is there to answer questions or give as much information as people may need about the different vodkas that he's making. I had heard that he had been hard at work bringing out a few new products, so I definitely needed to stop by to see what all the fuss was about!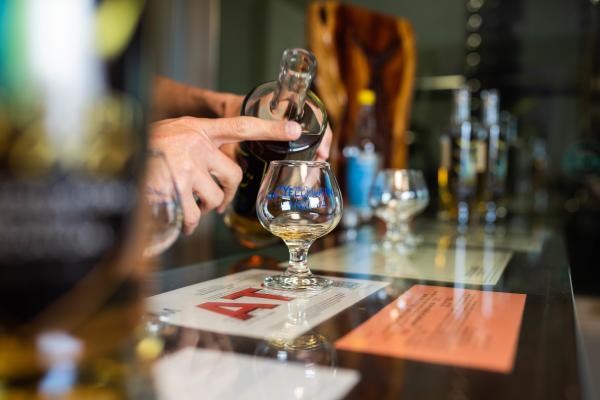 Jamison explains a common misconception about sugar and the distillation process:
A misconception about Yellowfin is that is has more calories or sugar because it's made from sugar. With spirits, the sugar cannot make it beyond distillation. Sugar is a dissolved solid that cannot vaporize/turn to gas so all of the sugar and other dissolved solids remain in the kettle when distilling.
So, toasting vodka? How does that work, exactly, you might wonder? Yeah, no toasters are involved – relax! So, apparently, Jamison uses oak staves or pieces that have been toasted or charred. Oak barrels are made of wooden slats called staves. The staves Jamison is using are smaller versions of those pieces that are made from the same stock as whiskey barrels by a manufacturer that also makes those wooden barrels. These smaller oak staves are designed to be submerged in the spirit rather than being fashioned into a barrel that the spirits would be aged in. There is an infinite array of combinations of toasted or charred staves that you can get. The toasted vodka is a light golden color with the charred vodka being deep amber color. And, they each have their own flavors - reminiscent of bourbon. Jamison has limited edition batches of each that are available for anyone to purchase at the store front, so now is the time to check it out for yourself – or maybe even for an upcoming Father's Day present! 
Jamison goes into a little more detail for the connoisseur who wants to know more about the process:
"The toasted Oaked Otoro - lighter one - has an array of American Oak staves toasted to different levels. The charred version of Oaked Otoro - darker one - has a different array of toasted pieces, and it also has charred pieces as well. There are several differences between what we are making and bourbon. The raw materials are different. Bourbon is distilled to a lesser purity. And the biggest difference is the allowable additives. Bourbon makers are allowed 2.5 weight % additives that are typical of bourbon but there is no list to go by. These additives include sugar, caramel, coloring, etc. 12.8 gallons of spirits weighs about 100 pounds. So you can put a 2.5 pound brick of sugar/caramel/whatever in 12.8 gallons of spirits....for reference, kegs are around 15 gallons. That's a lot of calories and it completely changes the spirits. Yellowfin Otoro has no sugar and Oaked Otoro is just Yellowfin Otoro rested with oak. No additives other than putting the oak and letting it rest and give character." 

Learn More - Click Here!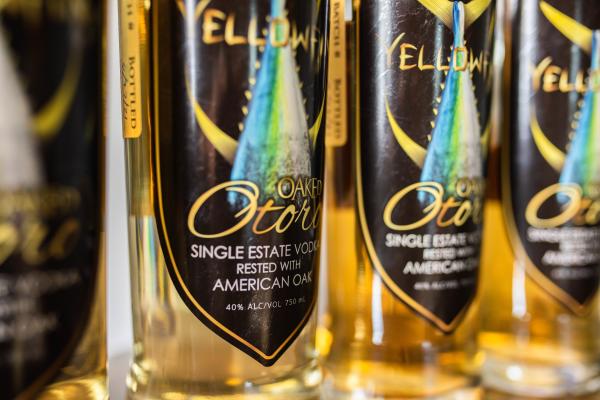 Otoro, Geaux Pokes & Mardi Gras Vodka (limited editions):
So, what else is on the menu? Jamison recently released a second vodka. The original vodka has a bit of character that seems to clash a bit with dry cocktails like vodka/waters, vodka/sodas and dirty martinis. His newer release has a more neutral profile and is more compatible with these types of drinks. The new vodka was released as a cobranded product with McNeese State University, which a portion of the sale is given back to the university. Since he couldn't have two Yellowfin Vodkas, he rebranded his original sipping vodka to Yellowfin Otoro Single Estate Vodka. (Otoro is the most sought after, most expensive portion of a tuna). He also creates a festive Mardi Gras label each year for Yellowfin Otoro. So it's the same vodka with a limited, seasonal label. One thing that I learned is that returning costumers can bring their bottles back, have them cleaned & refilled right then and there, and it's at a discounted rate. So, good for the environment too!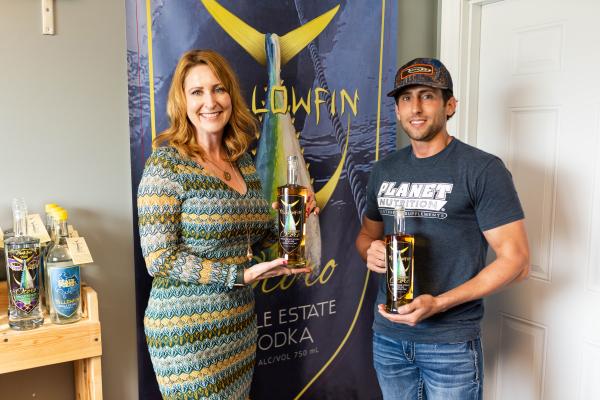 Jamison's Story: 
If you don't know Jamison's story, he is a chemical engineer, and one of the classes he took to complete his degree was on distillation. It was a feeling his senior year at McNeese that pushed him to think of a business to start on the side while working in the industry as an engineer. He loved his distillation class, and he was a vodka drinker, so it came together nicely! Long story short, it was a logical decision to make vodka from Louisiana Cane sugar. He looked up how vodka was made. Any raw material would have to be broken down into sugar. And Louisiana is a huge sugar producing state. So it just made sense to skip the mess and extra work while supporting Louisiana farmers. After working as an engineer for several years, he quit his day job and created Yellowfin Vodka and began a completely different trajectory – in some ways. As you may know - once an engineer, always an engineer. (It's a brain thing!) Jamison looks for ways to make the process better, more efficient, and quality is always front and center.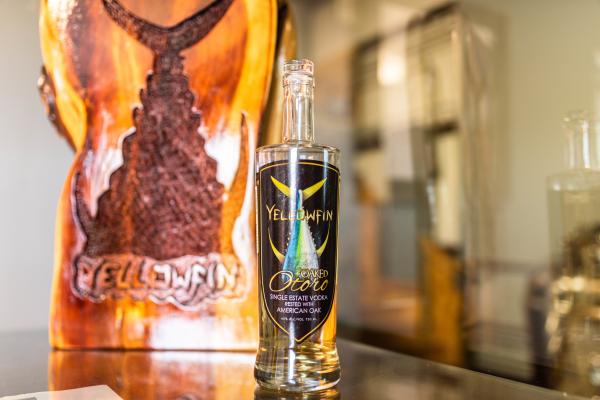 Recipes!
Yellowfin has some delicious recipes that you can try, and even more that you can acquire at the storefront. Here are some of the ones that caught my eye:
Gulf Breeze: 2 oz Yellowfin, 2 oz pineapple juice, 3 oz cranberry juice

Louisiana Lemonade: 2 oz Yellowfin, 5 oz lemonade, ¾ oz sweet tea

Cajun Cosmo: 1.5 oz Yellowfin, 1.5 oz cranberry juice, ½ oz triple sec, ¼ oz lemon or lime juice (Prep: shake with ice, strain into martini glass)

Yellowfin Mint Crisp: 2 oz Yellowfin, ½ oz lime juice, 1 mint leaf, club soda (Prep: shake with ice, double strain into flute, top with club soda)

Vodka Vino: 1 oz Yellowfin, 4 oz lightly carbonated sweet wine, squeeze of lemon or lime
So, go visit Jamison at Yellowfin Vodka in Sulphur and raise a glass to better days ahead!
1716 East Burton Street
Sulphur, LA 70663
(337) 660-8373
www.yellowfinvodka.com
Facebook / Instagram
 
Jamison's Final Thoughts on the Feedback so Far on the New Products:
"I would say that the feedback has been absolutely incredible. I love both versions and sip them neat (room temp, no ice) regularly. Some customers prefer toasted, some charred but it seems everyone likes both. It's just that some have a preference....many have a hard time choosing, including me. If you aren't someone who cares to sip spirits from the bottle or even over ice, both mix extremely well. Dr. Pepper, sweet tea, Coke, ginger ale, ginger beer are a few of the mixers we've tried and the mixed drinks have been phenomenal. SUPER smooth with that nice, natural oak flavor coming through with no other additive flavors contaminating the mix."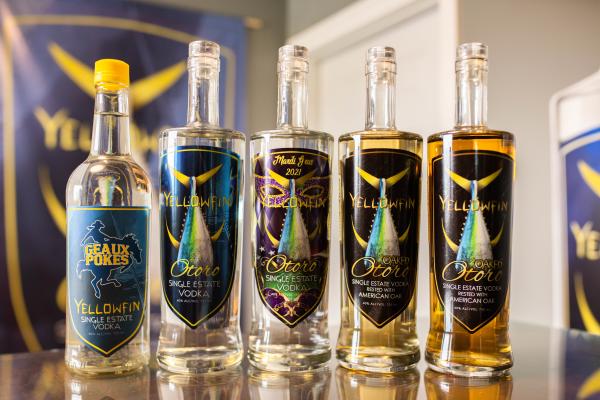 Photos by Kathryn Shea Duncan, Visit Lake Charles