Famous Zydeco Musicians in History & Today
One of the fascinating things about Louisiana is the beauty resulting from the cultural blending of its people and traditions, and music. At the heart of it, Zydeco and Cajun music share the accordion, but from there, Cajun music's main accompaniment to the accordion is the fiddle, and Zydeco's primary accompaniment is the scrub board. Today, both genres incorporate electric instrumentation. Cajun music is typically played by people of Acadian descent, with Zydeco music performed by the Creole people of Louisiana.
AMÉDÉ ARDOIN (1898 – 1942)
Amédé Ardoin is considered the father of modern Cajun and Creole music. His accordion and vocal melodies are the standard songbook for both genres, and his influence is even heard in the modern Zydeco music of today, and that's where the younger Ardoin descendants focused their sites. Zydeco usually has a fast tempo, and some Zydeco bands even let novice fans jump onto the stage to play the scrub board if you are lucky and bold enough to go for it!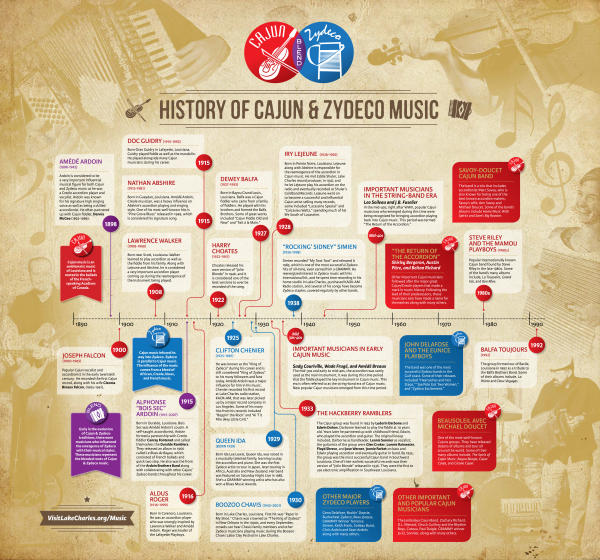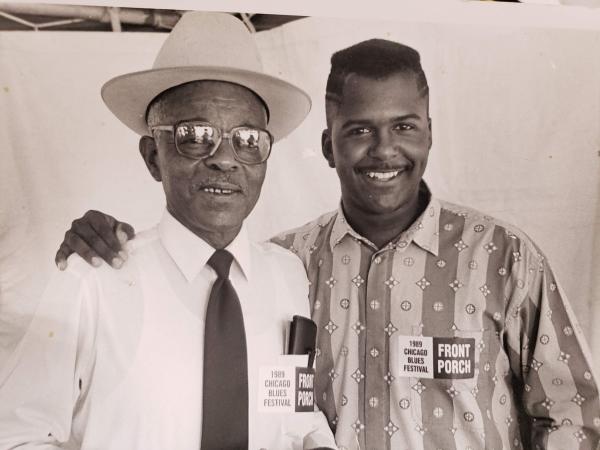 Pictured: Alphonse "Bois Sec" Ardoin and his grandson, Sean Ardoin
THE ARDOIN FAMILY (1898 – PRESENT) 
Legendary Creole musician Amédé Ardoin was the first Louisiana Creole/Cajun accordionist to record. He was known for his high singing voice and virtuosity on the accordion. He is credited by Louisiana music scholars with laying the groundwork for Creole music in the early 20th century and wrote several songs now regarded as Zydeco standards. His younger cousin, Bois Sec Ardoin, was one of the best-known practitioners of the state's rural Creole sound for six decades. Lawrence "Black" Ardoin & the Ardoin Brothers (Sean & Chris) have all been part of a rich musical legacy. Sean Ardoin founded the Kreole Hall of Fame and has had a lifelong career in music with four Grammy nominations!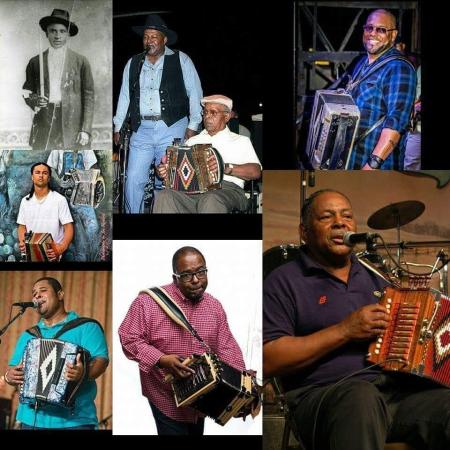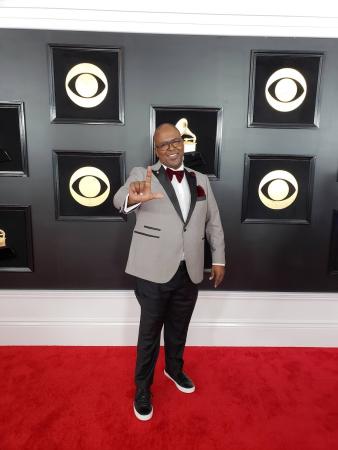 Pictured: Family Collage of Ardoin musicians & Sean at the Grammys
CLIFTON CHENIER (1925 - 1987)  
Chenier is known as the "King of Zydeco" during his career and is still considered "King of Zydeco" to many fans today. Amédé Ardoin was a major influence on him and in his music. Chenier recorded his first record at Lake Charles radio station, KAOK-AM, which was later picked up by a major record company in Los Angeles. Some of his many hits from his records included "Boppin the Rock" and "Ai 'Tite Fille" (Hey Little Girl). 
QUEEN IDA (1929)
Born to a musical family of Creole rice farmers in Lake Charles, her first language was French. In 1979, Queen Ida, Ida Lewis Guillory, was nominated for a Bay Area Music Award. She continued recording and touring through the '80s. In 1988, Queen Ida toured Japan, becoming the first Zydeco artist to do so. She toured Africa the following year for the State Department, and in 1990, went to Australia and New Zealand. Queen Ida has appeared in one feature film, Rumblefish, and a documentary about Louisiana music, J'ai Ete au Bal. She has also performed on television shows ranging from Austin City Limits to Saturday Night Live. Queen Ida won a Grammy award in 1982 (the first in her genre) and was honored with a National Endowment for the Arts National Heritage Fellowship award in 2009.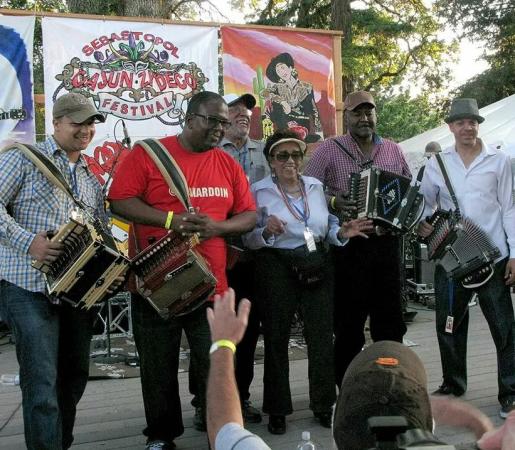 Pictured: Queen Ida (center) with Rusty Metoyer, Sean Ardoin, Lawrence Ardoin and Andre Thierry
WILSON ANTHONY "BOOZOO" CHAVIS (1930 - 2001)
Boozoo played music created by French speaking Creoles of Southwest Louisiana. Chavis was a prolific writer of Zydeco songs. Many of his songs have become standards of the Zydeco repertoire. His wife's name was Leona and they had six children, Wilson Jr., Margret, Louanna, Charles, Licia, and Rellis Chavis and had over 20 grandchildren. Boozoo was crowned "The King of Zydeco" in New Orleans in the 1990s. His son Charles was a member of his band at the time. For many years, in September during Labor Day, the family would host a BooZoo Labor Day Zydeco Festival in Lake Charles. 
ROCKIN' SIDNEY SIMIEN (1938-1998)
Simien recorded "My Toot Toot" and released it in 1985, which is one of the most successful Zydeco hits of all-time, even earned him a Grammy. He reenergized interest in Zydeco music with his international hit, and he spent time recording in his home studio in Lake Charles. He purchased KAOK-AM Radio station, and several of his songs have become Zydeco staples, covered regularly by other bands.  
ZYDECO BANDS TODAY: 
Make sure that you check out bands that are playing Zydeco music while you are out and about in the Lake Charles area including the following artists that are native to the area: Sean Ardoin, Rusty Metoyer & The Zydeco Krush, Brandon Ledet & the Creole Touch, Zydepokes featuring Kaleb Leday, Chris Ardoin, Mason Trail and Zydeco Rhythm, and Deuce Jacko. Also, Zydeco artists that play frequently in the area include Geno Delafose, Keith Frank, Lil Nate, Jeremy Fruge and Gerard Delafose. 
Zydeco Brunch Saturdays in December 10 AM - 3 PM 12/2: Bryan Keith & Zydeco Legacy 12/9: Gerard Delafose 12/16: Cedryl Ballou…
Recurring weekly on Sunday
Sunday Fun Day starts early at Rikenjaks on Ryan with our Zydeco Brunch (served 11a-3p) featuring live music from Zydecane…
Recurring weekly on Sunday
Each week, Swamp Pop Sundays feature Louisiana Express with special guests. So make plans to head over to the Golden Nugget in…