Touring the Louisiana Outback
Alligators, over 400 bird species, marshlands teeming with life, 26 miles of natural Gulf of Mexico beaches, fishing, crabbing, Cajun culture and more can be experienced as you travel the more than 180-mile Creole Nature Trail All-American Road. One of only 43 so designated scenic byways in the USA, and affectionately known as Louisiana's Outback, the Creole Nature Trail is a journey into one of America's "Last Great Wildernesses." Download the brochure and/or the free tour app to fully enjoy this unique terrain and the creatures which call it home.
Get the App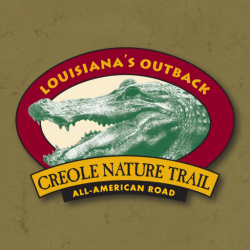 Louisiana's Creole Nature Trail All-American Road is a hands-on opportunity to experience one of America's untamed natural wonders near Lake Charles, LA. Feel inspired and amazed as the Creole Nature Trail All-American Road leads you into the unsurpassed splendor of Louisiana's renowned coastal wetlands, wildlife refuges, and rippling marshes.