Creole Nature Trail  All-American Road

View Guide/Map
Download the App

A FREE personal tour app is available in iTunes and Google Play (just search "Creole" or select from the links below). Don't have a smartphone? Check-out a GPS Explorer® handheld unit at the Lake Charles Visitors Bureau located at 1205 N. Lakeshore Drive, Lake Charles, Louisiana.
About the Trail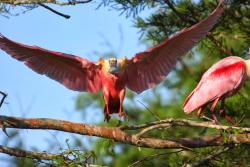 Alligators, birds, wildlife refuges, marshland, Gulf beaches, hunting, fishing and Cajun culture abound along the more than 180-mile Creole Nature Trail All-American Road. In Louisiana's Outback, one of America's "Last Great Wildernesses," you have the opportunity to experience world-famous wildlife habitats and estuaries. The Creole Nature Trail is a journey through a wild and rugged terrain unique to Louisiana. Pack a picnic, load up the car, and don't forget your binoculars.
 
The west side of the trail takes you to the Sabine National Wildlife Refuge where you can a stroll through the marsh on a boardwalk. On the east side, Cameron Prairie National Wildlife Refuge's interactive exhibits will spark the imagination before driving along Pintail Wildlife Drive.
The Creole Nature Trail All-American Road is comprised of several different attraction and many possible activities. Follow the links below to get details and learn more about the different aspects of the Creole Nature Trail!
Additional Resources: