"Cut and Paste" Exhibit
1911 Historic City Hall Arts & Cultural Center
1001 Ryan Street

Lake Charles, LA 70601
Presented By:

Gallery by the Lake

Dates:

August 7, 2020 - October 16, 2020

Recurrence:

Recurring weekly on Tuesday, Wednesday, Thursday, Friday, Saturday

Time:

Tuesday through Saturday, 10 a.m. to 6 p.m.

Admission:

Free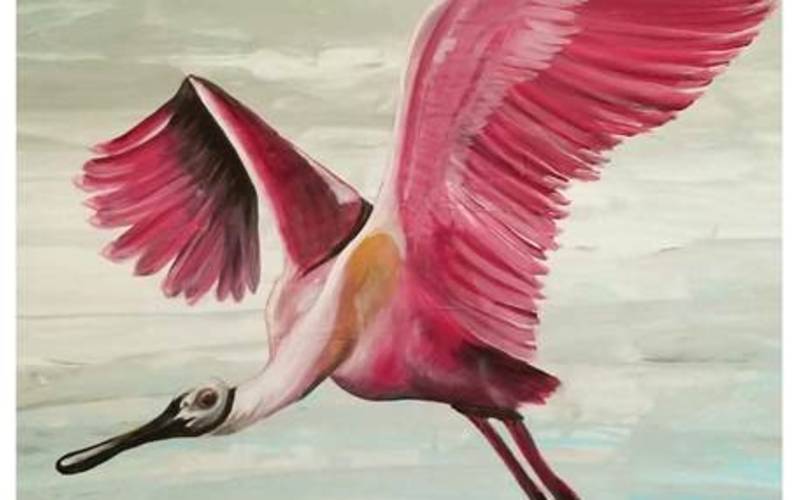 The new Gallery by the Lake exhibition "Cut and Paste" is now on display at the Historic City Hall Arts and Cultural Center, 1001 Ryan Street. The featured artist is Amy DeLand, whose nature-themed paintings feature captivating poured acrylic backgrounds. This show also includes paintings, photographs, and sculptures by other Gallery by the Lake members. The exhibit is on the second floor and will run through October 16, 2020.
Amy DeLand is a local grumbacher certified teacher who enjoys teaching any age group. She teaches watercolor, drawing, and acrylic classes. While she loves to share techniques and skills, she also is eager to learn more. She studied fine art and art education at the University of Toledo, Henry Ford community college, the University of Michigan, Blufton University and here locally attended classes at Mcneese. Her work spans from realism to abstract, and acrylic pours. DeLand enjoys painting on various surfaces and learning the nuances of them. Deland has six paintings on display in the second floor gallery.
Two public art classes will be offered by DeLand beginning on August 22 from 9:30 a.m. to 12:30 p.m. at Central School Arts and Humanities Center, 809 Kirby Street, Room 312. The first class will teach participants how to manipulate acrylic paint while pouring to achieve a more controlled image and still enjoying the free-flowing appeal of pouring paint. The second class will be on September 5 from 10 to 11 a.m. It aims to offer children the opportunity to create a "Tree of Knowledge." For more information or to register, please visit www.gallerybythelake.org
While visiting Historic City Hall, be sure to see "Modern Masters" in the third floor gallery, as well as "A Pandemic Portfolio" by Black Heritage Gallery and "A New Collection of Work by Kevin Leveque."  Also visit "A Pairing of Two Painters" by Ronald Gibson and Donna Artigue Price.
Following Louisiana's guidelines for reopening, Historic City Hall visitors are encouraged to wear masks and use hand sanitizer, which will be located throughout the building. Occupancy will be limited to fifty-percent occupancy per Phase 2, and the highest standards of cleanliness will be met. Historic City Hall has resumed its normal business hours, Tuesday through Saturday, 10 a.m. to 6 p.m. Admission is free. Charlestown Farmers' Market is open on Bilbo Street behind the center every Saturday 8 a.m.-noon. For more information, please call 491-9147 or visit www.cityoflakecharles.com.
View Details

1001 Ryan Street, Lake Charles, LA 70601