"Modern Masters"
1911 Historic City Hall Arts & Cultural Center
1001 Ryan Street

Lake Charles, LA 70601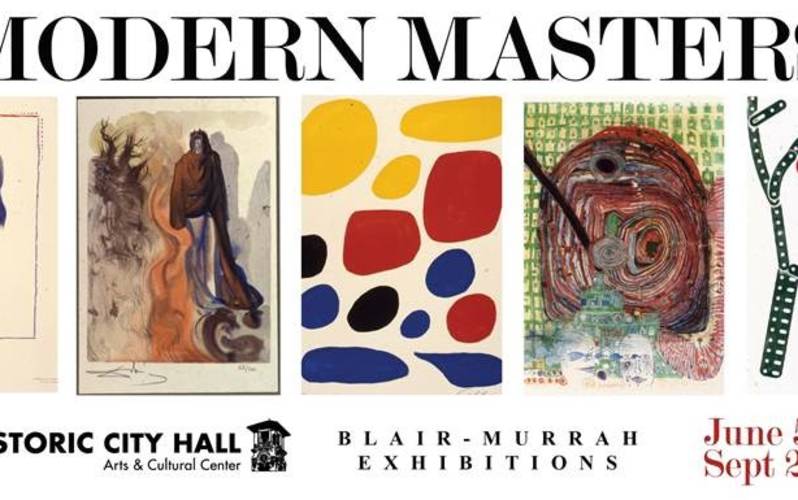 A collection of prints by modern print masters will be on display at the Historic City Hall Arts & Cultural Center, Lake Charles, Louisiana. The Modern Masters Collection is made up eighty-seven pieces of art that are as varied as the artists who produced them. From the neo-romanticism of Berman to the surrealist renderings of Joan Miro, each print makes a definite statement about the modern age. This exhibit will be on display at Historic City Hall from June 5 to September 26, 2020.
The exhibit includes the works of prominent American artists such as Robert Motherwell and Alexander Calder, as well as French artists like Jacques Villon, Marc Chagall and Hans Arp.  Also included are prints by Pablo Picasso, Alberto Giacommetti, Kumi Sugai, Pierre Bonnard and Enrico Baj.
The impact of World War I, which spawned Dadaism and Surrealism, and its aftermath are clearly felt in this exhibit. The viewer, like the artist, is left grappling for meaning amid images that seem more ambiguous than they did in previous eras. As in previous ages, the work of the masters conveys the dominant themes of a civilization confronted with difficult decisions and conflicting cultural trends.
This exhibit is a celebration of the will of the human spirit to confront real life situations and impose meaning and structure. Prepared by Blair-Murrah, a traveling exhibition service, this exhibit is well worth seeing.            
While you are visiting the Center, be sure to see "TWOFOLD: Lake Charles Legends" in the first floor gallery, as well as "What on Earth" by featured artist Pat Craft and Gallery by the Lake and "A New Collection of Work" by Kevin Leveque in the second floor gallery.
Following Louisiana's guidelines for reopening, Historic City Hall visitors are encouraged to wear masks and use hand sanitizer, which will be located throughout the building. Occupancy will be limited to fifty-percent occupancy per Phase 2, and the highest standards of cleanliness will be met. Historic City Hall has resumed its normal business hours, Tuesday through Saturday, 10 a.m. to 6 p.m. Admission is free. Charlestown Farmers' Market is open on Bilbo Street behind the center every Saturday 8 a.m.-noon. For more information, please call 491-9147 or visit www.cityoflakecharles.com.
View Details

1001 Ryan Street, Lake Charles, LA 70601