"The Pace Collection": Japanese Woodblock Prints
1911 Historic City Hall Arts & Cultural Center
1001 Ryan Street

Lake Charles, LA 70601
Recurrence:

Recurring weekly on Tuesday, Wednesday, Thursday, Friday, Saturday

Time:

0 a.m. to 6 p.m.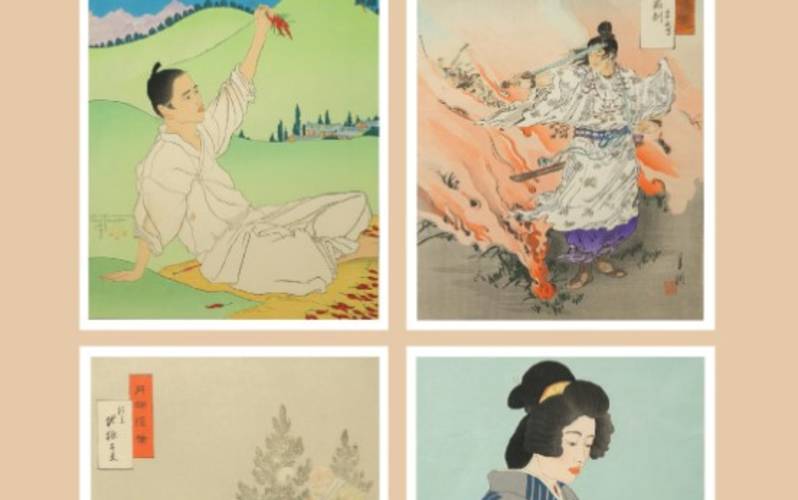 Historic City Hall will soon showcase a new exhibition titled "The Pace Collection" in its newly renovated art gallery. Featuring more than 30 woodblock prints by Paul Jacoulet (1896-1960) and Ogata Gekko (1859-1920), this exhibition highlights more than a century of Japanese printing traditions. The collection is owned by Lake Charles resident Maureen Miller and was gifted to her by the late JoAnna Pace Lawes Johannsen.
Jacoulet, born in France and raised in Japan, fits into none of the mainstream art movements. His Japanese woodblock prints are a mixture of traditional ukiyo-e printmaking of highest standards and newer lavish techniques invented by the artist himself. He was coined "the first Western master of woodblock" by The Japan Times.
Ukiyo-e, literally translated as "pictures of the floating world," is a Japanese art form that flourished during the 17th to 19th centuries. In the ukiyo-e art form, artists depicted a range of subjects, including samurai warriors, kabuki actors, folklore, literary scenes, landscapes and historical events. The woodblock prints are created by printing different colors on top of each other. Each color is printed from a different carved block of wood; some prints require more than twenty blocks to create an image.
A self-taught Japanese artist, Ogata Gekko, was a painter and also a designer of ukiyo-e woodblock prints. He was one of the earliest Japanese artists to win international attention. Gekko's artwork was said to have informed the Japanese populace about the progress of naval and land war known today as the First Sino-Japanese War of 1894-1895.
Miller and Johannsen together opened The Frame House, Ltd. in Lake Charles in the 1970s. Johannsen, who grew up in Lake Charles, was the daughter of Joseph and Lula Pace, the owners of the local Schlitz distributorship. After graduating from Lake Charles High School, she attended USL (now University of Louisiana) where she received a degree in Art. In addition to her role at The Frame House, she served as director of her family's brewery and operated JoAnna Johannsen Design, Inc. After a courageous battle with non-Hodgkin's Lymphoma, she died at the age of 46.

Maureen Miller was chosen as the beneficiary of the woodblock prints. "Little did I know that JoAnna had gifted me her collection," she said. "I kept them protected for years wondering how I could share them for all her friends and family to see. This exhibit, at Historic City Hall, seemed just right. It is my thank you offering to her, and befittingly, it is named in her honor."
The exhibit opens on Saturday, October 23, 2021 and also includes Japanese pottery, block stamps, woven bamboo, and a Kimono. It will be on view through December 31.
While visiting the Center, be sure to see "High Flying and Living Large: The Paintings of James Michalopoulos." Featuring New Orleans' most recognized artist, this show includes fifty colorful and energetic compositions that span the artist's career. The exhibit includes landscapes, architecturals, animals, sunflowers, and cityscapes. It will hang in the third floor gallery through November 27.
Also on view is Black Heritage Gallery's Fall Group Exhibition, which celebrates 20 years with 17 well-known artists. "Something Old, Something New" is a collection of works created by the Artisan's Gallery, and is on view in the first floor gallery.
Historic City Hall is located at 1001 Ryan Street and has resumed normal business hours, Tuesday through Saturday, 10 a.m. to 6 p.m. Admission is free. Following Louisiana's COVID-19 guidelines, visitors are encouraged to wear masks and use hand sanitizer, which is located throughout the building. Charlestown Farmers' Market is open on Bilbo Street behind the center every Saturday 8 a.m.-noon. For more information, please call 491-9147 or visit www.cityoflakecharles.com.
View Details

1001 Ryan Street, Lake Charles, LA 70601