2021 Catch A Concert Summer Series
2nd floor Mezzanine of Lake Charles Civic Center
900 Lakeshore Drive

Lake Charles, LA 70601
Presented By:

Lake Charles Community Band

Dates:

June 7, 2021 - June 28, 2021

Recurrence:

Recurring weekly on Monday

Time:

6:30 PM

Admission:

Free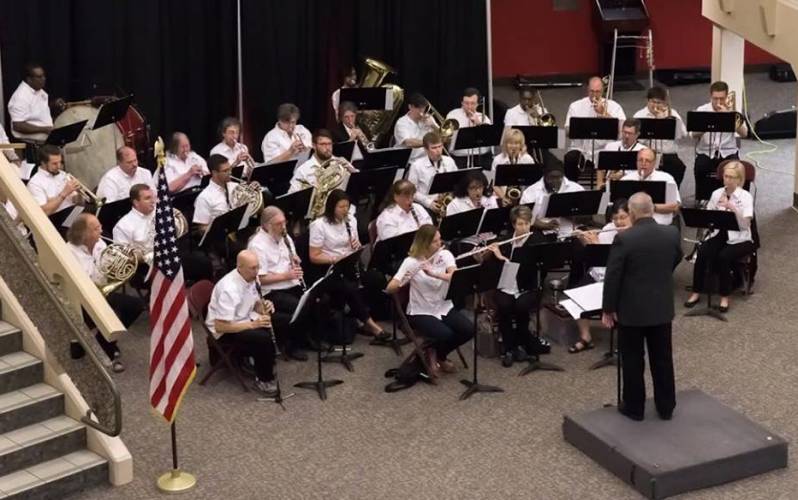 The Lake Charles Community Band announces plans for the 2021 "Catch-A-Concert" series that is held each Monday in June. The free to the public concerts will begin at 6:30 p.m. and be held on the 2nd floor Mezzanine of Lake Charles Civic Center. The theme for this summer's series is "Americana."  
The band is under the direction of Head Conductor Dr. Scott Deppe and Assistant Conductor Leo Murray. The all-volunteer group is dedicated to sharing a love of music with Southwest Louisiana concert-goers. The group is made up of band directors, teachers, housewives, craftsmen, professionals and students from Southwest Louisiana and the "Golden Triangle" of Texas. 
The first concert will be held on Monday, June 7 and will feature high school soloist Darbi George of Sam Houston High School. Ms. George is a 3-year member of the Louisiana All-State Band, studies oboe with Beverly Jones and is the daughter of Rev. Glenn and Nicole Roberts George. The band will also perform selections for Pirates of the Caribbean, Disney, Jersey Boys, and Herb Albert's Tijuana Brass. 
On Monday, June 14, the Community Band will feature Phillip Maldonado as alto soloist on the very popular Elvis Presley hit I Can't Stop Falling In Love. Broadway hits Abba and The King and I will be performed as well as a beautiful spiritual and a Henry Fillmore march.
The third concert on Monday, June 21 will feature selections that were performed by McNeese State University's "Brother Love's Salvation Show" in the early 1970s. The Lake Charles Community Band encourages members of the band, rifles, flags, and twirlers to join them for this salute to Mr. Kelly Love. 
The final concert of this series is on Monday, June 28. Audience members will be asked to join the band in honoring the men and women of the Armed Forces who have and still are bearing the hardships of global war.  The concert will pay tribute to the patriotic music of this nation and its Armed Forces that serve all over the world to ensure freedom. The concert will also feature flute soloist Becky Soileau McMillen on John William's beautiful Hymn to the Fallen from the 1998 movie "Saving Private Ryan." The "Catch a Concert" series leads up to the city-wide Fourth of July Fireworks Extravaganza.  
The Lake Charles Community Band is supported by funding from Phillips 66, as well as grants from the City of Lake Charles, Lake Charles/Southwest Louisiana Convention and Visitors Bureau, and the Calcasieu Parish Police Jury as administered by the Arts and Humanities Council of SWLA.  Funding is also provided by "Note Worthy" donations from audience members.  For more information contact Brenda Harrington, President at (713) 825-6864, or email at bmhtrmpt@aol.com.