American Visionary: John F. Kennedy's Life and Times
1911 Historic City Hall Arts & Cultural Center
1001 Ryan Street

Lake Charles, LA 70601
Dates:

January 10, 2020 - March 28, 2020

Recurrence:

Recurring weekly on Tuesday, Wednesday, Thursday, Friday, Saturday

Time:

Tuesday - Saturday: 10 AM to 6 PM

Price:

Free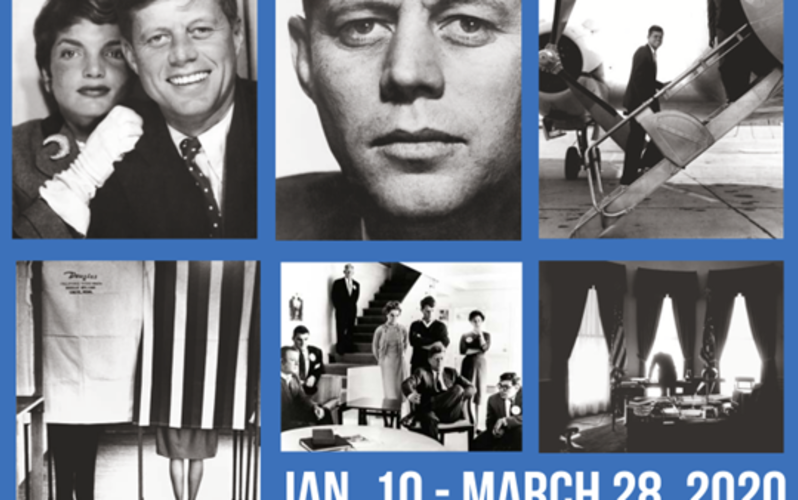 "American Visionary: JFK's Life and Times" is now open at Historic City Hall Arts & Cultural Center on Tuesday through Saturday, 10 a.m. to 6 p.m through March 28. Admission is free. The landmark collection, featuring 77 photographs and magazine covers, debuted in the Smithsonian American Art Museum in Washington, D.C., in May 2017, in honor of the 100th anniversary of Kennedy's birth.
The exhibit shows Kennedy as a joyful boy playing in the ocean and a troubled president working in the Oval Office, as a public figure adored by crowds and a father alone with his baby daughter. Jacqueline Kennedy is there, too - as a happy bride, an elegant first lady and a heartbroken widow.
The Kennedy exhibit takes viewers through his life in chronological order, beginning with a baby photo, and it returns to the starting point, so the final photo shows his widow, Jackie, going to his funeral. The exhibition, one of the most exhaustively researched collections of Kennedy photos ever assembled, brings together images from the John F. Kennedy Presidential Library, the John F. Kennedy Library Foundation, Getty Images, private collections, and the Kennedy family archives.
Highlights of "American Visionary" include a 1953 photo booth snapshot of the Kennedy newlyweds, possibly taken on their honeymoon; a candid 1958 photograph of Kennedy playing with his baby daughter, Caroline, in her bassinet; a 1960 photograph of people peering at Kennedy through the window as he prepares for a campaign speech; a 1961 photograph of the First Couple and others heading to Kennedy's inauguration ceremony, with the White House blanketed in snow, among others.
"Color Crescendo" featuring Dan Plummer and Gallery by the Lake as well as "Remembering the Help" by Black Heritage Gallery is also open for viewing. For more information, please call 491-9147 or visit www.cityoflakecharles.com.
View Details

1001 Ryan Street, Lake Charles, LA 70601