Broken Time: Sculpture by Martin Payton
1911 Historic City Hall Arts & Cultural Center
1001 Ryan Street

Lake Charles, LA 70601
Dates:

May 10, 2019 - July 13, 2019

Recurrence:

Recurring daily

Time:

Monday - Friday: 10 a.m. to 5 p.m.; Saturday: 10 a.m. to 2 p.m.

Price:

Free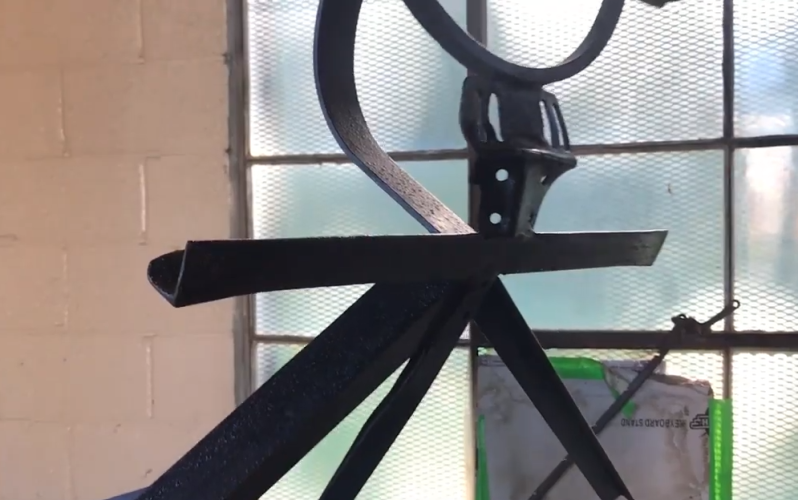 Beginning on Friday, May 10, Historic City Hall Arts and Cultural Center will exhibit the work of Baton Rouge sculptor Martin Payton including one installation and over twenty welded steel sculptures. The opening reception will be held from 5:30 to 8 p.m. and will feature live jazz music by Marcus Davis.
Broken Time: Sculpture by Martin Payton focuses on the artist's recent work: his sculpture representing his most sophisticated improvised compositions. Inspired by New Orleans jazz musicians who maintain African heritage in the form of polyrhythms and improvisation, Payton maintains the record of use and wear in his material—scrap metal. Payton welds these materials as found, improvising his sparse, lyrical steel sculptures, which are deeply rooted in the modernist tradition. Striking lines, curves, and planes are deepened with nuanced layers of meaning rooted in African symbolism, the African American experience, and jazz.
Broken Time will feature a comprehensive slate of programming for all ages, from hands-on art making for local elementary school students to live jazz performances, to help reinforce the improvisational nature of Payton's process. To incorporate this layer as an ongoing experience through the exhibition's run, a Spotify playlist selected by Payton will be available for visitors to enjoy as they walk through the galleries. The exhibit is organized by LSU Museum of Art.
Broken Time: Sculpture by Martin Payton will be on view at Historic City Hall Arts and Cultural Center through July 13. While visiting the museum, be sure to see the Artisans' Gallery's "Spring Exhibition" as well as a show by Darrell Chitty called "Louisiana Proud: The Cajun Experience." Both will hang through June 8. The museum is open Monday through Friday, 10 a.m. to 5 p.m. and Saturday, 10 a.m. to 2 p.m. Admission is free. Charlestown Farmers' Market is open on Bilbo Street behind the center every Saturday 8 a.m.to noon and every Thursday on the front plaza from 4 to 6 p.m. For more information, please call 491-9147 or visit www.cityoflakecharles.com.
ABOUT MARTIN PAYTON
Born in New Orleans in 1948, Martin Payton currently lives and maintains a studio in Baton Rouge. Payton was a professor of art at Southern University from 1990 until retirement in 2011. He received his BFA from Xavier University and his MFA from Otis Art Institute in Los Angeles. Payton's work is held in the permanent collections of NOMA, the Amistad Research Center, the William King Regional Arts Center, and the Rosekrans Runnymede Sculpture Garden. In 2002, as part of a collaboration with friend and colleague John T. Scott, Payton constructed the Spirit House, a public art project that celebrated African American contributions to New Orleans by incorporating drawings of area school children into the project.
View Details

1001 Ryan Street, Lake Charles, LA 70601